Clarksville, TN – The Clarksville Area Chamber of Commerce is excited to share information on the upcoming Home & Garden Show that will have home improvement enthusiasts and novices alike anxious to thaw out their household project list after a long winter break.
On February 27th and 28th, the Wilma Rudolph Event Center will be filled to capacity with vendors, displays and experts to address every home project from interior design to HVAC upgrades. What's more, all vendors have prizes and valuable giveaways in store for lucky attendees.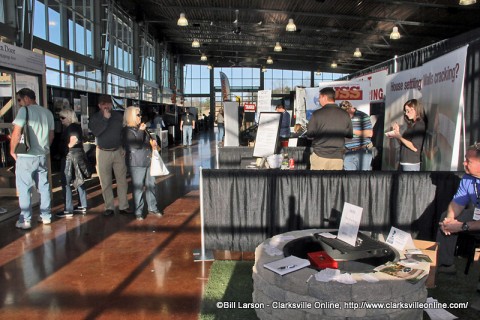 "The annual Home & Garden Show gets bigger and better each year, and we're excited to report that our seventh annual show is shaping up to be the best yet. Our vendors are not only a wealth of knowledge who can help guide projects of any scope or budget, but they have also supplied premium prizes and giveaways that give an extra dose of excitement to the Home & Garden Show," said Tommy Bates, Chairman of the Clarksville Area Chamber of Commerce.
Event host Clarksville Area Chamber of Commerce and title sponsor Furniture Connection will give away two 55' LCD televisions and a $300.00 furniture gift card, respectively.
Other items up for grabs include:
Programmable thermostat valued at $650.00 from Action Air Conditioning Service, Inc.
$300.00 gift card to Ashley Furniture Home Store
Free 12×12  room painting by Fresh Coat of Clarksville
$300.00 gift card to Furnish 123
32" flat screen TV from Jodi's Cabinet Sales
Three (3) free tune-ups from Mainstream Heating & Cooling
Mary Kay gift basket valued at $100.00
Liftmaster or Linear Garage door opener/motor valued at $300.00 from McIllwain Door Company
Rapitest Digital Soil Analyzer from the Montgomery County Co-Op
$50.00 gift certificate to Mr. Sandless
Assorted gifts from Polite Attitudes valued at $125.00
Scenty's "Scent"sational Basket valued at $100.00
Seal Smart 25% off coupons when you sign up for a free estimate during the show
Complete garage door opener valued at $325.00 from Smith's Garage Doors
$25.00 gift certificate to The Bloomery
Mini-Max Big Green Egg and Nest from The Choppin' Block
The 7th Annual Home & Garden Show operates on Saturday, February 27th from 9:00am to 5:00pm and Sunday, February 28th from noon until 5:00pm. General Admission is $5.00 at the door, cash only. Children ages 12 and under and active duty military with valid I.D. are free.