APSU Sports Information

Bowling Green, KY – Austin Peay State University's softball team had Autumn Hanners come out of the pen, Friday at the WKU Softball Complex, to record the final nine outs without giving up a run, as the Lady Govs held off Western Kentucky for an 8-6 victory, on the opening day of the Holiday Inn Hilltopper Classic.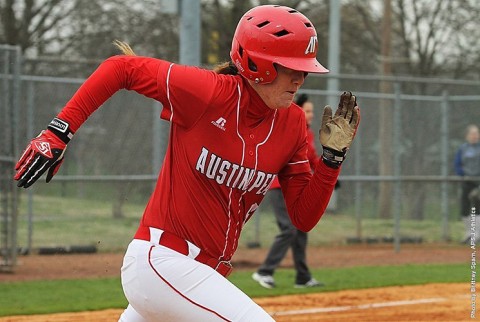 The Lady Govs (2-1) had seen their lead cut to just one run, 7-6, in the bottom of the fifth inning with Western Kentucky (3-2) scoring two runs and loading the bases with no outs.
That brought in Hanners (1-1), to relieve Natalie Ayala, who induced the first batter she faced to hit into a 1-2-3 double play, followed by the next batter hitting sinking line drive into right field that Kacy Acree made a shoestring catch on to end the inning and preserve the one-run lead.
"(Autumn) Hanners came in and locked it down," Austin Peay head coach Shane Showalter said. "But our group in general never panicked. They made the plays on defense and got out of the inning.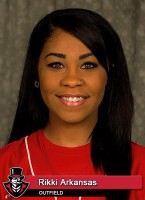 "I also can't say enough about how well the team is hitting right now. We're not only getting runners on base, but we're getting them in too."
Austin Peay would add an insurance run in the top of the sixth on an RBI double by Rikki Arkansas, which turned out to be more than enough, as Hanners got the final six outs to seal away the victory.
The Lady Govs had jumped out to a quick 2-0 lead in the top of the first inning, on a two-run single by Sidney Hooper, before WKU responded with three runs of their own in the bottom of the frame to take their only lead of the game.
A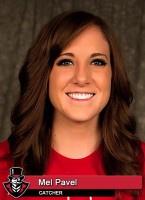 ustin Peay would tie the game in the second inning, on an RBI single by Danielle Liermann, while taking the lead for good in the next inning, 5-3, on back-to-back RBI singles from Mel Pavel and Kendall Vedder.
Liermann, Pavel, Vedder, Arkansas and Acree all finished the game with two hits each, as Austin Peay pounded out 14 hits against four WKU pitchers.
Both teams would score a run in the fourth inning, with Vedder driving in the run for Austin Peay, while Christiana Gable drove in a run in the top of the sixth – to extend its lead to 7-4 on an infield ground out.
Austin Peay continues play in the classic on Saturday, as they have a rematch with Western Kentucky at 2:30pm, followed by a 5:00pm matchup versus Murray State.
Box Score
Austin Peay (2-1) -vs- Western Kentucky (3-2)
| Team | 1 | 2 | 3 | 4 | 5 | 6 | 7 | R | H | E |
| --- | --- | --- | --- | --- | --- | --- | --- | --- | --- | --- |
| Austin Peay | 2 | 1 | 2 | 1 | 1 | 1 | 0 | 8 | 14 | 0 |
| Western Kentucky | 3 | 0 | 0 | 1 | 2 | 0 | 0 | 6 | 8 | 1 |
W: HANNERS, Autumn (1-1) L: JERNIGAN, Kelsey (1-1)
Austin Peay 8
| Position | Player | AB | R | H | RBI | BB | SO | LOB |
| --- | --- | --- | --- | --- | --- | --- | --- | --- |
| lf | GROVES, Chandler | 4 | 2 | 1 | 0 | 0 | 1 | 0 |
| rf | ACREE, Kacy | 5 | 1 | 2 | 0 | 0 | 0 | 0 |
| 3b | LIERMANN, Danielle | 4 | 1 | 2 | 1 | 1 | 1 | 3 |
| dp | GABLE, Christiana | 4 | 1 | 1 | 1 | 1 | 0 | 2 |
| p | HOOPER, Sidney | 2 | 1 | 1 | 2 | 0 | 0 | 0 |
| p | AYALA, Natalie | 1 | 0 | 0 | 0 | 0 | 1 | 1 |
| p | HANNERS, Autumn | 0 | 0 | 0 | 0 | 0 | 0 | 0 |
| 1b | DIBENEDETTO, Vinchen | 3 | 2 | 1 | 0 | 0 | 1 | 0 |
| c | PAVEL, Mel | 4 | 0 | 2 | 1 | 0 | 1 | 0 |
| ss | VEDDER, Kendall | 4 | 0 | 2 | 2 | 0 | 1 | 3 |
| cf | ARKANSAS, Rikki | 3 | 0 | 2 | 1 | 1 | 0 | 2 |
| 2b | INAGAKI, Erica | 0 | 0 | 0 | 0 | 0 | 0 | 0 |
| | Totals | 34 | 8 | 14 | 8 | 3 | 6 | 11 |
Western Kentucky 6
| Position | Player | AB | R | H | RBI | BB | SO | LOB |
| --- | --- | --- | --- | --- | --- | --- | --- | --- |
| p/dp | HOLMGREN, Bryce | 2 | 0 | 0 | 1 | 1 | 0 | 0 |
| 2b | CHAUMONT, Carleigh | 3 | 1 | 0 | 0 | 1 | 0 | 2 |
| 1b/rf | PARKER, Hannah | 4 | 2 | 3 | 0 | 0 | 0 | 0 |
| lf | MAUCH, Jordan | 2 | 2 | 1 | 0 | 1 | 0 | 1 |
| ss | HOLLOWAY, Brooke | 2 | 0 | 1 | 1 | 2 | 0 | 0 |
| c | PROCTOR, Taylor | 3 | 0 | 0 | 2 | 0 | 0 | 1 |
| pr | MABREY, Hannah | 0 | 0 | 0 | 0 | 0 | 0 | 0 |
| cf | MCGUFFIN, Kelsey | 3 | 1 | 2 | 1 | 1 | 0 | 1 |
| 1b/p | DOWNING, Kathryn | 2 | 0 | 1 | 0 | 1 | 0 | 0 |
| ph | MAUCH, Mandi | 1 | 0 | 0 | 0 | 0 | 1 | 0 |
| rf/3b | NORFLEET, Lexie | 4 | 0 | 0 | 0 | 0 | 0 | 4 |
| 3b | ENGELHARDT, Rebekah | 0 | 0 | 0 | 0 | 0 | 0 | 0 |
| p | JERNIGAN, Kelsey | 0 | 0 | 0 | 0 | 0 | 0 | 0 |
| | Totals | 26 | 6 | 8 | 5 | 7 | 1 | 9 |
Austin Peay
Player
IP
H
R
ER
BB
SO
WP
BK
HBP
IBB
AB
BF
FO
GO
NP
Hooper Sidney
3.0
2
3
3
4
0
1
0
0
0
10
15
4
5
66
Ayala
Natalie
1.0
4
3
3
2
0
0
0
1
0
6
10
2
1
35
Hanners Autumn (W, 1-1)
3.0
2
0
0
1
1
0
0
0
0
10
11
3
4
46
Totals
8
6
6
7
1
1
0
1
0
26
36
9
10
147
Western Kentucky
| Player | IP | H | R | ER | BB | SO | WP | BK | HBP | IBB | AB | BF | FO | GO | NP |
| --- | --- | --- | --- | --- | --- | --- | --- | --- | --- | --- | --- | --- | --- | --- | --- |
| Holmgren Bryce | 0.1 | 0 | 2 | 2 | 2 | 0 | 0 | 0 | 1 | 0 | 1 | 4 | 0 | 1 | 15 |
| Downing Kathryn | 1.2 | 6 | 3 | 3 | 1 | 2 | 0 | 0 | 2 | 0 | 10 | 13 | 0 | 2 | 50 |
| Jernigan Kelsey (L, 1-1) | 4.0 | 7 | 3 | 2 | 0 | 4 | 0 | 0 | 0 | 0 | 19 | 19 | 2 | 5 | 70 |
| PARKER, Hannah | 1.0 | 1 | 0 | 0 | 0 | 0 | 0 | 0 | 0 | 0 | 4 | 4 | 0 | 3 | 14 |
| Totals | | 14 | 8 | 7 | 3 | 6 | 0 | 0 | 3 | 0 | 34 | 40 | 2 | 11 | 149 |