Clarksville, TN – Dr. Ashlee Spearman, director of student transitions, has been named director of Austin Peay State University's Quality Enhancement Plan (QEP).
The QEP is a requirement for accreditation by the Southern Association of Colleges and Schools Commission on Colleges (SACSCOC).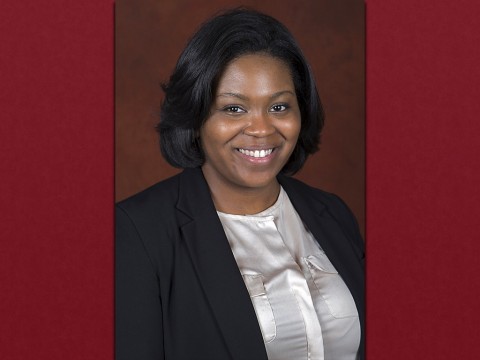 The Commission expects that QEPs will describe a carefully designed course of action that addresses a well-defined and focused topic or issue related to enhancing student learning and/or the environment supporting student learning and accomplishing the mission of the institution.
A previous QEP at APSU focused on student retention, resulting in the creation of APSU 1000, Academic Alert and the Advising Survey.
The current QEP, initiated in Fall 2014, engages a significant proportion of faculty and students in high impact practices. These opportunities include internships, service learning, study abroad, undergraduate research projects, and other high impact learning opportunities.
"With our current QEP, student transitions was in a fortunate position to have forged relationships and worked with both academic affairs and student affairs, so I have worked in some capacity with all of these high-impact practices," Spearman said. In my new role as QEP director, I am most looking forward to being involved in the research and strategic planning processes required when implementing a QEP, which will ultimately impact students across most disciplines.
"As a professional, I have witnessed how student engagement through H.I.P's can completely change their life's trajectory and that is one of the most rewarding parts of this position and why I value being an educator."
Dr. Spearman received a Bachelor of Arts in Mass Communication from Grambling State University in 2006 and a Masters of Business Administration in 2010 from Texas A&M University-Texarkana. In 2015, she earned a Doctor of Education from Lipscomb University.
APSU's Center for Teaching and Learning staff and faculty will now be responsible for providing academic leadership for APSU 1000. The registration, orientation and welcome portion of Dr. Spearman's former position, as well as Freshman Convocation, will occur within the Enrollment Management Division.