APSU Sports Information

Clarksville, TN – Austin Peay State University women's basketball team needed big runs at the end of the second and third quarters to overcome a slow start and secure an 82-71 Ohio Valley Conference win against Murray State, Saturday night, at the Dunn Center.
In a game full of big swings, Austin Peay (8-19, 7-8 OVC) was at the wrong end of one to end the first quarter. After senior guard
Tiasha Gray
tied the game, 3-3, with a three-pointer at the 8:32 mark, Austin Peay could not get into an offensive flow. The Govs made just three field goals and committed six turnovers the rest of the quarter.
Murray State (11-18, 7-8 OVC) closed the first quarter with a 20-6 run, converting on eight of its final 16 possessions to take a 23-9 lead. The Racers carried that momentum into the second quarter's start, building its largest lead, 33-15, after Ke'Shunan James hit a layup with 7:47 left.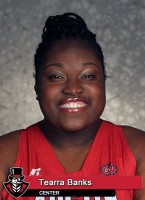 Austin Peay began its slow climb back thanks to its front court. Junior center Tearra Banks scored on four consecutive possessions, trimming the deficit to 12 points in just 2:20 off the clock. Sophomore forward Sydney Gooch and sophomore center Brianne Alexander combined to score Austin Peay's next eight points. When Gray converted a traditional three-point play with 21 seconds left it capped an 18-7 run and left APSU facing a 38-31 halftime deficit.
The teams traded baskets over the opening minutes of the third quarter, Murray State hanging on to a 45-40 lead after Jashae Lee's layup with 6:13 left in the period. Gooch and Banks again teamed up to swing the momentum, scoring seven straight points. Gooch gave APSU its first lead with her traditional three-point play at the 4:05 mark.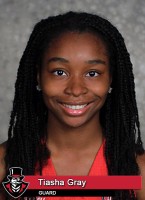 Murray State's Abria Gulledge hit a three-pointer for another exchange of the lead, but Austin Peay's offense was in the middle of its takeover. An 8-0 run gave the Govs the lead for good and, after another Abria Gulledge jumper, freshman Keisha Gregory and Gray hit back-to-back three-pointers. All told, Austin Peay used a 21-5 run over the final 6:13 to build a 61-50 lead at quarter's end.
The Racers would get the deficit back to single digits in the fourth quarter, but were never closer than six points. Austin Peay responded to that Murray State burst by making four straight free throws to put the game safely away.
Gooch finished with a career-high 19 points on 8-of-9 shooting with eight rebounds and three assists. Gray led Austin Peay with a 30-point effort that included six assists and three steals. Alexander and Banks each chipped in 10 points.
James led Murray State with a 19-point, six-rebound, four-steal performance. Jasmine Borders added an 18-point, five-rebound, three-steal effort.
With the win, Austin Peay moved into a tie for sixth-place with Murray State, one-game ahead of eighth-place Tennessee Tech. The Govs will close their regular-season slate with a 4:00pm, Saturday contest against Southeast Missouri.
Box Score
Murray State (11-15/7-8 OVC) 72, Austin Peay (8-19/7-8 OVC) 81
| | 1 | 2 | 3 | 4 | Total |
| --- | --- | --- | --- | --- | --- |
| Murray State | 23 | 15 | 12 | 22 | 72 |
| Austin Peay | 9 | 22 | 30 | 20 | 81 |
Murray State 72
Player
FGM
-FGA
3FGM
-3FGA
FTM
-FTA
OFF
-DEF
TOT
PF
TP
A
TO
BLK
STL
MIN
Ke'Shunan James
8-15
1-4
2-2
2-4
6
4
19
1
2
0
4
31
Jasmine Borders
7-12
3-5
1-1
0-5
5
1
18
1
4
0
3
34
LeAsia Wright
3-13
2-8
1-1
1-5
6
4
9
3
1
1
1
34
Abria Gulledge
3-9
2-6
0-2
1-1
2
1
8
1
3
0
1
35
Kyra Gulledge
2-3
0-0
1-1
1-2
3
5
5
0
1
0
0
23
Bianca Babic
3-6
2-5
1-1
0-1
1
1
9
0
0
0
0
19
Jashae Lee
2-6
0-0
0-0
2-0
2
1
4
0
1
0
0
15
Ajee Smith
0-0
0-0
0-0
0-1
1
1
0
0
2
0
0
7
Bria Bethea
0-1
0-0
0-0
0-0
0
0
0
0
0
0
0
2
TEAM
0-0
0-0
0-0
0-3
3
0
0
0
0
0
0
0
Totals
28-65
10-28
6-8
7-22
29
18
72
6
14
1
9
200
Austin Peay 81