APSU Sports Information

Nashville, TN – Austin Peay State University women's tennis team received strong play from freshmen twins Claudia and Lidia Yanes Garcia, but it was not enough as the Govs fell at Lipscomb, 5-2, Friday.
Austin Peay (1-3) earned both its points in singles action, wins coming by the Yanes Garcia duo at the No. 1 and 2 spots.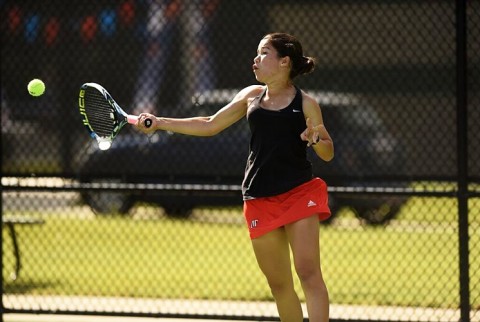 Lidia Yanes Garcia competed at the top position for the fourth time this spring, defeating Hannah Gamage, 7-5, 6-2. Claudia Yanes Garcia followed her sister's lead, rolling over Kate Kandyba, 6-1, 6-1, to improve her spring record to 4-0.
However, the Bisons (5-2) claimed the remaining points up for grabs, propelling them to a fourth-straight win. Laura Kent defeated APSU's Helena Kuppig, 7-5, 6-4, Hanna Victorsson edged out junior Hannah Tatlock, 7-6(3), 6-2, Melissa Kromer outlasted sophomore Brittney Covington, 6-1, 6-3, while Danielle Kinnen bested junior Isabela Jovanovic at the No. 6 spot, 7-5, 6-2.
In doubles play, Lipscomb claimed two of the three matches to gain a point, with the No. 2 match between Tatlock/Jovanovic and Gamage/Kinnen ending in a 6-6 draw.
APSU head coach Ross Brown elected to pair the Yanes Garcia sisters in doubles – a first this season. But the APSU pairing fell just short against Kent and Kromer, 7-6. In addition, Lipscomb's Victorsson and Kandyba defeated Covington and Kuppig, 6-0.
The Govs will serve a lengthy break from the court before returning March 4th at home vs. Western Kentucky.
Box Score
Singles
No. 1 – Lidia Yanes Garcia (APSU) def. Hannah Gamage (LIP), 7-5, 6-2
No. 2 – Claudia Yanes Garcia (APSU) def. Kate Kandyba (LIP), 6-1, 6-1
No. 3 – Laura Kent (LIP) def. Helena Kuppig (APSU), 7-5, 6-4
No. 4 – Hanna Victorsson (LIP) def. Hannah Tatlock (APSU), 7-6(3), 6-2
No. 5 – Melissa Kromer (LIP) def. Brittney Covington (APSU), 6-1, 6-3
No. 6 – Danielle Kinnen (LIP) def. Isabela Jovanovic (APSU), 7-5, 6-2
Doubles
No. 1 – Kent/Kromer (LIP) def. C. Yanes Garcia/L. Yanes Garcia (APSU), 7-6
No. 2 – Gamage/Kinnen (LIP) vs. Tatlock/Jovanovic (APSU) finished 6-6
No. 3 – Victorsson/Kandyba (LIP) vs. Covington/Kuppig (APSU), 6-0