UT Athletics Department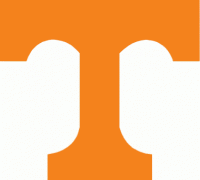 Knoxville, TN – The largest crowd of the season at Thompson-Boling Arena saw the Tennessee Volunteers storm to a 81-65 victory over the LSU Tigers Saturday evening.
There were 19,721 fans cheering on the Vols, who played without leading scorer Kevin Punter Jr. (right foot injury). A balanced attack combined to replace Punter's 22.2 points per game, led by Robert Hubbs III's 19 points.
Armani Moore scored 17 points and pulled down 10 rebounds, his second double-double in as many games after going for 21 and 11 against Kentucky. It was his fifth double-double of the season.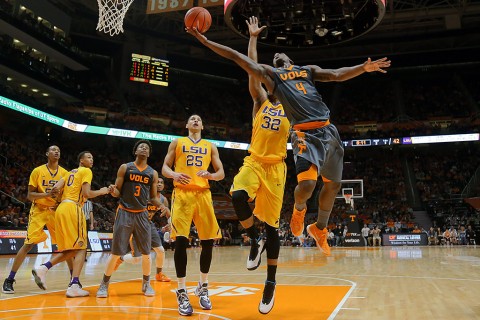 Shembari Phillips
scored 13 points, his highest total since pouring in a career-high 15 against Texas A&M on January 9th.
Detrick Mostella
added 10 points.
"What can you say? Armani (Moore)–look at his (stat) line. Shembari (Phillips), (Robert) Hubbs–I mean everyone. I told our guys if we had to give a game ball out it would be to Derek Reese," said Tennessee head coach Rick Barnes. "A guy who has had to sit there behind a freshman this year but when he was a called on he really did a nice job for us. A great win."
The Volunteers trailed by as many as four points in the early going, but pulled away to a 31-25 lead at halftime and started the second frame on a 16-4 run.
A Kyle Alexander layup as part of that run put Tennessee up 10 with 17:01 to play. The Vol lead would not fall below double digits the rest of the way, extending to as many as 19 points with 5:47 to play.
The Volunteers held LSU 15 points under its 80.7 points per game average, and dominated the boards, out-rebounding the Tigers, 42-35. Tennessee also won the battle of points in the paint, 42-36.
"We wanted to keep them off the free throw line which we did a good job of that. Without KP (Kevin Punter Jr.), we weren't in as good a sync offensively. But once we settled into a few of our half-court sets, we did start doing some things pretty well. It was really a nice win for us," stated Barnes.
Taming The Tigers
LSU's 25 points in the first half were the third-fewest points allowed by Tennessee in the first half this season. UT held Auburn to a season-low 23 first-half points on February 9th. Tennessee's 16-point win marked LSU's largest margin of defeat this season. The Tigers' previous largest margin of defeat was 14 points in a 71-57 loss to Texas A&M on January 19th in College Station, Texas.
LSU star Ben Simmons started the game on the bench and entered the game four and a half minutes in. Simmons had started all 26 games of his collegiate career entering tonight's game. He finished with 21 points, nine rebounds and eight turnovers.
Armani Moore's Big Night
Armani Moore filled up the stat sheet with 17 points, 10 rebounds, seven assists, two blocks and four steals. He recorded his fifth double-double of the season and the eighth of his career, and his seven assists tied his career-high. Moore also moved into sole possession of eighth place on UT's all-time blocks list with 124 for his career.
Up Next
The Tennessee Volunteers are on the road Wednesday, February 24th, 2016 to take on South Carolina in Columbia on the SEC Network. Tip off is set for 9:00pm ET/8:00pm CT. The Vols defeated USC, 78-69 on January 23rd in Knoxville TN.