Tennessee State Representative Curtis Johnson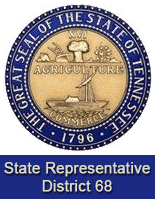 Nashville, TN – House lawmakers moved forward this week with multiple pieces of legislation designed to help military members across the state.
One of those bills, set to be heard on the House floor next week, will allow the five soldiers killed in the Chattanooga terrorist attack that occurred in July to be eligible for the 'Tennessee Fallen Heroes Medal'. Currently, the medal is awarded to honor residents of Tennessee killed while serving on active duty or engaged in military support operations involving a conflict with an opposing foreign force.
As introduced, this new legislation expands on this criteria to also allow the honor to be bestowed on those military men and women killed on Tennessee soil during an attack specifically targeting service members.
The medal is awarded solely by the Governor or the Governor's designee to the immediate survivor of the recipient.
A second piece of legislation, the National Guard Force Protection Act, enhances protection at Tennessee National Guard facilities and military installations. The bill follows hearings regarding the safety of military installations by the state's top leaders.
To fund the bill, the governor's budget includes $1.6 million for an emergency phone systems, window film, magnetic locks, security camera systems, privacy screens, and bollards to protect soldiers at state military installations.
The legislation is set to next be heard in the House Finance, Ways & Means Committee.
Veterans Day on the Hill
This past Wednesday, February 17th, was Veterans Day on the Hill. "Many veterans stopped by my office and I was able to visit with many of them,: Representative Johnson said. "It was my honor to be able to recognize our veterans group in the Finance, Ways, and Means Subcommittee meeting which I chair.
I hope our veterans had an enjoyable day and will come back again next year.
Joint Convention Called to Confirm Supreme Court Nominee
For the first time in Tennessee history, the General Assembly will meet in Joint session to conform or reject the Governor's nominee to the State Supreme Court. Judge Roger Page was nominated by Governor Bill Haslam to replace Justice Gary Wade who retired in September.
The first of its kind session follows a constitutional amendment passed by voters in 2014 which called for appellate judges to be appointed by the governor and confirmed by the legislature.  However, legislation had to be set up to define the confirmation process. That agreement was signed into law on January 28th, 2016 by Governor Bill Haslam.
Under the new law, if both chambers vote to confirm, the appointee is confirmed.  If both chambers vote to reject, the appointee is rejected.  Also, one chamber may reject the appointee by a two thirds vote.
Page, age 60, received his law degree with honors in 1984 from the University of Memphis, where he ranked fourth in his class.  He has been a judge on the Tennessee Court of Criminal Appeals since his appointment by Haslam in December 2011, writing more than 330 appellate opinions. He previously served as a circuit court judge for the 26th Judicial District, which includes Chester, Henderson and Madison counties. In that position, he presided over more than 300 civil and criminal jury trials.
The Special Joint Session of the Legislature is set for Monday. February 22nd, at 5:00pm.
House Continues Work on State Budget
The House will begin their budget hearing next Monday, February 22nd, 2016 and are scheduled to finish on March 9th. Every Department and State Entity will be scheduled to appear before the House Finance, Ways & Means Committee to present their budget.
On Monday, the Committee will hear from the Constitutional Officers, Department of Revenue, Health Services and Development Agency, the Administrative Office of the Courts, District Public Defenders Conference, and the District Attorney's General Conference.
All hearing can be seen on video screening from the Legislative Website.