APSU Sports Information

Clarksville, TN – First baseman Dre Gleason posted his second-straight four-hit outing and had five RBI to pace Austin Peay State University's baseball team to a 13-6 nonconference victory against Southern Illinois, Tuesday, at Raymond C. Hand Park.
Austin Peay's (3-1) offense got started early and kept pushing throughout the contest.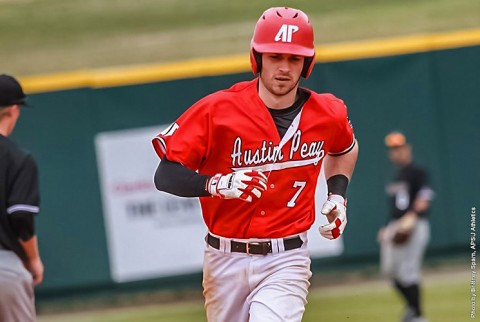 Trailing 1-0 after the top of the first, the Govs responded with four runs on four hits in its half of the inning.
Left fielder Cayce Bredlau tied the game with a RBI double and designated hitter Alex Robles followed with a sacrifice fly to give APSU a 2-1 lead.
Gleason followed with a two-run home run – his second straight game with a homer – and put the Govs ahead 4-1. One inning later, shortstop Clayton Smithson drove his second home run of the season – a solo shot that gave APSU a 5-2 lead.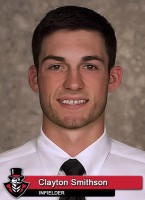 The Govs kept the offensive push going through the middle innings, adding seven runs in the fourth, fifth and sixth innings. The two-run fourth was highlighted by Smithson's RBI triple. The fifth frame saw Gleason drive in two runs with a single. Gleason batted in his fifth run of the day courtesy a triple in the sixth, extending the Govs advantage to 12-6.
Southern Illinois (1-3) had opportunities early in the contest, stranding 10 runners through the first five innings, but could only push three runs across the plate in that span. The Salukis would strike for three runs in the sixth as designated hitter Hunter Anderson hit his season's first home run.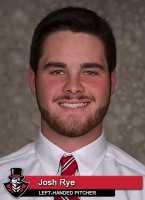 Redshirt freshman Josh Rye (1-0) picked up the win thanks to the Govs offensive outburst, but did his part by hog tying the Salukis offense. He allowed single runs in the first and second innings, but worked around the trouble, stranding six runners on base in his three innings. He would pick up his first win as a Governor after allowing two runs on six hits and striking out five.
Gleason went 4-for-5, including a home run and a triple, with five RBI. Smithson and third baseman Logan Gray also had home runs in the contest. Gray finished the day 2-for-3 with a RBI and two walks while Smithson was 2-for-4 with two RBI. Bredlau and Robles also had two hits each.
The Govs offense finished with 16 hits, including two doubles, two triples and three home runs. Austin Peay left just six men on base for the contest.
Southern Illinois starter Bryce Sablotny (0-1) was tagged for the loss after allowing seven runs on seven hits in four innings.
Anderson paced the SIU offense with a 3-for-5, three RBI day. Left fielder Greg Lambert went 2-for-4 with a RBI. The Salukis finished the day with 11 hits but stranded 12 men on base.
Austin Peay continues its homestand when it hosts the Riverview Inn Governors Challenge, Friday-Sunday. The Govs will face Alcorn State, Connecticut and Missouri State in the round-robin event. Austin Peay will play each day at 3:30pm.
Box Score
Southern Illinois (1-3) -vs- Austin Peay (3-1)
| | 1 | 2 | 3 | 4 | 5 | 6 | 7 | 8 | 9 | | | R | H | E |
| --- | --- | --- | --- | --- | --- | --- | --- | --- | --- | --- | --- | --- | --- |
| Southern Illinois | 1 | 1 | 0 | 0 | 1 | 3 | 0 | 0 | 0 | | 6 | 11 | 1 |
| Austin Peay | 4 | 1 | 0 | 2 | 3 | 2 | 0 | 1 | X | | 13 | 16 | 1 |
W: RYE, Josh (1-0) L: Sablotny,Bryce (0-1)
Southern Illinois 6
Position
Player
AB
R
H
RBI
BB
SO
LOB
2b
Kopach,Connor
5
0
1
0
0
1
2
cf
Smith,Ryan
3
1
1
0
0
1
2
ph/cf
Mucha,Dyllin
0
0
0
0
1
0
0
rf
Hand,Jake
5
0
1
1
0
1
0
1b
Blackfan,Logan
5
1
1
0
0
0
2
lf
Lambert,Greg
4
2
2
1
1
0
2
dh
Anderson,Hunter
5
1
3
3
0
1
0
c
Martin,Taylor
3
1
1
0
1
1
0
3b
Sabo,Ryan
1
0
0
0
2
1
3
ph/3b
Schmidt, Jared
2
0
0
0
0
0
0
ss
Farmer,Will
4
0
1
1
0
0
0
ph
King,Kenny
1
0
0
0
0
0
1
p
Sablotny,Bryce
0
0
0
0
0
0
0
p
McPheron,Austin
0
0
0
0
0
0
0
p
Williams,Jacob
0
0
0
0
0
0
0
p
McFadden,Connor
0
0
0
0
0
0
0
p
Shimkus,Anthony
0
0
0
0
0
0
0
p
Hackett,Seth
0
0
0
0
0
0
0
Totals
38
6
11
6
5
6
12
Austin Peay 13
Position
Player
AB
R
H
RBI
BB
SO
LOB
2b
COPELAND, Garrett
4
0
1
1
1
1
2
cf
MASSONI, Patrick
4
1
1
0
0
1
1
ph
HAMILTON, Chase
1
0
0
0
0
0
0
c
SALA, Alex
0
0
0
0
0
0
0
3b
GRAY, Logan
3
4
2
1
2
1
0
lf
BREDLAU, Cayce
5
2
2
1
0
1
0
dh
ROBLES, Alex
3
2
2
2
0
0
0
ph
BLACKBURN, Kyle
1
0
0
0
0
1
0
1b
GLEASON, Dre
5
1
4
5
0
0
0
rf
WILSON, Josh
1
1
1
1
1
0
0
pr/rf
WILLIS, Imani
1
0
0
0
0
1
1
c/rf
SMITH, Ridge
4
0
1
0
0
2
2
ss
SMITHSON, Clayton
4
2
2
2
0
0
0
p
RYE, Josh
0
0
0
0
0
0
0
p
POWELL, Caleb
0
0
0
0
0
0
0
p
HARMON, Jordan
0
0
0
0
0
0
0
p
LANTIGUA, Shane
0
0
0
0
0
0
0
p
BURROW, CJ
0
0
0
0
0
0
0
Totals
36
13
16
13
4
8
6
Southern Illinois
Player
IP
H
R
ER
BB
SO
WP
BK
HBP
IBB
AB
BF
FO
GO
NP
Sablotny,Bryce
(L, 0-1)
4.0
8
7
7
0
2
0
0
1
0
18
20
5
4
74
McPheron, Austin
0.0
3
3
3
1
0
0
0
0
0
3
4
0
0
18
Williams,Jacob
1.0
1
0
0
0
1
0
0
0
0
3
4
1
1
19
McFadden, Connor
0.2
2
2
2
2
1
1
0
0
0
4
6
1
0
27
Shimkus, Anthony
1.1
0
0
0
1
1
0
0
0
0
3
4
1
1
16
Hackett, Seth
1.0
2
1
1
0
3
0
0
0
0
5
5
0
0
20
Totals
16
13
13
4
8
1
0
1
0
36
43
8
6
174
Austin Peay
| Player | IP | H | R | ER | BB | SO | WP | BK | HBP | IBB | AB | BF | FO | GO | NP |
| --- | --- | --- | --- | --- | --- | --- | --- | --- | --- | --- | --- | --- | --- | --- | --- |
| RYE, Josh (W, 1-0) | 3.0 | 6 | 2 | 2 | 2 | 5 | 0 | 0 | 0 | 0 | 15 | 17 | 2 | 2 | 65 |
| POWELL, Caleb | 2.2 | 4 | 3 | 3 | 2 | 0 | 0 | 0 | 1 | 0 | 12 | 15 | 6 | 2 | 45 |
| HARMON, Jordan | 1.1 | 1 | 1 | 1 | 0 | 1 | 0 | 0 | 0 | 0 | 5 | 5 | 1 | 2 | 12 |
| LANTIGUA, Shane | 1.0 | 0 | 0 | 0 | 1 | 0 | 0 | 0 | 0 | 0 | 3 | 4 | 3 | 0 | 14 |
| BURROW, CJ | 1.0 | 0 | 0 | 0 | 0 | 0 | 0 | 0 | 1 | 0 | 3 | 4 | 2 | 1 | 14 |
| Totals | | 11 | 6 | 6 | 5 | 6 | 0 | 0 | 2 | 0 | 38 | 45 | 14 | 7 | 150 |