APSU Sports Information

Carbondale, IL – Austin Peay State University men's tennis team was on the wrong end of a 7-0 decision, Friday, falling to Southern Illinois at the University Courts.
The Governors (0-4) fell behind early in doubles play, dropping its first two matches by scores of 6-1 – Jonny Rigby and Piotr Baranski defeated APSU's Manuel Montenegro and Almantas Ozelis, while Wilder Pimentel and Alex Pozo topped Aaron Jumonville and James Mitchell.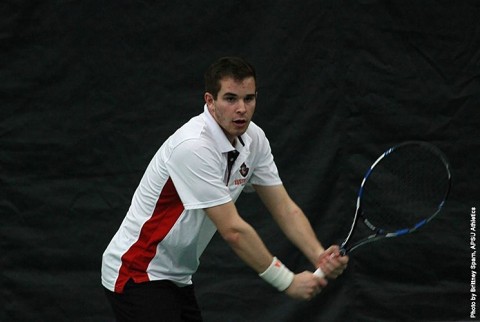 The No. 3 doubles contest between Austin Peay's
Aleh Drobysh
and
Alex Kartsonis
versus Peter Molloy and Daniel Martinez was unfinished after SIU held a 5-2 advantage.
In singles play, the Salukis (6-1) continued their tear over Ohio Valley Conference foes, sweeping the score sheet with only one tiebreaker needed. Reigning Missouri Valley Conference Player of the Week Rigby set the tone, knocking off Jumonville, 6-1, 6-1, while Pimentel rode the momentum to a victory over Montenegro, 6-0, 6-3.
Ozelis forced a break in his match with Baranski, only to fall 7-6(5), 6-2. Southern Illinois proved too strong for the Govs, leading to its sixth win of the season – Molloy defeated Mitchell, 6-0, 6-4, Pozo won over Kartsonis, 6-0, 6-1, and at No. 6, Martinez propelled over Chad Woodham, 6-3, 6-1.
With Saturday's originally scheduled match against Wright State cancelled, the Govs begin a clean slate. Once turning the calendar, APSU returns on the road at Lindsey Wilson, March 4th, at 4:00pm.
Box Score
Singles
No. 1 – Jonny Rigby (SIU) def. Aaron Jumonville (APSU), 6-1, 6-1
No. 2 – Wilder Pimentel (SIU) def. Manuel Montenegro (APSU), 6-0, 6-3
No. 3 – Piotr Baranski (SIU) def. Almantas Ozelis (APSU), 7-6(5), 6-2
No. 4 – Peter Molloy (SIU) def. James Mitchell (APSU), 6-0, 6-4
No. 5 – Alex Pozo (SIU) def. Alex Kartsonis (APSU), 6-0, 6-1
No. 6 – Daniel Martinez (SIU) def. Chad Woodham, 6-3, 6-1
Doubles
No. 1 – Rigby/Baranski (SIU) def. Montenegro/Ozelis (APSU), 6-1
No. 2 – Pimentel/Pozo (SIU) def. Jumonville/Mitchell (APSU), 6-1
No. 3 – Molloy/Martinez (SIU) vs. Drobysh/Kartsonis (APSU), 5-2 unfinished