APSU Sports Information

Troy, AL – Austin Peay State University's softball team was held to just two runs in a pair of losses, Saturday in the second day of the Trojan Warrior Tournament, dropping a 1-0 morning final to Dayton before falling 10-2 to Mercer in the afternoon.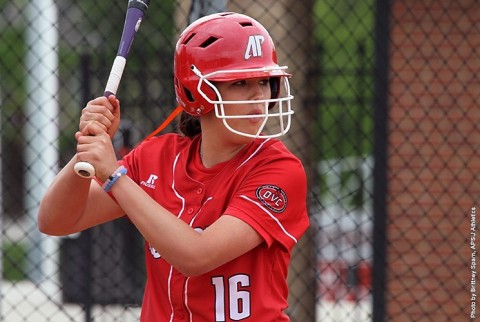 It was obvious from the beginning versus Dayton that it was going to be a pitcher's duel, with the Lady Govs (2-6)
Autumn Hanners
and the Flyers (5-3) Gabrielle Snyder trading zeroes on the scoreboard for the first four innings – with Hanners only giving up two hits and Snyder three over that span.
But a leadoff walk to Dayton's Kennedy Haynes in the bottom of the fifth inning was followed two outs later by a double into the right field corner by Snyder to drive in with turned out to be the game-winning run.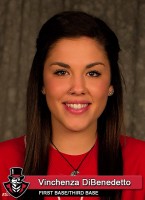 Austin Peay threatened to tie the game in the top of the seventh inning, with Vinchenza DiBenedetto getting into scoring position with a one-out double, but Dayton brought in Manda Cash – who led Division I last year in saves – out of the pen to face pinch hitters Sidney Hooper and Brea Dickson.
Cash would strikeout both Lady Govs pinch hitters to seal the victory for the Flyers.
Hanners (1-3) was the hard-luck loser, giving up the one run on three hits, while Snyder (3-0) got the win.
In the afternoon nightcap, Austin Peay saw Mercer (4-8) get out to a 5-0 lead after two innings before they got on the board in the bottom of the third inning on Kacy Acree's second home run of the season.
The Bears would extend their lead out to 8-1 heading into the bottom of the sixth inning, when Danielle Liermann made it an 8-2 game on her first collegate home run, before Mercer tacked on two final runs in the top of the seventh for the 10-2 final.
Austin Peay wraps up its action at the Trojan Warrior Tournament on Sunday with a noon contest versus tournament host Troy.
Box Score – Game 1
Austin Peay (2-5) vs. Dayton (5-3)
| | 1 | 2 | 3 | 4 | 5 | 6 | 7 | | | R | H | E |
| --- | --- | --- | --- | --- | --- | --- | --- | --- | --- | --- | --- |
| Austin Peay | 0 | 0 | 0 | 0 | 0 | 0 | 0 | | 0 | 4 | 1 |
| Dayton | 0 | 0 | 0 | 0 | 1 | 0 | X | | 1 | 3 | 0 |
W: Snyder, Gabrielle (3-0) L: HANNERS, Autumn (1-3) S: Cash, Manda (1)
Austin Peay 0
Position
Player
AB
R
H
RBI
BB
SO
LOB
lf
GROVES, Chandler
3
0
0
0
0
0
1
rf
ACREE, Kacy
3
0
0
0
0
0
1
3b
LIERMANN, Danielle
3
0
1
0
0
0
0
p
HANNERS, Autumn
3
0
1
0
0
1
1
2b
MATTSON, Carly
2
0
0
0
1
0
0
1b
DIBENEDETTO, Vinchen
2
0
1
0
0
0
1
ss
VEDDER, Kendall
2
0
0
0
0
0
0
ph
HOOPER, Sidney
1
0
0
0
0
1
0
c
PAVEL, Mel
2
0
1
0
0
0
0
ph
DICKSON, Brea
1
0
0
0
0
1
1
cf
ARKANSAS, Rikki
1
0
0
0
0
0
0
Totals
23
0
4
0
1
3
5
Dayton 1
Position
Player
AB
R
H
RBI
BB
SO
LOB
p/rf
Snyder, Gabrielle
3
0
1
1
0
0
0
p
Cash, Manda
0
0
0
0
0
0
0
c
Hess, Kathy
3
0
1
0
0
1
0
rf
Ryan, Katie
2
0
0
0
0
1
0
ph
Tassi, Lisa
1
0
0
0
0
0
2
3b
Budicin, Kailee
3
0
0
0
0
0
1
lf
DeSalvo, Hannah
1
0
0
0
2
0
0
1b
Gustafson, Krista
3
0
0
0
0
1
1
2b
Haynes, Kennedy
1
0
0
0
1
0
0
ph
Maloof, Madi
0
0
0
0
0
0
0
ss
Haberstich, Kayla
2
0
1
0
0
0
0
pr
Bartlett, Kirsten
0
1
0
0
0
0
0
cf
Kweder, Jaclyn
2
0
0
0
0
0
0
p
Froment, Emily
0
0
0
0
0
0
0
Totals
21
1
3
1
3
3
4
Austin Peay
| Player | IP | H | R | ER | BB | SO | WP | BK | HBP | IBB | AB | BF | FO | GO | NP |
| --- | --- | --- | --- | --- | --- | --- | --- | --- | --- | --- | --- | --- | --- | --- | --- |
| Hanners, Autumn (L, 1-3) | 6.0 | 3 | 1 | 1 | 3 | 3 | 0 | 0 | 0 | 0 | 21 | 24 | 4 | 9 | 98 |
| Totals | | 3 | 1 | 1 | 3 | 3 | 0 | 0 | 0 | 0 | 21 | 24 | 4 | 9 | 98 |
Dayton
| Player | IP | H | R | ER | BB | SO | WP | BK | HBP | IBB | AB | BF | FO | GO | NP |
| --- | --- | --- | --- | --- | --- | --- | --- | --- | --- | --- | --- | --- | --- | --- | --- |
| Froment, Emily | 0.0 | 0 | 0 | 0 | 0 | 0 | 0 | 0 | 0 | 0 | 0 | 0 | 0 | 0 | — |
| Snyder, Gabrielle (W, 3-0) | 6.1 | 4 | 0 | 0 | 1 | 1 | 0 | 0 | 1 | 0 | 21 | 24 | 11 | 6 | 94 |
| Cash, Manda (S, 1) | 0.2 | 0 | 0 | 0 | 0 | 2 | 0 | 0 | 0 | 0 | 2 | 2 | 0 | 0 | 10 |
| Totals | | 4 | 0 | 0 | 1 | 3 | 0 | 0 | 1 | 0 | 23 | 26 | 11 | 6 | 104 |
Box Score – Game 2
Mercer (4-8) -vs- Austin Peay (2-6)
| | 1 | 2 | 3 | 4 | 5 | 6 | 7 | | | R | H | E |
| --- | --- | --- | --- | --- | --- | --- | --- | --- | --- | --- | --- |
| Mercer | 1 | 4 | 0 | 1 | 2 | 0 | 2 | | 10 | 14 | 0 |
| Austin Peay | 0 | 0 | 1 | 0 | 0 | 1 | 0 | | 2 | 6 | 3 |
W: Anna O'Neill (2-2) L: AYALA, Natalie (0-1)

Mercer 10
Position
Player
AB
R
H
RBI
BB
SO
LOB
cf
Meghan Rud
5
2
2
1
0
2
1
rf
Taylor Miller
3
0
1
2
0
1
0
dp/lf
Megan Lane
3
1
0
0
0
2
0
c
Natalie Shiver
4
0
3
2
0
0
1
1b
Maxine Rodriguez
4
1
1
0
0
1
2
ss
Emma Andrew
4
2
2
2
0
0
0
2b
Shaila Warren
4
1
2
0
0
0
0
3b
Quirisa Mauga
2
1
1
0
0
0
0
ph
Catie Josselet
1
0
0
0
0
0
0
lf
Kaytlin Haney
1
1
0
0
0
0
2
ph/dp
Jaya Alaan
2
1
2
2
0
0
0
p
Anna O'Neill
0
0
0
0
0
0
0
Totals
33
10
14
9
0
6
6
Austin Peay 2
Position
Player
AB
R
H
RBI
BB
SO
LOB
lf
GROVES, Chandler
3
0
0
0
0
1
0
rf/cf
ACREE, Kacy
3
1
2
1
0
0
1
2b
MATTSON, Carly
3
0
1
0
0
1
0
3b
SPARKS, Niya
3
0
0
0
0
2
2
dp
LIERMANN, Danielle
3
1
2
1
0
1
0
1b
DIBENEDETTO, Vinchen
3
0
0
0
0
0
0
ss
VEDDER, Kendall
1
0
0
0
0
0
0
ph
HOOPER, Sidney
1
0
0
0
0
0
0
c
HILL, Alexis
2
0
1
0
0
0
1
ph
DICKSON, Brea
1
0
0
0
0
1
0
cf
ARKANSAS, Rikki
1
0
0
0
0
1
0
ph/rf
OLIVER, Savanna
2
0
0
0
0
0
0
p
AYALA, Natalie
0
0
0
0
0
0
0
p
GABLE, Christiana
0
0
0
0
0
0
0
Totals
26
2
6
2
0
7
4
Mercer
| Player | IP | H | R | ER | BB | SO | WP | BK | HBP | IBB | AB | BF | FO | GO | NP |
| --- | --- | --- | --- | --- | --- | --- | --- | --- | --- | --- | --- | --- | --- | --- | --- |
| Anna O'Neill (W, 2-2) | 7.0 | 6 | 2 | 2 | 0 | 7 | 0 | 0 | 1 | 0 | 26 | 27 | 5 | 8 | 98 |
| Totals | | 6 | 2 | 2 | 0 | 7 | 0 | 0 | 1 | 0 | 26 | 27 | 5 | 8 | 98 |
Austin Peay
| Player | IP | H | R | ER | BB | SO | WP | BK | HBP | IBB | AB | BF | FO | GO | NP |
| --- | --- | --- | --- | --- | --- | --- | --- | --- | --- | --- | --- | --- | --- | --- | --- |
| AYALA, Natalie (L, 0-1) | 4.2 | 11 | 8 | 7 | 0 | 2 | 0 | 0 | 2 | 0 | 23 | 27 | 5 | 5 | 89 |
| GABLE, Christiana | 2.1 | 3 | 2 | 2 | 0 | 4 | 1 | 0 | 0 | 0 | 10 | 10 | 1 | 2 | 56 |
| Totals | | 14 | 10 | 9 | 0 | 6 | 1 | 0 | 2 | 0 | 33 | 37 | 6 | 7 | 145 |