APSU Sports Information

Troy, AL – Austin Peay State University's softball team got into a 6-0 hole Sunday, in the final day of the Trojan Warrior Tournament, to host Troy before falling by a 9-3 final.
The Lady Govs (2-7) only trailed the Trojans 1-0 after three innings, but Troy broke the game open with a five-run fourth inning on five hits, a hit batter and one APSU error.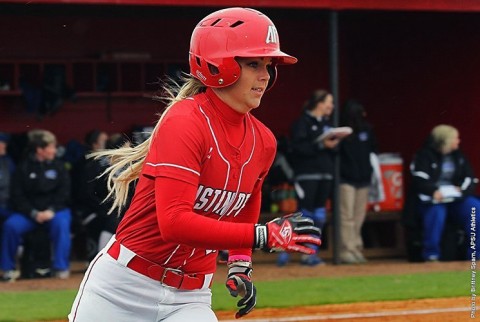 Austin Peay would try to rally in the top of the fifth inning, with
Chandler Groves
and
Kacy Acree
opening the inning with back-to-back singles, followed by a double into the left-center field gap by Danielle Lierman to cut the Trojans (11-4) lead to 6-2.
Groves and Acree would lead Austin Peay with two hits each, while Rikki Arkansas and Kendall Vedder added doubles.
Troy would respond with three runs in the bottom of the inning to extend its lead back out to 9-2, before Austin Peay closed out the game's scoring in the top of the sixth inning on an RBI single by Acree.
Austin Peay is off until next weekend when they travel to the University of Georgia to play in the 13th Annual Georgia Softball Classic.
Box Score
Austin Peay (2-7) vs. Troy (11-4)
| | 1 | 2 | 3 | 4 | 5 | 6 | 7 | | | R | H | E |
| --- | --- | --- | --- | --- | --- | --- | --- | --- | --- | --- | --- |
| Austin Peay | 0 | 0 | 0 | 0 | 2 | 1 | 0 | | 3 | 7 | 2 |
| Troy | 0 | 0 | 1 | 5 | 3 | 0 | X | | 9 | 11 | 2 |
W: Rainey, Ashley (6-4) L: HOOPER, Sidney (0-3)
Austin Peay 3
Position
Player
AB
R
H
RBI
BB
SO
LOB
lf
GROVES, Chandler
4
1
2
0
0
0
0
rf
ACREE, Kacy
4
1
2
1
0
0
0
3b
LIERMANN, Danielle
4
0
1
2
0
1
2
dp
GABLE, Christiana
3
0
0
0
1
0
2
p
HOPPER, Sidney
2
0
0
0
0
1
0
p
HANNERS, Autumn
1
0
0
0
0
1
0
p
BLACKWOOD, Allie
1
0
0
0
0
0
0
1b
DIBENEDETTO, Vinchen
2
0
0
0
2
0
1
c
PAVEL, Mel
3
0
0
0
0
0
0
ss
VEDDER, Kendall
3
0
1
0
0
0
2
cf
ARKANSAS, Rikki
3
1
1
0
0
0
2
2b
INAGAKI, Erica
0
0
0
0
0
0
0
Totals
30
3
7
3
3
3
9
Troy 9
Position
Player
AB
R
H
RBI
BB
SO
LOB
2b
Benton, Kate
5
2
3
1
0
0
1
lf/dp
Davis, Erica
3
3
2
2
0
0
0
dp/rf
Day, Hannah
4
1
2
2
0
1
0
1b
Winters, Amanda
3
1
1
3
1
0
0
p
Rainey, Ashley
2
0
0
0
1
0
0
pr
Brundidge, Leah
0
0
0
0
0
0
0
p
Graves, Claire
0
0
0
0
0
0
0
cf
Kayler, Carli
3
0
0
0
1
1
4
3b
Neely, Khadija
3
1
2
1
1
1
2
pr
Moore, Allison
0
0
0
0
0
0
0
rf/lf
Burk, Bailey
2
1
1
0
1
1
3
ph
Gray, Jordan
0
0
0
0
0
0
0
ss
Hartley, Becca
3
0
0
0
0
0
0
c
Johnston, Heather
0
0
0
0
0
0
0
c
Hussey, Kaylee
0
0
0
0
0
0
0
Totals
28
9
11
9
5
4
10
Austin Peay
Player
IP
H
R
ER
BB
SO
WP
BK
HBP
IBB
AB
BF
FO
GO
NP
Hopper, Sidney
(L, 0-3)
3.1
8
5
5
3
2
1
0
0
0
17
20
4
3
82
Hanners, Autumn
0.2
1
2
1
1
1
2
0
2
0
4
7
0
1
24
Black-wood Allie
2.0
2
2
1
1
1
0
0
1
0
7
10
1
3
38
Totals
11
9
7
5
4
3
0
3
0
28
37
5
7
144
Troy
| Player | IP | H | R | ER | BB | SO | WP | BK | HBP | IBB | AB | BF | FO | GO | NP |
| --- | --- | --- | --- | --- | --- | --- | --- | --- | --- | --- | --- | --- | --- | --- | --- |
| Rainey, Ashley (W, 6-4) | 5.0 | 5 | 2 | 2 | 3 | 2 | 0 | 0 | 0 | 0 | 21 | 24 | 8 | 5 | 78 |
| Graves, Claire | 2.0 | 2 | 1 | 0 | 0 | 1 | 0 | 0 | 0 | 0 | 9 | 9 | 2 | 3 | 25 |
| Totals | | 7 | 3 | 2 | 3 | 3 | 0 | 0 | 0 | 0 | 30 | 33 | 10 | 8 | 103 |