APSU Sports Information

Nashville, TN – Austin Peay State University senior guard Tiasha Gray has been named first-team All-Ohio Valley Conference for the second consecutive season by a vote of conference coaches and sports information directors, announced at Tuesday's Celebration of Women's Basketball at the DoubleTree Downtown Nashville.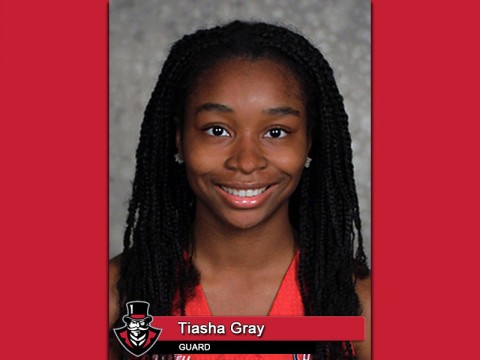 Gray, from Clarksville, averaged 20.4 points, 4.3 rebounds and 5.4 assists in her final APSU campaign, becoming the first Governor since Gerlonda Hardin (2002-03, 2003-04) to earn first-team honors in back-to-back seasons.
Those per-game averages ticked up to 22.7 ppg, 4.5 rpg and a conference-leading 6.0 apg during conference season, and she led the league with 3.2 steals per game during OVC play as well.
"Tiasha is very deserving of this honor, and I think she'd be deserving of conference MVP as well," said head coach David Midlick. "That's how much I think of her game this year and how much of a difference she's made for us on both ends of the floor."
In her final APSU campaign, Gray put the cap on one of the most storied careers in APSU women's basketball history. She enters Thursday's OVC Tournament contest against Eastern Kentucky as the program's all-time leader in steals (314) and is second all-time in assists (514) and points (1885) after passing Hardin in the scoring column during her final regular season contest, Saturday.
Gray's consecutive games streak reaching double figures in scoring reached 37 this season, the longest by a Governor since Brooke Armistead's school-record 48-game in double-figures streak from 2001-02. She also equaled Armistead's school record with 11 career 30-point contests.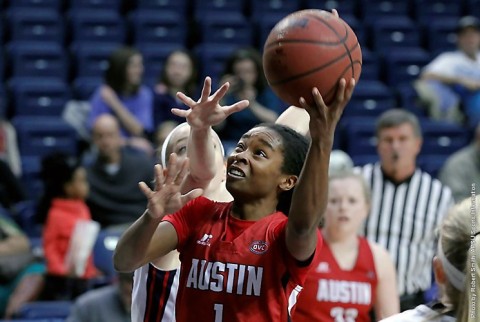 Between her scoring and assists, Gray had a hand in 50.3 percent of Austin Peay's field goals (209 field goals, 156 assists of APSU's 726 made field goals in 2015-16) this season, a figure which jumped to 51.3 percent (122/96 of 425) in 16 OVC contests.
Gray will go down as one of the premier defensive players in OVC history. Her 314 steals ranks fourth in OVC history and she's one of just five players to reach the 300-steal plateau in their career. She was able to hound other players among the OVC elite into difficult days, including UT Martin's Jessy Ward (held scoreless by Gray in the second half of Austin Peay's 80-70 win, February 13th), Morehead State's Brianna McQueen (2-of-8 shooting in the second half) and Tennessee State's I'mani Davis (two points, 0-of-3 shooting in the second half)—all three of whom earned All-OVC second-team honors.
Gray's eye-popping numbers placed her among the elite at both the conference and national level:
Steals per game: 2.8 (first in the OVC/19th in the nation)
Assists per game: 5.4 (first/32nd)
Field-goals made: 209 (second/t-22nd)
Total points: 593 (third/15th)
Points per game: 20.4 (third/25th)
Free-throws made: 119 (third/t-46th)
Free-throw percentage: 81.5 (sixth/87th)
Three-pointers made: 1.9 (10th/193rd)
"She's worked on her game for four years and made herself a better offensive player," Midlick said. "Her career stats are going to speak for themselves on where she ranks among the best players in the history of women's basketball here."
After earning three adidas® / Ohio Valley Conference Women's Basketball Player of the Week honors during the season—giving her six for her Austin Peay career—Gray becomes the sixth Austin Peay women's basketball player to earn multiple first-team honors in her career, joining Hardin, Elaine Swafford (1979-80), Shandra Maxwell (1988, 1990), Armistead (2001-03) and Ashley Haynes (2004, 2006). Among that group, only Swafford has yet to achieve induction into Austin Peay's Athletics Hall of Fame.
Joining Gray on the All-OVC First-Team are OVC Player of the Year Shronda Butts, Tennessee Tech's Samaria Howard, UT Martin's Haley Howard, Murray State's Ke'Shunan James, Tennessee State's Jayda Johnson, Belmont's trio of Kylee Smith, Sally McCabe and Darby Maggard and Eastern Kentucky's Jalen O'Bannon, who will share the court with Gray during the Governors opening-round OVC Tournament contest, 12:00pm, Thursday.
Belmont's McCabe and SIU Edwardsville's CoCo Moore shared Defensive Player of the Year honors, Maggard was named Freshman of the Year and UT Martin's Kevin McMillan was named Coach of the Year for the second season in a row and third time overall.