APSU Sports Information

Nashville, TN – Austin Peay State University falls 82-68 to Eastern Kentucky in first-round Ohio Valley Conference tournament action, Thursday afternoon, in Municipal Auditorium. Eastern Kentucky opened the fourth quarter on a 16-0 run and never looked back.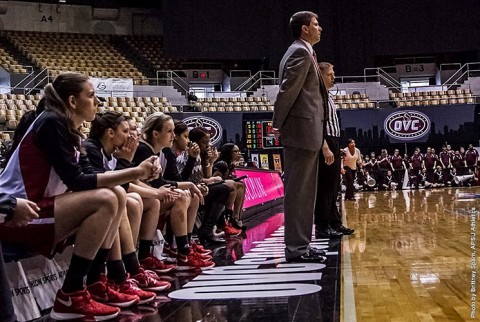 The Colonels will move forward to play Murray State, noon, Friday, in the tourney semifinals. APSU's first season under head coach David Midlick ends at 10-20.
The 16-0 fourth-quarter was just part of a second-half EKU comeback. After trailing by 11, 37-26, at halftime, the Colonels roared out of intermission to take control. The game was tied just 4:46 into the third period as Michaela Hunter scored 11 of her team-high 21 points in the period. APSU could not corral the Colonels, who converted 12-of-16 shots in the period.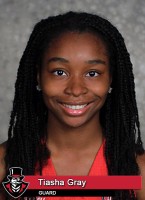 At the same time, EKU made it difficult for APSU star guard Tiasha Gray to get many good looks at the basket after scoring 15 first-half points. And that same suffocating defense helped generate the game-deciding run to open the final period. Until Gray hit a pair of three pointers with less than three minutes left, the contest was all but decided.
APSU begin that final period missing six shots, missing two free throws and committing a pair of free throws. By the time Sydney Gooch hit a short jumper from the left side with 4:41 left, APSU was down 68-54. With no one other than Gray finding the scoring range consistently during the contest no comeback was in the offing.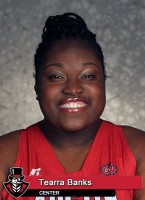 Like the first game between the two teams the Governors got off to a quick start. They led by as much as six points on five different occasions in the first quarter as Tearra Banks scored six of her eight points in the opening period, four at the free throw line. But Banks also picked up two fouls in the period and seemingly never regained her offensive rhythm.
EKU was forced to sit multiple players because of foul troubles in the second period and Gray took advantage, scoring 11 points. Eleven points also would be their halftime advantage.
APSU, which shot 48 percent (12 of 25) in the opening half, converted only 12-of-33 attempts (36 percent) after intermission. EKU, conversely, after shooting 30 percent in the opening half, shot 65 percent (20 of 31) over the final two periods. Any hopes for a comeback was thwarted at the free-throw line. EKU shot an unconscionable 21-of-22 (96 percent) at the line.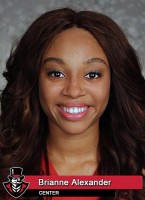 Gray finished her career with a 26-point outing and in doing so became only the second Lady Gov in history to crack 2,000 points (2,011). Former APSU star Brooke Armistead is the record holds at 2,508 points. She also picked up four assists to end at 518, 19 behind career record holder Kelly Chavez (537, 1997-02).
No other Governor cracked double figures as Banks ended with eighth while Brianne Alexander had seven before fouling out.
In addition to Hunter's 21, Jalen O'Bannon slashed her way to back for 18 on 7-of-10 shooting.
Box Score
Austin Peay (10-20) 68, Eastern Kentucky (17-11) 82
| | 1 | 2 | 3 | 4 | Total |
| --- | --- | --- | --- | --- | --- |
| Austin Peay | 17 | 20 | 15 | 16 | 68 |
| Eastern Kentucky | 16 | 10 | 26 | 30 | 82 |
Austin Peay 68
Player
FGM
-FGA
3FGM
-3FGA
FTM
-FTA
OFF
-DEF
TOT
PF
TP
A
TO
BLK
STL
MIN
Gray, Tiasha
10-23
4-11
2-2
2-6
8
4
26
4
4
0
1
35
Rates, Beth
2-5
0-0
1-4
2-3
5
4
5
0
3
1
0
21
Gooch, Sydney
2-9
0-0
0-0
0-6
6
2
4
3
3
0
0
31
Baker, Falon
0-2
0-1
4-6
0-1
1
1
4
1
3
0
3
27
Norton, Symantha
0-0
0-0
0-0
2-1
3
2
0
0
0
0
0
16
Banks, Tearra
2-3
0-0
4-4
0-0
0
3
8
0
1
0
0
7
Alexander, Brianne
3-5
0-0
1-2
1-0
1
5
7
1
1
0
0
18
Gregory, Lakeisha
2-5
0-3
0-0
0-3
3
4
4
3
1
1
1
22
Rich, Madison
1-2
1-1
1-2
0-2
2
0
4
0
0
0
2
15
Olszewski, Shelby
1-2
1-1
0-2
0-0
0
1
3
1
1
0
0
5
Rivers, April
1-2
0-0
1-2
0-0
0
0
3
0
0
0
0
2
Maki, Lauren
0-0
0-0
0-0
0-0
0
0
0
0
0
0
0
1
TEAM
0-0
0-0
0-0
1-2
3
0
0
0
0
0
0
0
Totals
24-58
6-17
14-24
8-24
32
26
68
13
17
2
7
200
Eastern Kentucky 82
Player
FGM
-FGA
3FGM
-3FGA
FTM
-FTA
OFF
-DEF
TOT
PF
TP
A
TO
BLK
STL
MIN
Hunter, Michaela
7-13
1-3
6-6
1-2
3
5
21
4
4
0
1
34
O'Bannon, Jalen
7-10
0-0
4-4
1-6
7
2
18
3
3
1
1
26
Murray, Shameekia
5-17
0-1
4-4
3-2
5
1
14
2
4
0
3
38
Maples, Miranda
3-5
1-2
2-2
1-1
2
3
9
0
2
0
0
24
Cooper, Alexus
3-4
2-3
0-0
0-6
6
4
8
1
1
0
1
26
Wright, Abby
2-3
1-2
2-2
0-3
3
4
7
0
0
0
1
16
Massengill, Mariah
1-3
0-0
3-4
0-0
0
0
5
1
1
0
0
14
Willix, Zee
0-1
0-0
0-0
0-4
4
3
0
0
1
0
1
12
Henshaw, Jasmine
0-1
0-0
0-0
0-1
1
2
0
1
0
0
0
6
Triplett, Jada
0-0
0-0
0-0
0-0
0
1
0
0
0
0
0
2
Pippen, Katie
0-1
0-1
0-0
0-0
0
0
0
0
0
0
0
2
TEAM
0-0
0-0
0-0
0-3
3
0
0
0
1
0
0
0
Totals
28-58
5-12
21-22
6-28
34
25
82
12
17
1
8
200