APSU Sports Information

Nashville, TN – The Miracle on 4th Avenue continued Friday night. Craig Bradshaw's tip in as time evaporated in overtime was disallowed as No. 8 seed Austin Peay shocked No. 1 seed Belmont, 97-96, in the Ohio Valley Conference tournament semifinals.

The Govs will advance to the OVC championship game for the first time since losing to Morehead State in double overtime in the 2009 title contest.

After a Belmont timeout with 13 seconds left in the game to set up a play, the Governors defense prevented Evans Bradds, who had made 14 of 15 shots from getting a shot as well as Bradshaw, who had 18 points. It went to Luke in the left corner who let fly with the three-point attempt that fell short. Bradshaw snared the rebound and tipped it in with the buzzer sounding.

Initially, official Coy Gammon called the bucket good but the officials immediately went to replay monitor. After a relatively short conference referee Rick Shoulders waved off the bucket and bedlam broke out on the Governors bench and the players immediately headed across court to celebrate with the Governors faithful.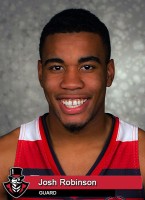 A week earlier the Governors were in an eighth-place tie and needed to win a pair of games while hoping Eastern Kentucky would lose a game so the Govs could gain an OVC tourney berth. That happened last Saturday when the Colonels lost at Tennessee Tech while the Govs gained a pair of victories.
Now the Governors are on the precipice of their first NCAA tourney berth since 2008. It easily may have turned when head coach Dave Loos moved shooting guard Josh Robinson from two guard to point guard and inserted freshman Jared Savage into the lineup.
Robinson scored 25 points while dishing out five assists, Friday, while Savage backed up his big-shot play against Tennessee State with 21 points, on 5-of-7 three pointers.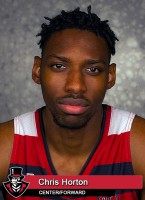 But it was the senior Chris Horton, who continued to build an already of unrivaled legacy. Fighting fatigue after two straight nights of double teams, Horton dug deep into his reservoir to score 25 of his 30 points in the second half. He also had 12 rebounds after intermission, including seven offensive grabs.

Playing three games in three nights, the Governors showed little fatigue at the outset. In fact, the Govs got off to terrific start, using a 13-3 run to take a 15-7 advantage as freshman forward Jared Savage remained from the previous night with 15:56 left in the half. But Belmont elected to turn it over to OVC Player of the Year Bradds, who scored six of the Bruins eight points on layups in the 8-0 run, working his way around the lane to tie the game.

Then the game settled into a back-and-forth contest until late in half. In less than two minutes, Belmont went a 12-0 run and carried that momentum through half's remainder. Savage's third three of the half stopped the bleeding momentarily but the Bruins took a 47-38 lead into intermission.

Bradds had 14 of those points while Craig Bradshaw, after taking over at point for the faltering Austin Luke, gained his offensive rhythm, finishing with 12 first-half points—the two All-OVC selections had 26 points between them.

Savage had 11 for APSU and Josh Robinson had 10 but seven first-half turnovers helped lead to the Govs halftime deficit.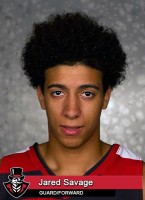 Belmont opened the second half with a layup and the Bruins kept the lead at or near double digits through the first four minutes of the second half. But Robinson and Savage hit back-to-back three pointers and the deficit now was down to four, 58-54, with 14:47 left and it was…game on.
Robinson was fouled on a three-point attempt, making all three free throws, before Horton made two more with 12:23 remaining to give APSU its first second-half lead, 63-62. Horton then followed with a putback and the Governors led by three, 65-62, with 11:38 left.
From that point it the two teams exchanged momentum swings as the game was tied nine different times in the half. Kevin McClain gave Belmont a three-point lead with a three pointer with 9:54 left—its largest lead over the final 13:02. When Josh Robinson nailed a fall-back three pointer with 4:33 remaining, the Govs matched their largest second-half lead.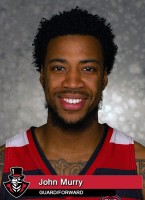 After the Bruins took the lead with another Bradds inside maneuver with 2:07 remaining, Savage nailed a long three from the wing to give APSU the lead with 1:52 left but Bradds responded with another inside bucket for a 87-86 advantage with 1:08 left.

With 46 ticks left, Horton rebounded a Robinson miss and dropped it in while being fouled. He converted the free throw to give APSU a two-point lead, 89-87, with 46 seconds left.

After a timeout, Bradshaw caught a pass in mid-air and in one motion laid it in to tie the game at 89 all with 35 seconds left.

APSU was called for an offensive foul with 5.1 seconds left, giving Belmont one last chance to win it in regulation. Bradds caught the ball near midcourt and dribbled towards the basket. Bradds let loose with a running one hander right before the horn sounded. It bounced off the rim no good. It was Bradds' only miss on the night—he finished 15 of 16.

In overtime, Belmont drew first blood as Amanze Egekezke nailed a three from the top of the circle. But Horton answered with a layup after a missed shot. After a Belmont turnover, Horton was fouled after grabbing a missed Governors shot. He made both free throws—he finished 14 of 16 at the line a night after going 5-of-12—to give APSU a 93-92 lead. But Bradshaw answered with a layup before John Murry connected on two free throws to give APSU the lead.

After Belmont missed two free throws with 1:03 left, Horton snatched the rebound and was fouled. Again he made both attempts to give APSU a three-point lead, 97-94, with 1:01 left. But Belmont went back to the Bradds' well to cut it one with 44 seconds left.

Murry was called for a charging foul with 21 seconds left, setting up the final play sequence. A team that lost two games at the buzzer finally won one.

Bradds finished with 32 points while Bradshaw added 18 and Egekeze 17 for Belmont. Both teams shot better than 50 percent from the floor—the Govs 53 (32 of 60) and Belmont 57 (39 of 68).

The Governors who shot a little better than 50 percent at the free-throw, Thursday, making only 21 of 38, connected on 25 of 29 (86 percent) against the Bruins.

The Austin Peay Governors will take on the UT Martin Skyhawks Saturday at 5:00pm in the OVC Championship Game.
Box Score
Austin Peay (17-17) 97, Belmont (20-11) 96
| | 1 | 2 | OT 1 | Total |
| --- | --- | --- | --- | --- |
| Austin Peay | 38 | 51 | 8 | 97 |
| Belmont | 47 | 42 | 7 | 96 |
Austin Peay 97
Player
FGM
-FGA
3FGM
-3FGA
FTM
-FTA
OFF
-DEF
TOT
PF
TP
A
TO
BLK
STL
MIN
Horton, Chris
8-11
0-0
14-16
10-6
16
4
30
4
4
0
1
41
Robinson, Josh
9-16
3-6
4-6
0-2
2
1
25
5
1
0
2
45
Savage, Jared
7-9
5-7
2-2
1-4
5
2
21
0
0
0
1
45
Jones, Kenny
3-5
0-0
0-0
1-2
3
2
6
1
2
0
1
22
Davis, Khalil
1-5
0-2
3-3
0-1
1
2
5
1
5
1
0
25
Murry, John
2-5
0-2
2-2
0-1
1
3
6
0
3
0
0
20
Porter-Bunton, Chris
1-7
0-2
0-0
1-2
3
4
2
0
1
0
3
24
Diop, Assane
1-2
0-0
0-0
0-0
0
0
2
0
0
0
0
3
TEAM
0-0
0-0
0-0
1-2
3
0
0
0
0
0
0
0
Totals
32-60
8-19
25-29
14-20
34
18
97
11
16
1
8
225
Belmont 96
Player
FGM
-FGA
3FGM
-3FGA
FTM
-FTA
OFF
-DEF
TOT
PF
TP
A
TO
BLK
STL
MIN
Bradds, Evan
15-16
0-0
2-3
2-2
4
2
32
3
6
0
1
41
Bradshaw, Craig
7-17
2-9
2-2
2-3
5
4
18
1
4
0
2
35
Egekeze, Amanze
6-9
4-7
1-3
1-6
7
4
17
1
1
0
2
39
Barnette, Taylor
5-11
2-7
1-1
1-1
2
3
13
6
0
0
0
38
Luke, Austin
1-5
0-3
0-0
1-0
1
2
2
8
4
0
0
26
Windler, Dylan
3-5
0-1
1-1
3-2
5
2
7
4
0
1
1
27
McClain, Kevin
2-3
1-1
0-0
0-1
1
2
5
0
0
0
1
8
Hadden, Tyler
0-0
0-0
2-2
0-1
1
1
2
0
0
0
0
2
Smith, Nick
0-2
0-2
0-0
0-1
1
3
0
0
0
0
0
8
Laidig, Jeff
0-0
0-0
0-0
1-0
1
0
0
0
0
0
0
1
TEAM
0-0
0-0
0-0
0-0
0
0
0
0
0
0
0
0
Totals
39-68
9-30
9-12
11-17
28
23
96
23
15
1
7
225
Sections
Sports
Topics
APSU, APSU Athletics, APSU Basketball, APSU Men's Basketball, APSU Sports, Austin Peay State University, Belmont, Bruins, Chris Horton, Colonels, Craig Bradshaw, Dave Loos, Eastern Kentucky, Evan Bradds, Jared Savage, John Murry, Josh Robinson, Morehead State, Nashville TN, NCAA, Ohio Valley Conference, OVC, OVC Championship Game, OVC Tournament, Skyhawks, Tennessee State, Tennessee Tech, UT-Martin