APSU Sports Information

Athens, GA – Austin Peay State University's softball team saw both of its opponents get out to early leads, Friday in the opening day of the 13th Annual Georgia Softball Classic, with the Lady Govs dropping a 2-0 final to Western Carolina and a 7-3 outcome to Jacksonville.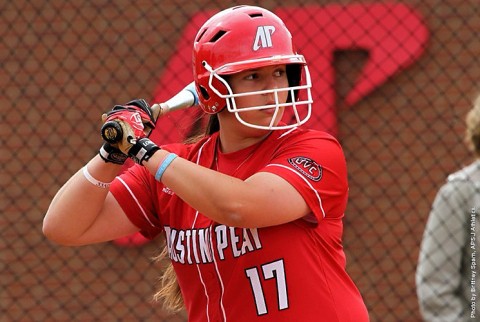 In Game 1, Austin Peay (2-9) saw Western Carolina do all of its damage in the bottom of the second inning, as the Catamounts (12-5) took an advantage of an inning-opening walk, followed by two singles and a sacrifice fly to score its two runs.
That would be all the runs that Western Carolina's starting pitcher Taylor Sigmon would need, as she held the Lady Govs to a pair of Autumn Hanners singles – with Chandler Groves and Vinchenza DiBenedetto reaching after being hit by pitches.
Hanners (1-4) was also the hard-luck loser in the opener, only giving up four hits and two walks, while striking out two.
In Game 2, Jacksonville (10-7) took advantage of an Austin Peay error, along with three hits, to get out to a 4-0 lead in the top of the first inning.
The Dolphins would extend their lead out to 5-0 before Austin Peay would score its first runs of the day, with the Lady Govs scoring twice in the bottom of the fifth inning.
Kacy Acree would open the inning with a single and move to third base on a double to center field by Danielle Liermann.
Christiana Gable would follow with a single, scoring Acree, with Liermann scoring on a sacrifice fly off from Sidney Hooper to make it 5-2.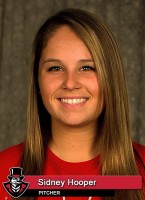 Gable and Acree would lead the Lady Govs with two hits each.
Jacksonville would score single runs in the sixth and seventh innings to extent its lead out to 7-2, before the Lady Govs closed out the games scoring in the bottom of the seventh inning with Rikki Arkansas crossing the plate on a sacrifice fly by Groves.
Austin Peay continues play in the Georgia Classic on Saturday, as they play national-ranked Georgia at 4:00pm, followed by a rematch with Jacksonville at 6:30pm.
Box Score – Game 1
Jacksonville (2-9) vs. Austin Peay (10-7)
| | 1 | 2 | 3 | 4 | 5 | 6 | 7 | | | R | H | E |
| --- | --- | --- | --- | --- | --- | --- | --- | --- | --- | --- | --- |
| Jacksonville | 4 | 0 | 1 | 0 | 0 | 1 | 1 | | 7 | 10 | 0 |
| Austin Peay | 0 | 0 | 0 | 2 | 0 | 0 | 1 | | 3 | 8 | 2 |
W: Victoria Brown (7-3) L: Hooper, Sidney (0-4)
Jacksonville 7
Position
Player
AB
R
H
RBI
BB
SO
LOB
lf
Ciara Jones
4
1
1
0
0
0
3
ss
Danielle Baker
3
1
2
1
0
1
0
3b
Heather Roberts
2
1
0
0
2
1
0
dp
Brooke Smith
2
0
0
0
0
2
0
c
Kamille Larrabee
0
0
0
0
0
0
0
p/cf
Victoria Brown
3
2
1
2
1
1
0
1b
Emily Sanchez
2
1
0
0
2
0
0
pr
Adrienne Ramsay
0
0
0
0
0
0
0
rf
Kristen Griffith
3
0
2
0
0
0
0
pr/rf
Katarina Waldrop
1
1
1
0
0
0
0
2b
Paige Curtis
4
0
3
4
0
0
1
cf
Sable Lee
4
0
0
0
0
1
3
c
Ashley McNally
2
0
0
0
0
0
1
p
Taylor Rossman
0
0
0
0
0
0
0
Totals
30
7
10
7
5
6
8
Austin Peay 3
Position
Player
AB
R
H
RBI
BB
SO
LOB
lf
Groves, Chandler
3
0
1
1
0
0
0
rf
Acree, Kacy
3
1
2
0
1
1
0
3b
Liermann, Danielle
4
1
1
0
0
1
2
dp
Gable, Christiana
3
0
2
1
0
0
1
pr
Dickson, Brea
0
0
0
0
0
0
0
p
Hooper, Sidney
2
0
0
1
0
0
0
ss
Vedder, Kendall
2
0
1
0
0
1
0
ph
Sparks, Niya
1
0
0
0
0
1
0
c
Pavel, Mel
3
0
1
0
0
1
1
1b
DiBenedetto, Vinchen
2
0
0
0
0
1
2
ph
Mattson, Carly
1
0
0
0
0
0
0
cf
Arkansas, Rikki
2
1
0
0
0
0
0
ph
Oliver, Savanna
0
0
0
0
1
0
0
2b
Inagaki, Erica
0
0
0
0
0
0
0
Totals
26
3
8
3
2
6
6
Jacksonville
Player
IP
H
R
ER
BB
SO
WP
BK
HBP
IBB
AB
BF
FO
GO
NP
Victoria Brown
(W, 7-3)
6.0
8
2
2
0
6
0
0
0
0
24
25
4
7
82
Taylor Rossman
1.0
0
1
0
2
0
2
0
0
0
2
5
2
1
26
Totals
8
3
2
2
6
2
0
0
0
26
30
6
8
108
Austin Peay
Player
IP
H
R
ER
BB
SO
WP
BK
HBP
IBB
AB
BF
FO
GO
NP
Hooper, Sidney
(L, 0-4)
7.0
10
7
5
5
6
1
0
0
0
30
36
6
7
135
Totals
10
7
5
5
6
1
0
0
0
30
36
6
7
135
Box Score – Game 2
Austin Peay (2-8) vs. Western Carolina (12-5)
| | 1 | 2 | 3 | 4 | 5 | 6 | 7 | | | R | H | E |
| --- | --- | --- | --- | --- | --- | --- | --- | --- | --- | --- | --- |
| Austin Peay | 0 | 0 | 0 | 0 | 0 | 0 | 0 | | 0 | 2 | 1 |
| Western Carolina | 0 | 2 | 0 | 0 | 0 | 0 | X | | 2 | 4 | 0 |
W: Taylor Sigmon (4-2) L: Hanners, Autumn (1-4)

Austin Peay 0
Position
Player
AB
R
H
RBI
BB
SO
LOB
lf
GROVES, Chandler
2
0
0
0
0
0
0
rf
ACREE, Kacy
3
0
0
0
0
0
1
3b
LIERMANN, Danielle
3
0
0
0
0
0
0
p
HANNERS, Autumn
3
0
2
0
0
1
0
pr
MATTSON, Carly
0
0
0
0
0
0
0
1b
DIBENEDETTO, Vinchen
2
0
0
0
0
2
0
ss
VEDDER, Kendall
3
0
0
0
0
2
1
c
PAVEL, Mel
3
0
0
0
0
1
2
dp
DICKSON, Brea
2
0
0
0
0
2
0
cf
ARKANSAS, Rikki
2
0
0
0
0
1
0
2b
INAGAKI, Erica
0
0
0
0
0
0
0
Totals
23
0
2
0
0
9
4
Western Carolina 2
Position
Player
AB
R
H
RBI
BB
SO
LOB
rf
Abigail Daniels
2
0
0
0
0
0
0
3b
Kara Salvo
3
0
0
0
0
0
3
2b
Crystal Cyr
2
0
0
0
1
0
0
pr
Kassandra Flores
0
0
0
0
0
0
0
p
Taylor Sigmon
2
1
0
0
1
0
0
lf
Courtney Price
3
0
0
0
0
0
0
1b
Victoria Mariscal
3
1
2
0
0
0
0
ss
Karley Harkey
2
0
1
1
0
0
2
c
Madison Armstrong
1
0
1
1
0
0
0
cf
Amber Kimrey
1
0
0
0
0
1
0
ph
Anna Hughey
1
0
0
0
0
1
0
rf
Lily Hayes
0
0
0
0
0
0
0
Totals
20
2
4
2
2
2
5
Austin Peay
Player
IP
H
R
ER
BB
SO
WP
BK
HBP
IBB
AB
BF
FO
GO
NP
Hanners, Autumn
(L, 1-4)
6.0
4
2
2
2
2
0
0
1
0
20
25
5
10
94
Totals
4
2
2
2
2
0
0
1
0
20
25
5
10
94
Western Carolina
Player
IP
H
R
ER
BB
SO
WP
BK
HBP
IBB
AB
BF
FO
GO
NP
Taylor Sigmon
(W,4-2)
7.0
2
0
0
0
9
0
0
2
0
23
25
2
10
91
Totals
2
0
0
0
9
0
0
2
0
23
25
2
10
91