UT Athletics Department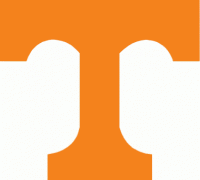 Knoxville, TN – Behind an array of 3-pointers and second-chance opportunities, the Ole Miss Rebels secured an 83-60 win over Tennessee on Senior Day in Thompson-Boling Arena Saturday.
Tennessee (13-18, 6-12 SEC) dropped its fourth consecutive game for the first time this season, while the Rebels (20-11, 10-8 SEC) earned their fourth victory in the last five games.
Senior Devon Baulkman shined in his final game in Thompson-Boling Arena, with a team-high 19 points on 6-of-12 shooting, leading the Vols in scoring for the second time this season. Fellow senior Armani Moore posted 13 points, while Admiral Schofield added 12 points. Ole Miss' Sebastian Saiz scored a game-high 23 points, and Tomasz Gielo posted 16 points.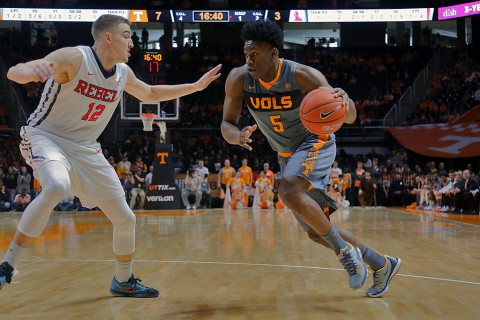 The Vols finished 40 percent (23-of-58) from the field, but their 17 turnovers proved critical in the defeat. The Rebels shot 45 percent (27-of-60) in the game, and 11 of their 27 buckets came from 3-point range. Ole Miss took advantage of their second-chance opportunities, scoring 28 second-chance points on 21 offensive rebounds.
Ole Miss opened the second half with a 19-6 run capped off by a Gielo jumper that gave Ole Miss a 22-point lead with 15:13 remaining in the game. The Vols responded with an productive stretch, scoring on five consecutive possessions to cut the Ole Miss lead to 56-40. Tennessee trimmed the lead to 13 on two occasions midway through the second half but were unable to cut the margin further.
The Vols struggled to produce any type of offense for much the first half, shooting 26 percent (7-of-27) from the field and 17 percent (2-of-12) beyond the arc. The Vols' 22 points at the break marked a season low for first-half scoring. Tennessee was held without a field goal for more than 14 minutes before Schofield drained a 3-pointer with 52 seconds remaining in the half.
Despite the offensive struggles, the Vols cut the halftime deficit to nine with two buckets in the final minute of the half. Shofield's 3-point shot to end the run was followed by a Rebel turnover that led to a Baulkman dunk.
Saiz led all scorers in the first half with 12 points on 5-of-8 shooting. He also added seven rebounds.
Devon Baulkman Big on Senior Day
Devon Baulkman scored 19 points on 6-of-12 shooting in his final game on Rocky Top. He added two 3-pointers and went 4-of-6 from the line. The 19 points marks his third-highest output of the season. Baulkman posted 22 points vs. Gardner-Webb on November 22nd and 19 points at South Carolina February 24th.
Baulkman led the Vols in scoring for the second time this season. He also led the Big Orange in scoring at South Carolina on February 24th.
Double-Digit Scoring
Three Vols finished with at least 10 points: Devon Baulkman (18), Armani Moore (13) and Admiral Schofield (12).
Baulkman scored at least 15 points for the sixth time this season, his last since scoring 19 points off the bench against South Carolina (February 24th). He has led the Vols in scoring three times this year.
It was the 20th time this season that Moore has scored at least 10 points. Schofield has scored at least 10 points in three consecutive games.
Though he did not reach double-digit scoring, sophomore forward Ray Kasongo matched his career-best scoring output with six points.
Up Next
Tennessee will travel to the midstate for the 2016 SEC Tournament at Nashville's Bridgestone Arena. The event runs Wednesday through Sunday. The Volunteers won the SEC Tournament in 1936, 1941, 1943 and 1979.
The Big Orange have won at least one SEC Tournament game for six of the last seven years.
Seeds will be determined at the conclusion of Saturday's SEC games. Visit www.UTSports.com for updated information, including matchups and game times.