Written by Amy Perry
U.S. Army Garrison Fort Lee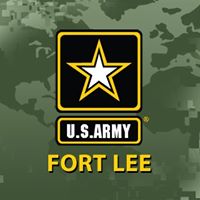 Fort Lee, VA – The 41st annual Military Culinary Arts Competitive Training Event kicked off Friday with its most prestigious and challenging category – Armed Forces Chef of the Year.
The competition is the only one held entirely at the Joint Culinary Training Center – chefs work feverishly to get out a top-notch four-course, four-serving meal to the waiting judges.
"Part of why the event is so prestigious is because of the title," said Chief Warrant Officer 3 J.D. Ward, chief of the Advanced Culinary Training Division at the JCTC. "The individual who wins holds the title for 12 months as the chef of the year. In addition, it's easily the most challenging event."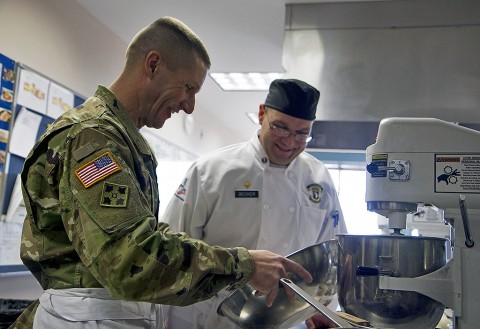 Ward is in his first year as the show chair for the event, but he is well-versed in the training and competitive nature of the top military chef category, having competed earlier in his career.
"It's a very challenging event," he said. "There's a lot of pressure on the chefs to create the meal in that short amount of time."
Part of the challenge is in the unknown – competitors receive a mystery basket based on American Culinary Federation guidelines – and get a short time to prepare the menu before their four-hour cooking time starts. This year's basket included bone-in lamb loin, red snapper, beef cheek, fresh clams, whole hen, spaghetti squash, heirloom tomatoes, brussel sprouts, bean sprouts, red cabbage, pineapple, peaches, creamer potatoes, yellow lentils, smoked oysters, graham crackers, coconut and walnuts.
Spc. Gregory Becker, a chef from Fort Campbell, KY, competed this year for the second time. He said he was glad the competition was the first event as it's one of the most difficult and stressful parst of the overall experience.
"I think I did pretty well," he said. "I was on time, and I was real confident."
Becker said there were no big surprises in the mystery basket.
"I have quite a bit of experience," he said. "I was a civilian chef before I joined the military. I have a total of 25 years in food service, including my military time."
To prepare for the challenge, Becker said he asked some senior culinary NCOs to create mystery baskets for him to practice.
"You have to do mystery boxes a couple of times to prepare for this type of event," he said. "You have to know food. You have to know how different foods go together. You have to utilize different cooking techniques."
Ward echoed his comments and said competing is the best way to prepare for the event.
"You have to learn your (culinary) lessons and compete in mystery baskets," he said. "You design a number of different 'audibles' based off the proteins that you see. Chefs will expect to see red meat and they should have a dish designed to go around that protein. It's the same for fowl, flat fish, round fish or shell fish."
Once a chef earns the Armed Forces Chef of Year title, they are unable to compete for it again.
"I hope it will be my year," said Becker, "but I have a lot of strong competitors out here."
Aside from the experience, chefs can take away a great training opportunity and earn points toward accreditation through the ACF, said Ward.
"A silver medal or better in this event qualifies that chef for the practical portion of certification as a certified sous chef, chef de cuisine, or executive chef. Performing well here gets them half of the way to that certification," he said. "More importantly, the feedback they receive during this competition and the networking and being able to observe other chefs is a great opportunity they won't get at any other time in their careers."