Cunningham, TN – On Saturday, March 29th, 2016, the Cunningham Volunteer Fire Department held their Annual Easter Egg Hunt. The egg hunt started at 10:00am at Montgomery Central Middle School.
Cold weather moved into the area overnight, but that did not stop those in attendance from having a great time.
When they arrived, each child was also given a ticket for a chance to win door prizes.
The four age groups for the Easter egg hunt were; ages 2 and under, 3-5, 6-8, and 9-11. The four separate areas had over 4,800 eggs scattered on the ground.
Each egg contained candy like skittles, gummy dinosaurs, star bursts, and tootsie rolls while some contained tattoos and stickers. There were prize eggs mixed in for each age group.
Cunningham Volunteer Fire Department Captain William Jackson said, "It takes our volunteers several days to get everything ready to today's Easter egg hunt. This is something we do to give back to the community that does so much for us."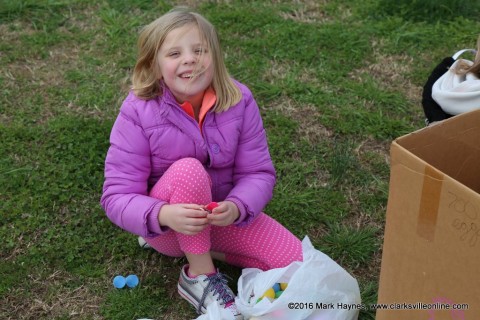 When the Easter Egg hunt started, the kids took off across the field grabbing as many eggs as they could. After all the eggs were picked up, everyone began the process of opening eggs to discover it's contents and hoping for a prize ticket. Everyone was laughing and having a good time opening their eggs.
The prizes were Easter buckets filled with candy and goodies. The grand prizes were a crayola paint maker kit, large Easter Basket, a football and a giant crayola color capsule.
"Everything went really well considering the cold weather," stated Jackson. "I'm glad so many people came out and had a good time."
Photo Gallery
About the Cunningham Volunteer Fire Department
Cunningham Volunteer Fire Department was established in 1983 for fire protection in the Cunningham, TN area. Currently, there are 50 members of the department. The Cunningham Volunteer Fire Department responds to fires, motor vehicle accidents with injuries, hazardous material scenes, emergency medical calls, fire alarms and carbon monoxide alarms.
They are supported by our community through donations and fundraisers so that they can continue to provide these emergency services.
For more information, visit their website at: www.cunninghamvfd.com