Nashville, TN – The National Weather Service in Nashville has issued a fire weather watch for Clarksville-Montgomery County and Middle Tennessee which is in effect Tuesday afternoon. Breezy winds and low RH values are expected Tuesday afternoon.
Temperatures will climb well into the 60s on Tuesday. With lower dew points causing RH values to fall into the 25-30 percent range and a tightening surface pressure gradient causing 15-20 mph surface winds with higher gusts. It looks like we should come very close, if not meet red flag criteria in several spots Tuesday afternoon. Dispersion rates will be very good Tuesday afternoon.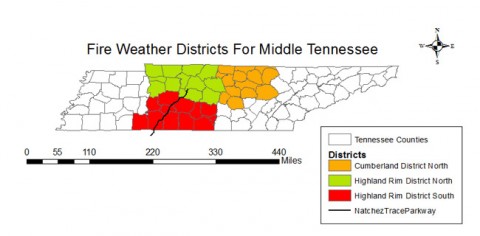 Fire Weather Watch
Affected Area – Fire weather zone 400 (Cumberland District North). Fire weather zone 501 (Highland Rim District North). Fire weather zone 502 (Highland Rim District South).
Wind – 20 foot winds of 20-25 mph.
Humidity – 25-30 percent.
Impacts – Any fires that develop will likely spread rapidly. Outdoor burning is not recommended.
Instructions
A fire weather watch means conditions are ideal for wildfire combustion, and rapid spread. Listen for later forecasts and possible red flag warnings.