APSU Sports Information

Bowling Green, KY – Junior starting pitcher Caleb Powell allowed one run over six innings as Austin Peay State University's baseball team topped Western Kentucky, 16-2, in nonconference action, Tuesday night, at Nick Denes Field.
Western Kentucky (11-9) scored the game's first run in the second inning when three of its first four hitters reached base safely, beginning with second baseman Leiff Clarkson's leadoff single.
One out later shortstop Steven DiPuglia and center fielder Grant Malott hit back-to-back singles, Malott's driving in Clarkson for the 1-0 lead.
Austin Peay (10-9) did not allow that lead to stand for long, striking for two runs in the top of the third. Third baseman TJ Conroy tied the game with a run-scoring groundout that drove in shortstop Clayton Smithson, who led off the frame with a single.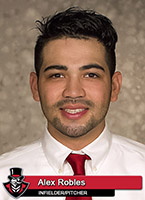 Designated hitter Alex Robles would give APSU the lead with a RBI single that drove in outfielder Ridge Smith.
The Govs padded their lead with a three-run fourth inning that was helped largely by a Western Kentucky error. After three consecutive one-out singles, WKU reliever Logan Weins appeared to serve up a ground ball for an inning-ending double play. However, the ball was mishandled before an out could be recorded, allowing a run to score.
Austin Peay would tack on two more runs after the miscue. Smith driving in a run with a sacrifice fly followed by first baseman Dre Gleason's RBI single for a 5-1 lead.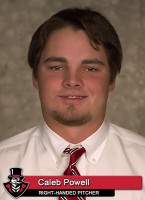 Powell (2-1) would make that run support stand up, holding Western Kentucky to its one second-inning run over his six-inning outing. He would strike out five, including three strikeouts to end innings, while allowing six hits and three walks.
Austin Peay would break the game open late, scoring five runs in the eighth inning and another six in the ninth. Robles would add a two-run double in the eighth. Josh Wilson, who entered the game in the seventh, chipped in a two-run single in the ninth.
Smithson led Austin Peay's 16-hit attack with a 3-for-4, four-run scored performance. Robles went 2-for-4 with three RBI and Gleason added a 2-for-4 with three RBI effort. Eleven different Govs recorded a hit in the contest.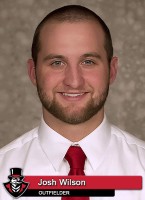 Western Kentucky starter Cody Coll (0-1) allowed two runs on four hits in three innings, but was handed the loss as the Govs never trailed after taking the lead. The Hilltoppers used seven pitchers in the contest.
Third baseman Danny Hudzina and right fielder Kaleb Duckworth each had two hits in WKU's nine-hit offensive outing.
Austin Peay returns home for a three-game Ohio Valley Conference series against Murray State. The Easter Weekend set is scheduled to begin with a 6:00pm, Thursday contest at Raymond C. Hand Park.
Box Score
Austin Peay (10-9) vs. Western Kentucky (11-9)
| | 1 | 2 | 3 | 4 | 5 | 6 | 7 | 8 | 9 | | | R | H | E |
| --- | --- | --- | --- | --- | --- | --- | --- | --- | --- | --- | --- | --- | --- |
| Austin Peay | 0 | 0 | 2 | 3 | 0 | 0 | 0 | 5 | 6 | | 16 | 16 | 1 |
| Western Kentucky | 0 | 1 | 0 | 0 | 0 | 0 | 1 | 0 | 0 | | 2 | 9 | 1 |
W: POWELL, Caleb (2-1) L: Cody Coll (0-1)

Austin Peay 16
Position
Player
AB
R
H
RBI
BB
SO
LOB
2b
COPELAND, Garrett
4
2
2
0
1
0
0
3b
CONROY, TJ
4
0
0
2
0
2
0
lf
WILSON, Josh
1
2
1
2
0
0
0
lf/3b
SMITH, Ridge
2
3
0
1
3
0
0
1b
GLEASON, Dre
4
1
2
3
1
2
1
dh
ROBLES, Alex
5
0
2
3
0
1
2
ph
MITCHELL, Caleb
0
0
0
1
0
0
0
rf
BLACKBURN, Kyle
4
0
1
0
0
2
2
pr/cf
WILLIS, Imani
2
1
1
2
0
1
0
cf/rf
HAMILTON, Chase
5
0
1
0
0
1
2
c
SALA, Alex
3
1
1
0
0
0
1
ph
PURCELL, Wesley
1
1
1
0
0
0
0
c
MARIK, T.J.
1
1
1
0
0
0
0
ss
SMITHSON, Clayton
4
4
3
1
1
0
0
p
POWELL, Caleb
0
0
0
0
0
0
0
p
NEFF, Zach
0
0
0
0
0
0
0
p
NEWBERG, Brett
0
0
0
0
0
0
0
p
KIMBEL, Keirce
0
0
0
0
0
0
0
p
CARKUFF, Jared
0
0
0
0
0
0
0
Totals
40
16
16
15
6
9
8
Western Kentucky 2
Position
Player
AB
R
H
RBI
BB
SO
LOB
lf
Zach Janes
4
0
0
0
1
0
0
dh
Steven Kraft
3
1
1
0
1
1
2
3b
Danny Hudzina
5
0
2
1
0
0
3
rf
Kaleb Duckworth
4
0
2
0
0
2
0
1b
Harrison Scanlon
3
0
0
0
0
0
2
ph
Paul Murray
1
0
0
0
0
0
0
1b
Chris Rogers
0
0
0
0
0
0
0
2b
Leiff Clarkson
4
1
1
0
0
1
3
2b
Brandon Pollock
0
0
0
0
0
0
0
c
Hunter Wood
3
0
1
0
0
0
0
ph
Ty Downing
1
0
0
0
0
0
0
c
Ty Hogan
0
0
0
0
0
0
0
ss
Steven DiPuglia
3
0
1
0
0
0
0
ph/ss
Cole Womack
1
0
0
0
0
1
0
cf
Grant Malott
3
0
1
1
1
2
0
p
Cody Coll
0
0
0
0
0
0
0
p
Logan Weins
0
0
0
0
0
0
0
p
Evan Acosta
0
0
0
0
0
0
0
p
Micah Kaczor
0
0
0
0
0
0
0
p
John Harman
0
0
0
0
0
0
0
p
Caleb Bruner
0
0
0
0
0
0
0
p
Connor McHugh
1
0
0
0
0
0
0
Totals
36
2
9
2
3
7
10
Austin Peay
Player
IP
H
R
ER
BB
SO
WP
BK
HBP
IBB
AB
BF
FO
GO
NP
Powell, Caleb
(W, 2-1)
6.0
6
1
1
3
5
2
0
0
0
24
27
5
7
98
Neff, Zach
1.0
3
1
1
0
0
0
1
0
0
6
6
1
2
17
Newberg, Brett
1.0
0
0
0
0
2
0
0
0
0
3
3
0
1
17
Kimbel, Keirce
0.1
0
0
0
0
0
0
0
0
0
1
1
0
1
4
Carkuff, Jared
0.2
0
0
0
0
0
0
0
0
0
2
2
0
2
10
Totals
9
2
2
3
7
2
1
0
0
36
39
6
13
146
Western Kentucky
Player
IP
H
R
ER
BB
SO
WP
BK
HBP
IBB
AB
BF
FO
GO
NP
Cody Coll
(L, 0-1)
3.0
4
2
2
1
3
1
0
1
0
12
15
4
2
64
Logan Weins
1.0
4
3
1
0
1
0
0
0
0
7
8
1
1
24
Evan Acosta
2.0
0
0
0
0
2
0
0
0
0
6
6
2
2
22
Micah Kaczor
1.0
1
1
1
0
2
0
0
0
0
4
4
0
1
15
John Harman
0.2
2
3
3
0
0
0
0
1
0
3
5
1
1
13
Caleb Bruner
1.0
3
3
3
2
1
1
0
0
0
5
7
0
1
34
Connor McHugh
0.1
2
4
4
3
0
0
0
1
0
3
7
0
1
33
Totals
16
16
14
6
9
2
0
3
0
40
52
8
9
205