APSU Sports Information

Clarksville, TN – Veteran NFL standout Todd Pinkston has joined Austin Peay State University's football staff as an assistant coach and will work with the Governors wide receivers.
A second-round draft pick out of Southern Miss, Pinkston became a principle target during the Donovan McNabb era in Philadelphia, catching 184 passes for 2,816 yards and 14 touchdowns from 2000-04.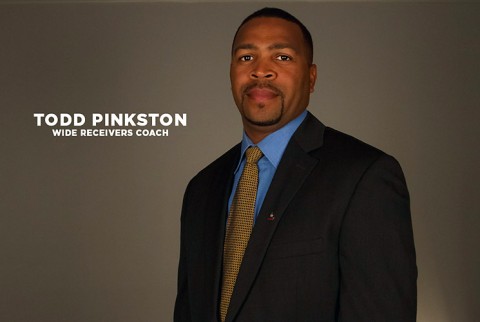 During his time in Philadelphia, Pinkston appeared in the playoffs five times, reaching the NFC Championship Game four times and Super Bowl XXXIX in Jacksonville, FL, when the Eagles lost 24-21 to New England; Pinkston had four catches for 82 yards against the Patriots.
As a rookie in 2000, Pinkston registered 10 catches for 181 yards before breaking out in his second season as an Eagle (42 catches, 586 yards, four touchdowns), where he started 15 games.
In his third season, Pinkston set career highs in receptions (60), yards (798) and touchdowns (seven), highlighted by a two-score day against Dallas and a six-catch, 94-yard day against eventual NFC runner-up San Francisco.
Pinkston led the Eagles for the second year in a row in receiving yards (575) in 2003, then slid over as the No. 2 option alongside Terrell Owens in 2004 while still hauling in 676 receiving yards on a career-best 18.8 yards per catch. He had two 100-yard days in 2004—six catches for 100 at Cleveland and five for 106 yards against Washington.
After an injury cost him all of the 2005 season, Pinkston went to camp with Philadelphia, Minnesota and Washington over the next two seasons but was unable to make the final roster.
Pinkston's coaching career began as a training camp assistant with Philadelphia in 2009; he also served in Vikings camp during 2010, working with receivers on both occasions. He had been with Petal (Miss.) High School since 2009 and has served as USA Heads Up Youth Football Ambassador for the state of Mississippi since 2013.
Pinkston received his bachelor's degree in Coaching and Sports Administration from Southern Miss in 1999. A second-team All-Conference USA choice in 1999, Pinkston was elected to the M-Club Hall of Fame in 2011 and remains second in Golden Eagle history in receiving yards (2,366) and third in both receptions (149) and touchdown receptions (22). He has two children, Jonathan and Chase.
The Pinkston File
College: Southern Miss, 1999 (Coaching and Sports Administration)
Playing Career (Drafted 2nd Round, Pick 36, Philadelphia Eagles, 2000 NFL Draft)
2000-06 – Philadelphia Eagles
2006 – Minnesota Vikings (training camp)
2007 – Washington Redskins (training camp)
Healy on Pinkston
"He's a great guy who relates to players really well. We were looking for a fit personality-wise. I felt so good about the other guys we had on our staff that I wanted to make sure we got somebody who would fit in. Todd's young, energetic and he's got a hunger to be really good at this profession and to show that great players can make great coaches. I've been very impressed with him; I think he's a rising star in this profession."
What they're saying about Todd Pinkston
"A great person, no doubt a leader of our football team. I can't say enough good things about him; he's as good a person as a he was a player. I encouraged him once he got done in the NFL and I told him he needed to become a coach, that he would be a good one." – Jeff Bower, former head coach, Southern Miss
"A great guy, high character. He really related to our kids well and brought a wealth of knowledge from playing college and NFL. Coach Pinkston held our kids accountable; I worked with him for four years and he continually took more ownership of the offense and seeing thing the defense was doing." – Marcus Boyles, head coach, Petal High School