APSU Sports Information

Clarksville, TN – Austin Peay State University's baseball team scored the game's final eight runs in a 10-4 Ohio Valley Conference victory against Murray State, Friday night, at Raymond C. Hand Park.
Austin Peay (12-9, 5-3 OVC) could not solve Murray State starting pitcher John Lollar and trailed 4-2 entering its half of the sixth inning.
However, the Racers went to their bullpen to start the frame and the Govs took advantage with three straight batters reaching base safely with one out.
Designated hitter Alex Robles started the rally with a single and left fielder josh Wilson followed with a walk. Right fielder Chase Hamilton drove in a run with his double into the left center gap. One batter later pinch hitter Wesley Purcell tied the game, 4-4, with a sacrifice fly to deep right field.
The Govs offense would wait just one inning before it broke the tie, sending 12 men to the plate in a decisive seventh inning. Four consecutive batters reached base with one out, first baseman Dre Gleason giving APSU the lead for good with his RBI double to drive in center fielder Patrick Massoni. Shortstop Clayton Smithson ended the six-run rally with a two-run double to the base of the wall in left center.
The late rally made a winner of Austin Peay reliever Jared Carkuff (1-0) who entered the game with one out and two men in scoring position in the fourth and proceeded to hold Murray State scoreless over his 4.2 innings, allowing three hits and striking out seven of the 17 batters he faced.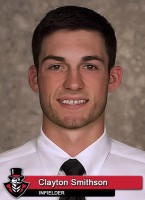 Murray State (11-14, 3-5 OVC) will look back at the fourth inning and wonder what could have been. The Racers loaded the bases with a single, walk and an APSU error on a sacrifice bunt. Center fielder Cody Gilbert broke a 2-2 tie with a groundout that drove in a run and ended Austin Peay starting pitcher Zach Neff's outing.
Carkuff entered the game and allowed a run to score on single. But he helped his cause by catching a runner stealing second base for the second out. Carkuff then recorded the first of his seven strike outs to end the frame, holding Murray State to two runs – which ultimately proved to be the Racers final tallies.
Austin Peay's offense finished with 12 hits, eight coming in the game's final four innings. Massoni, Robles and Hamilton each had two hits. Freshman catcher Alex Sala drove in APSU's first runs with a two-run double in the second and was 1-for-2 with two RBI. Smithson finished with two RBI in his 1-for-3 outing.
Lollar was left with no decision after holding Austin Peay to two runs on four hits over five innings. Brandon Hicks (1-3), the second Murray State relief pitcher, was tagged for the loss after allowing six runs in 1.1 innings.
Left fielder Adam Bauer, first baseman Ramsey Scott and catcher Kipp Moore each had two hits to pace the Racers 10-hit offensive outing.
Austin Peay and Murray State close their three-game OVC series with a 1:00pm, Saturday contest at Raymond C. Hand Park.
Video – Jared Carkuff
Behind some stellar relief work from Jared Carkuff, Austin Peay baseball took the series from Murray State, with the finale slated for Saturday.