Austin Peay Sports Information

Clarksville, TN – Austin Peay State University men's tennis team earned its first victory of 2016, Friday, a 4-3 nod over SIU Edwardsville at the Foy Fitness Center Courts.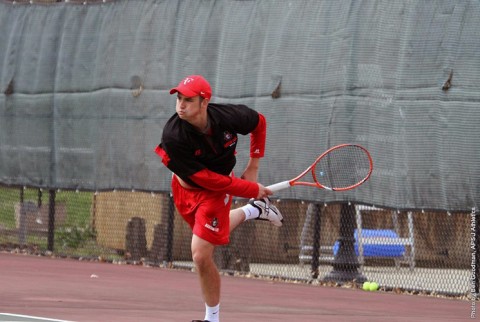 Home court advantage played in the Govs (1-7, 1-2 OVC) favor, Friday, in just their second home match this season.
A strong start to the day in doubles action provided the spark, and Austin Peay rode that adrenaline to a much-needed win.
APSU went 2-0 in doubles play, with the third – Chad Woodham and James Mitchell vs. Dan Lineberry and Nico Kuehn – going unfinished. No. 1s Aaron Jumonville and Manuel Montenegro set the tone, topping Patrick Gaffigan and Tristan Houle, 7-5. Aleh Drobysh and Almantas Ozelis followed with a 6-4 victory over Jack Desse and Matthew Hutchinson.
SIUE (5-10, 1-1 OVC) got the better of Jumonville at the No. 1 post, with Houle earning a 7-5, 6-3 win, but the Govs leveled the singles score at 3-3 to gain majority.
Ozelis and Montenegro each picked up wins at the No. 2 and No. 3 positions, with the former cruising past Hutchinson, 6-2, 6-0, while Montenegro defeated Gaffigan, 7-5, 6-2. APSU's third singles point came at No. 5, with freshman Chad Woodham earning his first victory as a Gov over Lineberry, 6-1, 7-5.
The Cougars captured two additional wins – Kuehn edged out Drobysh, 7-6(5), 6-3, and Desse defeated Mitchell, 7-5, 6-2 – but it wasn't enough as Austin Peay notched win number one.
The Govs seek to build a winning streak Saturday as Eastern Illinois comes to town for a 2:00pm, first serve.
Box Score
Singles
No. 1 – Tristan Houle (SIUE) def. Aaron Jumonville (APSU), 7-5, 6-3
No. 2 – Almantas Ozelis (APSU) def. Matthew Hutchinson (SIUE), 6-2, 6-0
No. 3 – Manuel Montenegro (APSU) def. Patrick Gaffigan (SIUE), 7-5, 6-2
No. 4 – Nico Kuehn (SIUE) def. Aleh Drobysh (APSU), 7-6(5), 6-3
No. 5 – Chad Woodham (APSU) def. Dan Lineberry (SIUE), 6-1, 7-5
No. 6 – Jack Desse (SIUE) def. James Mitchell (APSU), 7-5, 6-2
Doubles
No. 1 – Aaron Jumonville/Manuel Montenegro (APSU) def. Tristan Houle/Patrick Gaffigan, 7-5
No. 2 – Aleh Drobysh/Almantas Ozelis (APSU) def. Jack Desse/Matthew Hutchinson, 6-4
No. 3 – Chad Woodham/James Mitchell (APSU) vs. Dan Lineberry/Nico Kuehn unfinished
Video
The APSU men and women's tennis teams got out on the Foy Center Courts for the first time, Friday, against SIUE.