Tennessee State Representative Curtis Johnson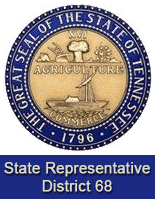 Nashville, TN – After much debate, the House passed out the Focus Act, one of the Tennessee Governor's initiatives in his Drive to 55 program.
The FOCUS Act, which is part of Governor Bill Haslam's legislative priorities, includes: A sharpened focus by Tennessee Board of Regents (TBR) on the state's 13 community and 27 technical colleges;
Creation of local boards for Austin Peay State University, East Tennessee State University, Middle Tennessee State University, Tennessee State University, Tennessee Technological University and the University of Memphis;
An enhanced role of Tennessee Higher Education Commission (THEC) to provide greater coordination across the state, to include capital project management, institutional mission approval and higher education finance strategy; and,
Creation of a transition task force consisting of higher education, business and community leaders from around the state that will serve as the administrative and advisory body throughout the transition.
Last fall, Tennessee saw a 10 percent increase in overall first-time freshman enrollment in our public higher education institutions and a nearly 25 percent increase in first-time freshman enrollment at community colleges.  The purpose of the legislation is to better align our postsecondary colleges and universities to meet the goal of graduating more Tennesseans with post-secondary certifications.
TBR would continue to provide key administrative support to the six state universities under the plan. The Tennessee Higher Education Commission would assume an enhanced coordinating role in higher education, ensuring progress on a cohesive, statewide master plan; maintaining academic program quality; and formulating a strategic finance plan for state higher education.
Agriculture Day on the Hill
The annual Agriculture Day on the Hill was held this week.  Farm animals were displayed as well as a corn-shucking and shelling contest which was won by the House.  There was a silent auction on farm goods.
When you consider that 80 percent of the land in Tennessee is used for agricultural or forest uses, it brings home how important agriculture and forestry are to the economic wellness of our state.
Fun facts about Tennessee agriculture are:
Cotton is harvested using a picker or stripper.
Tennessee has more species of trees than any other state.
Tennessee ranks #2 in the U.S. for hardwood and #3 for tobacco production.
Tennessee's top agricultural commodities are cattle and calves, broilers (meat chickens), soybeans,
corn, and greenhouse/nursery products.
There are 2,040,000 cattle, 131,400 goats, 2,808,000 chickens and 210,000 horses in Tennessee.
Tennessee dairy cattle produce over 909 million pounds of milk each year.
Tennessee farmers produce 323 million eggs per year.
Contact Information
Rep. Curtis Johnson
15 Legislative Plaza
Nashville, TN  37243
615.741.4341
For more information about the Tennessee General Assembly, check our website at www.capitol.tn.gov