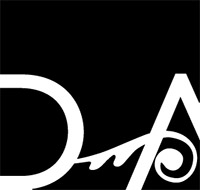 Clarksville, TN – The Downtown Artists Co-op (DAC) 14th Annual Auction will be held Saturday, April 2nd, 6:00pm-8:00pm. The venue will be F&M Bank's beautiful Franklin Room, just up the street from DAC at 50 Franklin Street. The event will include both a live auction for large original works and a silent auction for small-medium pieces.
The Annual Auction is DAC's only fundraising event each year. The auction raises funds to support the DAC mission of promoting the Visual Arts in Clarksville and it gives DAC Members a chance to provide a delightful evening for our patrons, sponsors and friends.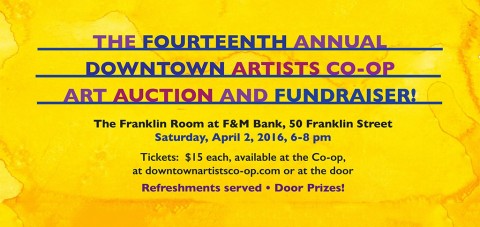 The Clarksville DAC Gallery would not exist without it's loyal supporters; this is the best opportunity every year to support DAC and for our Members to show their appreciation our supporters. Complimentary food, drink and music will make this evening supporting Clarksville Visual Arts a special one.
This important event includes original works of art for auction, all donated by our extremely talented member artists. There will be a live auction for selected larger works and a silent auction for small/medium sized works.
The live auction pieces and many of the silent auction pieces will be on display at the DAC from now through April 1st. Bids will be accepted in advance for silent auction items. Works of art run the gamut of visual art; everything from painting, 3-D and multi-media works, fabric arts, fine art photography and more.
These will be available in all different shapes, mediums and sizes to fit all tastes; all for the worthy cause of supporting DAC, a center for the Visual Arts and artists in the Clarksville area.
Complimentary fine hors-d'oeuvres and drinks will be served with price of admission. Beautiful music for the event will be provided by Red River Breeze ( www.redriverbreeze.com ). All proceeds from this annual event go towards supporting the DAC Gallery and the DAC Mission for the upcoming year.
Tickets are only $15.00 each and are available at Downtown Artists' Co-Op and from any DAC Member. Tickets will also be available online prior to the auction and at the door on April 2nd. As a supporter of Clarksville's Visual Arts scene and DAC, one cannot beat the price of admission to this wonderful and important event.
Please join DAC on April 2nd for a wonderful and hugely important evening. A big thanks goes to all DAC friends, patrons and sponsors. DAC looks forward to seeing you all there for a fabulous evening!