APSU Sports Information

Arlington, KY – On a cold, windy day that saw most teams' respective scores elevate significantly, APSU women's golf team's minimized the damage, Saturday, and were able to move up one spot to finish sixth at the EKU Colonel Classic, played at the University Club at Arlington.
After two 313 rounds, Friday, the Austin Peay State University Lady Govs shot a final round 317 to end at 943. Host Eastern Kentucky won the event with a 912 on their home course.
"I am proud of the girls fighting through the tough playing conditions today," APSU coach Sara Robson said. "We managed our games well today; we just didn't score."
Senior Jessica Cathey shook off a difficult Friday to bounce back, Saturday, with a 75, giving her a 233 and a tie for 11th.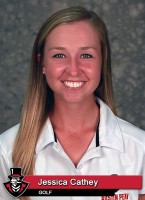 Freshman Taylor Goodley also bounced back from Friday's second round 81 to shoot a 79, Saturday, to finish two shots back at 235 and a 16th-place tie.
Her twin sister Ashton matched her 79 to finish at 238, the same score of junior Morgan Kauffman, who struggled on their back nine—the course's front nine—to shoot an 84. Sophomore AnnaMichelle Moore fired an 86 while junior Amber Bosworth, playing as an individual, shot an 80.
The wind, in particular, gave APSU troubles (just three birdies Saturday) on the front side—APSU played it at 25-over par. But Cathey kept a steady course playing those nine holes at just 1-over.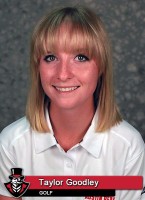 "Jessica played very well today and I am proud of her for battling on a course she has not played particularly well during her career," Robson said. "Today she conquered the course."
APSU will take what it learned from this weekend's play and will conclude the regular season, beginning next Friday at the Jan Weaver Invitational in Murray State's Miller Golf Course.
"We are a little banged up with some sore backs," Robson said. "We need to get some rest but we also need to work on 60 yards on in to be ready to play at Murray, Friday."
Box Score
EKU Colonel Classic
Arlington
Richmond, KY
| | | | | | |
| --- | --- | --- | --- | --- | --- |
| Pos. | School – Players | Round 1 | Round 2 | Round 3 | Totals |
| 6 | Austin Peay State University | 313 | 313 | 317 | 943 |
| T 11 | Jessica Cathey (1) | 79 | 79 | 75 | 233 |
| 16 | Taylor Goodley (4) | 75 | 81 | 79 | 235 |
| T 24 | Morgan Kauffman (2) | 79 | 75 | 84 | 238 |
| T 24 | Ashton Goodley (3) | 80 | 79 | 79 | 238 |
| 59 | AnnaMichelle Moore (5) | 84 | 80 | 86 | 250 |
| | | | | | |