APSU Sports Information

Martin, TN – Despite a recent Ohio Valley Conference win against SEMO, Austin Peay State University women's tennis team saw its momentum halted in a loss to UT Martin, 4-0, Saturday afternoon.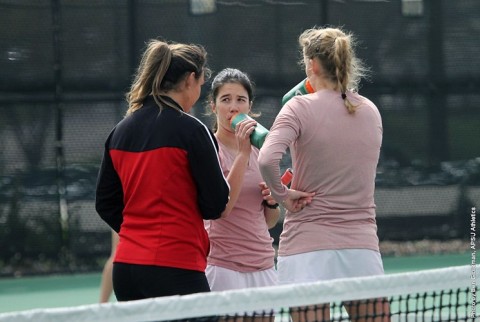 In doubles play,
Claudia Yanes Garcia
and
Brittney Covington
played and were defeated by the Skyhawks' Hitomi Naito and Jemima Potter with a score of 6-2.
Isabela Jovanovic and Hannah Tatlock followed with a loss to Burcu Tari and Elina Geut (6-3).
Moving on to singles play, Lidia Yanes Garcia battled with Martin's Sarah Candeloro but lost 7-5, 6-3. The Govs continued their streak with two more losses in the 5th and 6th seed spots. Brittney Covington fell against Jemima Potter (6-1, 6-1) and Isabela Jovanovic lost to Elina Geut (6-1,6-0).
UT Martin clinched the victory after earning the first four victories of the match.
Austin Peay moves on to play Murray State this coming Tuesday, April 5th.
Box Score
Singles
No. 1- Sarah Candeloro (UTM) def. Lidia Yanes Garcia (APSU), 7-5, 6-3
No. 2- Claudia Yanes Garcia (APSU) unf. Hitomi Naito (UTM), 7-5, 4-3
No. 3- Helena Kuppig (APSU) unf. Asel Jumamukhambetova (UTM), 6-3, 4-3
No. 4- Hannah Tatlock (APSU) unf. Burcu Tari (UTM), 6-3, 5-2
No. 5- Jemima Potter (UTM) def. Brittany Covington (APSU), 6-1, 6-1
No. 6- Elina Geut (UTM) def. Isabela Jovanovic (APSU), 6-1, 6-0
Doubles
No. 1 L. Yanes Garcia/Kuppig (APSU) unf. Candeloro/Jumamukhambetova (UTM), 4-4
No. 2- Naito/Potter (UTM) def. C. Yanes Garcia/Covington (APSU), 6-2
No. 3- Tari/Geut (UTM) def. Jovanovic/Tatlock (APSU)