Austin Peay Sports Information

Bowling Green, KY – Savannah Amato entered some rarefied air in Friday afternoon's pole vault at the Hilltopper Relays.
The freshman from Delaware, Ohio became just the third athlete in Austin Peay history to break the 13-foot barrier in the pole vault, taking her place alongside APSU legends Carrie Burggraf and Molly Bartkiewicz with a 4.01m (13′ 1.75″) mark to place fourth in the event at the Charles M. Reuter Track and Field Complex.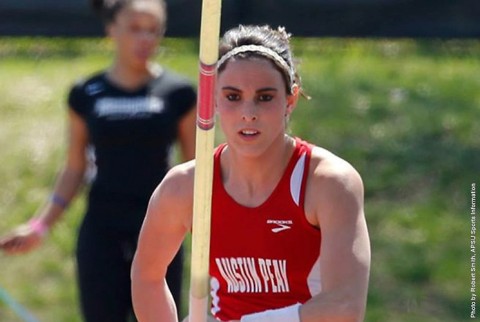 "Tough conditions today, very windy," said head coach
Doug Molnar
. "We talked before the meet about this being a chance to qualify for regionals and she really took that to heart. She really worked to get that, and for a freshman to come in and jump like that is really good and we're excited about it."
After clearing her first two attempts at 3.41m and 3.56m with ease, Amato needed all three attempts at 3.71m before clearing the bar on her final vault. She broke her own personal best on her second attempt at 3.86m before entering Austin Peay lore on her final attempt at 4.01m.
Aside from extending her conference lead in the event and placing her less than four inches from the Austin Peay outdoor record currently held by Austin Peay Athletics Hall of Famer Burggraf, Amato's mark has regional implications as well.
Based on marks entering the weekend, she now ranks 24th in the NCAA East Region—firmly inside the top-48 to qualify for the NCAA East Preliminary in Jacksonville. And since 2010, no female athlete who has achieved the 13-foot mark has failed to qualify for regional competition.
"Traditionally, that's a mark that gets you in," Molnar said. "You get it early and get it out of the way, you can really work on some things ahead of the prelims."
Action continues in Bowling Green Saturday, with field events scheduled for a 9:00am start.