APSU Sports Information
Clarksville, TN – Opportunities were plentiful but Austin Peay State University's baseball could not capitalize on the chances in a 7-3 Ohio Valley Conference loss to Southeast Missouri, Sunday afternoon at Raymond C. Hand Park. The Govs won the three-game OVC set, 2-1.
Austin Peay (18-12, 10-5 OVC) was put on the defensive early as Southeast Missouri scored three runs in a rocky second inning.
Governors starter
Caleb Powell
could not solve the strike zone in the frame and saw the first five batters reach base.
Redhawks left fielder Daniel Costello's two-run double was the final hit in the streak and delivered a 3-0 lead.
Powell would work out of the jam, retiring three of the next four batters to end the frame. He would allow a two-out single in the fourth to end a streak of seven consecutive batters retired. Powell would not allow another run until the fifth when SEMO right fielder Chris Osborne hit a solo home run to build a 4-0 advantage.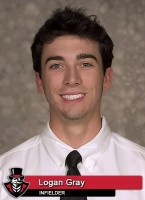 Meanwhile, Southeast Missouri starter Robert Beltran kept Austin Peay off the board, beginning with six scoreless innings. However, he weaved in and out of trouble as the Govs saw the first two batters get aboard in the first, fourth and sixth innings but could not drive in a run.
Austin Peay would finally break through against Beltran in the seventh as leadoff Logan Gray led off with a double. Shortstop Clayton Smithson's high fly ball cleared the wall in right, giving APSU its first runs of the game, 5-2.
Southeast Missouri (22-10, 13-2 OVC) responded with three consecutive runs. Costello tripled and scored on third baseman Hunter Leeper's single in the eighth. In the ninth, Costello completed the cycle with a RBI double that extended the SEMO lead to 7-2.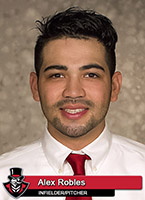 The Governors would threaten in the ninth, with three consecutive one out infield singles to load the bases. However, they could only scratch out one run – on first baseman Dre Gleason's sacrifice fly – as Redhawks reliever Justin Murphy struck out the final batter of the game.
Third baseman Alex Robles and center fielder Patrick Massoni each went 3-for-5 in Austin Peay's 11-hit outing. Smithson went 1-for-4 with two RBI, including his season's fifth home run.
Powell (3-2) suffered the loss after allowing four runs on eight hits in five innings while striking out a season-best seven batters.
Osborne paced Southeast Missouri with a 4-for-5, two RBI performance that saw him hit for the cycle. Leeper, second baseman Trevor Ezell and first baseman Ryan Rippee each had two hits in the Redhawks' 14-hit game.
Beltran (4-1) picked up the win after holding Austin Peay to two runs while scattering six hits and four walks over six-plus innings. Murphy picked up his season's fourth save, allowing one run while recording the final four outs.
Austin Peay begins a four-game road trip with a 6:30pm, Tuesday contest against Memphis at Fed Ex Field.
Box Score
Southeast Missouri (22-10) 7, Austin Peay (18-12) 3
| | 1 | 2 | 3 | 4 | 5 | 6 | 7 | 8 | 9 | | | R | H | E |
| --- | --- | --- | --- | --- | --- | --- | --- | --- | --- | --- | --- | --- | --- |
| Southeast Missouri | 0 | 3 | 0 | 0 | 1 | 0 | 0 | 1 | 2 | | 7 | 14 | 0 |
| Austin Peay | 0 | 0 | 0 | 0 | 0 | 0 | 2 | 0 | 1 | | 3 | 11 | 0 |
W: BELTRAN, Robert (4-1) L: POWELL, Caleb (3-2) S: MURPHY, Justin (4)

Southeast Missouri 7
Position
Player
AB
R
H
RBI
BB
SO
LOB
2b
EZELL, Trevor
5
0
2
0
0
0
0
cf
HOLST, Dan
3
1
1
1
1
2
0
ss
BOGGETTO, Branden
5
0
1
0
0
2
2
dh
GANDOLFO, Garrett
5
1
1
0
0
1
4
1b
RIPPEE, Ryan
5
1
2
0
0
1
0
rf
OSBORNE, Chris
5
3
4
2
0
1
0
3b/lf
LEEPER, Hunter
4
1
2
1
0
1
0
c
LEES, Brian
3
0
0
1
1
0
0
lf
COSTELLO, Daniel
3
0
1
2
0
2
0
ph
ROBERTSON, Kylar
1
0
0
0
0
1
1
3b
CAFFREY, Chris
0
0
0
0
0
0
0
p
BELTRAN, Robert
0
0
0
0
0
0
0
p
BUSIEK, Jake
0
0
0
0
0
0
0
p
MURPHY, Justin
0
0
0
0
0
0
0
Totals
39
7
14
7
2
11
7
Austin Peay 3
Position
Player
AB
R
H
RBI
BB
SO
LOB
2b
COPELAND, Garrett
4
1
1
0
1
0
0
cf
MASSONI, Patrick
5
0
3
0
0
1
0
c
SMITH, Ridge
5
0
1
0
0
1
1
1b
GLEASON, Dre
2
0
0
1
2
2
0
3b
ROBLES, Alex
5
0
3
0
0
1
4
rf
HAMILTON, Chase
4
0
1
0
0
0
0
lf
BLACKBURN, Kyle
2
0
0
0
0
1
0
ph
PURCELL, Wesley
1
0
0
0
0
1
1
lf
WILSON, Josh
1
0
0
0
0
1
0
dh
GRAY, Logan
3
1
1
0
1
1
2
ss
SMITHSON, Clayton
4
1
1
2
0
1
3
p
POWELL, Caleb
0
0
0
0
0
0
0
p
NEFF, Zach
0
0
0
0
0
0
0
p
SPARKS, John
0
0
0
0
0
0
0
Totals
36
3
11
3
4
10
11
 Southeast Missouri
Player
IP
H
R
ER
BB
SO
WP
BK
HBP
IBB
AB
BF
FO
GO
NP
Beltran Robert
(W, 4-1)
6.0
6
2
2
4
6
0
0
0
0
23
27
4
7
97
Busiek Jake
1.2
2
0
0
0
3
0
0
0
0
7
7
0
2
31
Murphy Justin (S, 4)
1.1
3
1
1
0
1
0
0
0
0
6
7
2
1
19
Totals
11
3
3
4
10
0
0
0
0
36
41
6
10
147
Austin Peay
Player
IP
H
R
ER
BB
SO
WP
BK
HBP
IBB
AB
BF
FO
GO
NP
Powell Caleb
(L, 3-2)
5.0
8
4
4
2
7
0
0
1
0
22
25
4
3
113
Neff, Zach
3.2
3
2
2
0
4
0
0
0
0
14
14
6
1
58
Sparks, John
0.1
3
1
1
0
0
1
0
0
0
3
3
0
0
13
Totals
14
7
7
2
11
1
0
1
0
39
42
10
4
184