Written by Staff Sgt. Terrance D. Rhodes
2nd Brigade Combat Team, 101st Airborne Division (AA) Public Affairs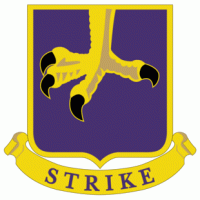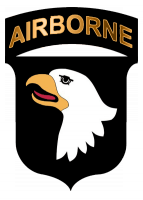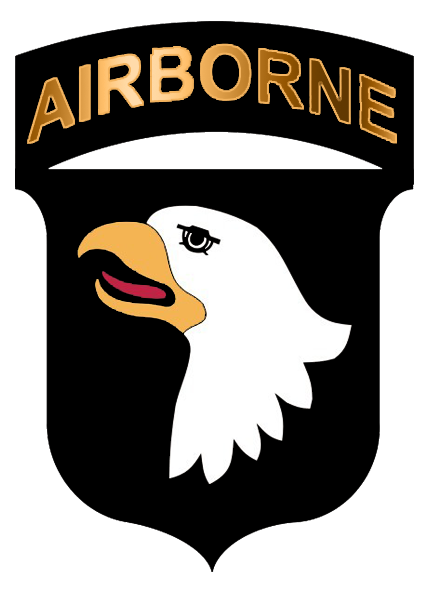 Fort Campbell, KY – The inductees were Honorary Colonel of the Regiment, Col. (R) Theodore Purdom and Honorary Sergeant Major of the Regiment Master Sgt. (R) Alonzo Rollins.
The Distinguished Members inductees were Command Sgt. Maj. John A. Brady, Maj. Michael Haith, Wayne Dugger, Jorge Otero and J.R. Martinez.
The regiment's Honorary Members were Sgt. 1st Class Bryan K. Hardy, Darlene Castillo, Kelli Caldwell, and Paul McConville.
Col. Brett G. Sylvia, commander of Strike brigade, began the ceremony by recognizing the contributions of each individual.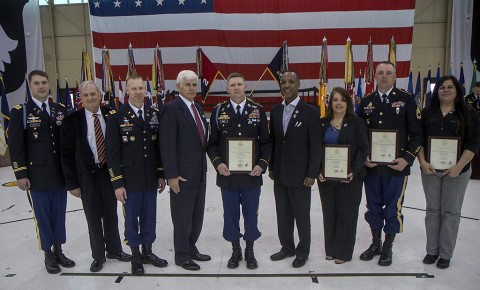 "In this ceremony we attempt, in some small way, to recognize the individual contributions that comprise this Regiment," said Sylvia. "In many ways, it is the tenacity of the individuals within this outfit over the past 74 plus years that defines this Regiment, this brigade combat team, and who we all aspire to be as Strike Soldiers."
Sylvia talked about the history of the regiment.
"This summer we will celebrate 75 years since this Regiment was established. And it was almost that long ago that it was determined that we would wear hearts on our helmets," said Sylvia.
"When we seek to encourage, to motivate, to endure, we tell people to have heart. It is the heart that compels us into action, shores up our courage, and drives us to never quit," said Sylvia
That never quit attitude not only inspired Soldiers but also the civilians who worked within the regiment.
Kelli Cardwell, a Family Readiness Support Assistant (FRSA) was overjoyed when she found out that she would be inducted into the regiment.
"It was a complete honor and I was taken back to all those who were inducted before me," said Cardwell. "I didn't think I was in the league of those who served before me. I've only know of two civilians who were inducted prior to me so this indeed is a great honor," said Cardwell.
Cardwell was assigned to 1st Battalion, 502nd Infantry Regiment in July 2007, and provided over eight years of selfless service as a civilian employee.
Sylvia closed with thanking the newest honorary and distinguished members of the regiment.
"It is you who built upon the character of those who have gone before us. It is you who solidified the foundation with your service and sacrifice; you, who gave this Regiment the reputation it enjoys today; and you whose shoulders upon which we stand daily," said Sylvia
"We are proud to be in your company, proud to call you brother and sister, and proud to carry forward the inheritance you purchased with your own blood, sweat and tears," said Sylvia.