APSU Sports Information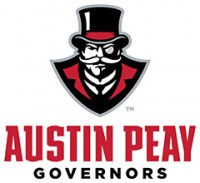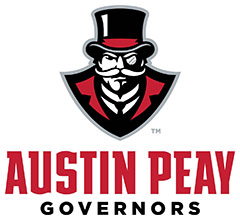 Clarksville, TN – Austin Peay State University's historic Governors Stadium will soon don a new name through a partnership with Fortera Credit Union. The 25-year, $2.5 million agreement will see the home of APSU football be renamed Fortera Stadium.
Crews will begin work to install signage reflecting its new identity in the days to come as the University and Fortera prepare to celebrate a new era.  A celebration will take place Saturday, April 23rd at the home entrance of the stadium, following the final day of spring football practice. The event is free and open to the public.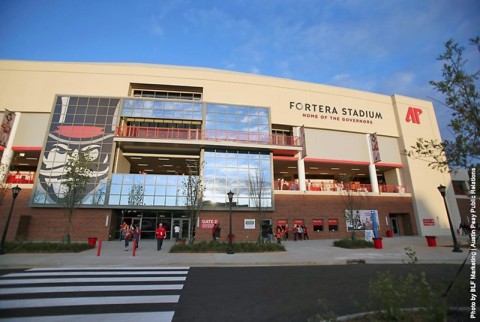 Festivities will begin with a noon softball game, as the Governors take on Jacksonville State. At 1:00pm Governors Baseball will compete against Eastern Kentucky at Raymond C. Hand Park.
Tailgate Alley opens at 3:00pm in front of the newly named Fortera Stadium, followed by the Spring Football Game at 4:00pm. After the game, at approximately 5:45pm, a brief naming ceremony will take place with Tom Kane, president and CEO of Fortera Credit Union, and APSU President Alisa White speaking. The ceremony will be followed by a concert and end with a fireworks display at approximately 7:45pm.
The announcement of this partnership coincides with the credit union's official name change to Fortera Credit Union. The financial cooperative has been serving the community for more than 60 years and made the decision earlier this year to officially change its name from Fort Campbell Federal Credit Union to Fortera Credit Union.
Kane approached the University as part of the credit union's ongoing community investment efforts.
"We're a community credit union. We live here, we work here and we give here. At Fortera Credit Union, we believe it's our responsibility to educate our members in order to help them make smart financial decisions," Kane said. "We are equally committed to making a positive impact in the communities we serve by investing in partnerships with organizations committed to doing the same. As we evaluated partnership opportunities, we found Austin Peay to be aligned perfectly with our own core values."
The new agreement provides resources to enhance facilities within the athletic department. In partnering with APSU, Fortera Credit Union continues to expand its presence on campus, which already includes a Fortera ATM in the Morgan University Center.
"First and foremost, thank you to Fortera Credit Union for entering into this new and exciting partnership with Austin Peay State University," APSU President Alisa White said. "Fortera has been a part of this community for more than 60 years, and many of its leaders and employees have earned their degrees from the University. We are proud of their accomplishments and are celebrating our partnership and our shared values and goals. We are honored that Fortera Credit Union wants to be part of Austin Peay's future."
The original Governors Stadium was built by the city of Clarksville as a multi-purpose facility in 1946. Originally named Municipal Stadium for its purpose of providing an athletic facility for Clarksville and Montgomery County Schools, the stadium also was also used by the University through an annual agreement.
In 1970, the city conveyed one-third of the title to the state and the other third of the stadium to Montgomery County. Additionally, a local legislative enactment was passed by the Tennessee General Assembly establishing a Municipal Stadium Authority and empowering it to operate the stadium, provided that the owners entered into a lease agreement with the Stadium Authority not to exceed 20 years.
In 1993, the University agreed to purchase Municipal Stadium from the Stadium Authority and Montgomery County, and the name of the stadium changed to Governors Stadium. The University demolished the home side of the original stadium at the end of the 2013 football season and opened the new facility at the start of the 2014 season.
Fortera Credit Union is a not-for-profit financial cooperative, owned and operated by members, established in 1954. The Credit Union offers quality products and outstanding service to more than 50,000 members and their families with branches in Clarksville, Fort Campbell, Oak Grove and Hopkinsville. For more information, visit www.ForteraCU.com
Additional quotes from key campus and community leaders:
"The people of this community, people and businesses like Fortera, are what provides us the great opportunity we have to be a highly successful and competitive athletics department.  Without their support and generosity, we couldn't do what we do."

—Ryan Ivey, APSU athletics director
"It's exciting to see community partnerships like Fortera and Austin Peay take place. I applaud Fortera for stepping forward and showing such great support for our university. Austin Peay football is poised for great success, and we are looking forward to what the future holds for the Govs in Fortera Stadium this fall!"

            —Jim Durrett, Montgomery County Mayor
"As a staff, we're always striving to provide better opportunities for our student-athletes. This partnership with Fortera provides us the resources to improve the student-athlete experience and campus community as a whole. To be able to do so as the result of a relationship with one of Clarksville's most progressive, impactful leaders will yield enormous benefits in our recruiting goals and pursuit of championships going forward."

            —Will Healy, APSU head football coach
"Austin Peay State University is being propelled forward because of a community of partners that a have a clear vision for what is possible for this great University.  Clarksville and APSU share an exciting vision of transformation and growth.  There will be many more of these types of partnerships that will help to define Clarksville as a key destination to live and visit in the state of Tennessee."

           —Derek van der Merwe, APSU VP of advancement, communication and strategic initiatives.
"From a tourism perspective, we are always happy to hear about partnerships like this one because they improve the visitor experience. The newly rebuilt Governors Stadium is already something to be proud of, so the news that Austin Peay and Fortera will work together to offer an even better experience to fans and visitors is very exciting."

            —Theresa Harrington, Executive Director of Visit Clarksville
"I've talked about public and private partnerships being a cornerstone of development for a long time.  This new partnership between Austin Peay State University and Fortera is a perfect example.  I appreciate these excellent institutions and their commitment to our community."

            —Kim McMillan, Clarksville Mayor