Clarksville, TN – On a fall afternoon in 2014, Doug Downey returned home and told his wife, Linda, that he needed to ask her an important question. Throughout their 38 years of marriage, the couple has supported several causes that are important to both of them. But that afternoon, Downey asked Linda if they could scale back the number of charities they gave money to.
"I asked if she would support us, together, focusing our philanthropy so we could make a more significant contribution to Austin Peay State University baseball," he said. "And Linda could pick a single charity to support also."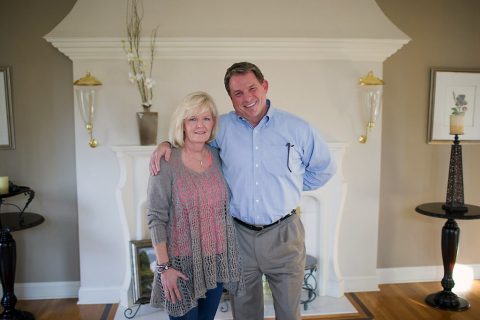 The Downeys are now providing major financial assistance to the baseball program through several generous donations. Their support will help the team grow as it builds upon its history of success.
"The Governor baseball program has long been one of the most successful programs at Austin Peay and within the OVC," Ryan Ivey, APSU athletics director, said. "This gift will allow our program to continue to build on the foundation that has been laid. As a former Governor baseball player, Doug knows first-hand the lessons that are being learned on the diamond, and with this gift, he has provided an incredible opportunity for our current and future Governors to be just as successful as he has been."
In the months leading up to Downey's conversation with Linda, he kept coming across reminders of his time on the APSU baseball team. In the late 1970s, he was an MVP and team captain, but in the decades after graduating, Downey had focused on his career, becoming vice-president of Treasury Services for HCA—the nation's leading provider of health care services.
"I believe everything happens for a reason, and early in 2014, I met Derek van der Merwe (then-APSU athletic director) at a charity golf tournament," he said. Downey just happened to be wearing an APSU polo, which caught van der Merwe's attention.
The two men talked briefly about APSU athletics, before going their separate ways that day. Then in October, Downey ran into van der Merwe again at a Governors baseball reunion. "Derek was there, imparting the importance of the history of the baseball program and our contributions to the program, and how that continues to influence the success of the program today."
A feeling of nostalgia began to overtake Downey. He'd met Linda on campus his freshman year, and she cheered at most of his games, back when spectators had to sit on primitive, earthen steps behind the field's backstop.
"After the reunion, Coach Joe Ellenberg pulled a few of us aside and challenged us to support the program," Downey said. "Out of thirty-something people there, why did he pick us?"
Downey, a former captain, felt he was being called to again help lead his old baseball team, so that afternoon, he went home to talk it over with Linda. She quickly agreed, specifying that he would support APSU and she would support the Open Door Pregnancy Resource Center in Springfield, Tennessee.
"There was a reconnection that Doug experienced when he saw Derek, and then he got more interested in supporting the team," Linda said. "The older you get, the more focused you become because you're running around with kids and volunteering at school and church and you're working. You start to realize, 'What should we be doing? What do you want to do?'"
In the late 1970s, Doug and Linda Downey were newlyweds, living in married housing on the APSU campus. Their first year together, Linda joked their philanthropy of choice was the Internal Review Service.
"After we moved out of the dorms and got a house, we had a bill of $400.00," she said.
Thirty-eight years later, the couple is in a position to make a noticeable difference in a program that helped steer them toward their future success.
For more information, contact Alaric Klinghard, director of corporate giving at APSU, at .