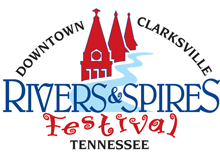 Clarksville, TN – The weather was absolutely perfect Friday, April 15th for the Rivers and Spires Festival. It was warm, but not too warm with a slight wind, clear sky, perfect. Put that with plenty of food, great vendors, activities and some amazing entertainers and you had one heck of a good time going on in Downtown Clarksville.
Rivers and Spires truly has something for everyone, little, small, young and old alike. There were plenty of things to do like the laser tag area, face painting, the sports zone, the family fun zone and more.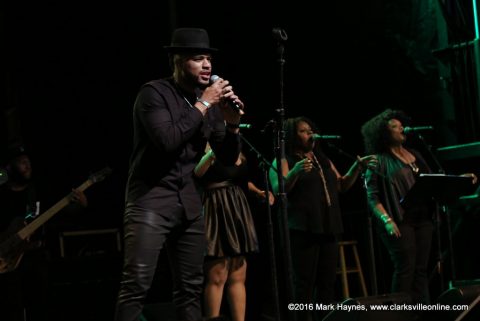 CDE Lightband's Fiber Fast Gaming was a big hit. There were children and adults of all ages playing all types of games on the consoles and computers setup there. You have your choice from over 50 games to choose from. Also, there were giveaways for some exciting prizes, like a gaming chair.
Fiber Fast Gaming is located in the underground parking garage on Franklin Street between Second and Third Streets.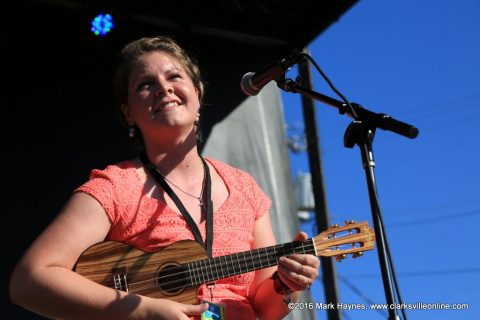 Local singer/songwriter Lydia Walker and her band were on the Christian Stage at 10:00am. Her music can be described as Contemporary Folk, accompanied by her acoustic guitar and sometimes, like today, a ukulele. Once she started singing, lots of people began floating into the area to listen.
"I always love the Rivers and Spires event. Just growing up here in Clarksville it's always something we looked forward to each year. My whole family gets involved and I love that there is something for everyone." stated Lydia Walker
Taking the Courthouse Stage also at 10:00am was the local favorite band, Backroad Brigade. With drummer Seth Ely, lead guitarist Matt White, and lead vocalist and bassist Dalton Akins, they took command of the stage from the first note rocking out for the crowd that had gathered to see them perform.
"It is always a great time at Rivers and Spires. This time there is fantastic weather so it's been even better," said Dalton Akins. "There is great food, great music, great vendors, it's just a beautiful thing."
"Rivers and spires is just a fun thing and to do it for all these people is just great," stated Matt White. "This is a fun event," commented Seth Ely. "I have been every year and I just love it."
The night ended with Mark Hood on the Public Square Stage at 9:00pm. From his first song, Mark Hood captivated the audience and drew them into his dance moves, unique voice and gritty jazzy vocals. He gave a soulful performance with a dash of rock that delighted the crowd.
"My lord, Clarksville was one of the best crowds I've every played. It was just incredible. The energy was amazing. I'm so glad I could be here and share this moment with Clarksville," said Mark Hood. "This is just a great event. We have something kinda of similar to this in Chicago. So it was so cool to come to another city and see how it works. I just had an amazing time."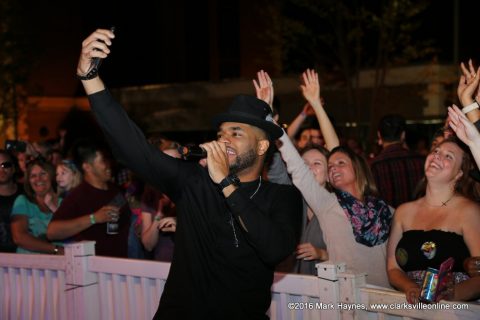 He is currently working on an EP, "Mark My Words", that is coming out in June/July. He is also working on a film this summer, a couple of commercials and a TV show as well.
To find out more about Mark Hood, visit his website at www.markjphood.com or connect with him on any social media @markjphood.
Friday's attendance to Rivers and Spires had to be a record breaking one. There were as many people at the event on Friday as there would be on a Saturday.
This year's Rivers and Spires will be going down as the best one ever. Make sure to come out today and be apart of the excitement.
Photo Gallery
About the Rivers and Spires Festival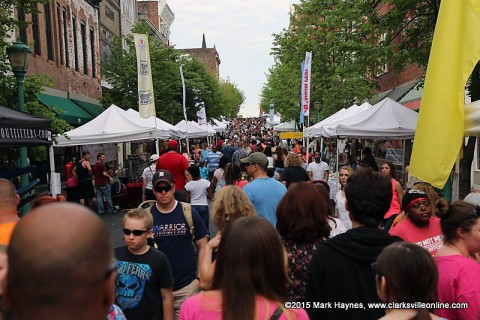 The 14th annual Rivers And Spires Festival will be held April 14th-16th in Downtown Clarksville. This event has five stages of entertainment with over 100 entertainers performing all three days. From children's activities, arts and crafts, car shows, military exhibits, shopping and so much more this is truly an event for the whole family. Admission to the Festival is free including all games, activities and concerts.
Rivers and Spires is one of the biggest festivals in the southeast. Hours this year are: April 16th from 10:00am–9:00pm. The Family Fun Zone Hours:  Saturday, April 16th from 10:00am–8:00pm. Toddler Town Hours: Saturday, April 16th from 10:00am–7:00pm.
For more information about the 2016 Festival, please visit www.riversandspires.com
Become a fan on Facebook and follow us on Twitter @riversandspires