Austin Peay Sports Information

Nashville, TN – The 2016 season for Austin Peay State University men's tennis team came to an end Friday in the opening round of the Ohio Valley Conference Championship, falling 4-2 to Belmont at the Centennial SportsPlex.
The Governors finish the campaign 7-11 after reaching the OVC Tournament for the eighth-straight year.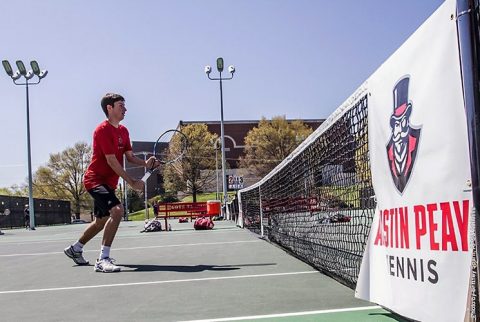 Meanwhile, the Bruins, after avenging their loss to APSU, advance to play Eastern Kentucky in the semifinals.
Austin Peay fell behind early to the local Bruins, losing the doubles point by a score of 2-1. Juniors Aaron Jumonville and Manuel Montenegro earned APSU's lone victory, a 6-2 nod over Cedric Dujacquier and Robin Demasse. However, Belmont would go on to grab decisions at the No. 2 and 3 spots.
Zak Khan and Stephen Goldman handed Almantas Ozelis and Aleh Drobysh their first doubles loss against OVC competition, 6-2, while Adam Rudowski and Bruno Russo defeated Alex Kartsonis and Chad Woodham, 6-4.
In singles, the Govs had another strong performance from No. 3 Montenegro, winning over Khan, 7-5, 6-2. Austin Peay picked up an additional victory at the No. 5 position, with Kartsonis cruising to a 6-4, 6-2 nod against Goldman.
Belmont's first singles victory came as Rudowski upset Drobysh, 6-1, 6-2, and the Bruins would clinch the match with wins by Russo over Woodham, 7-6, 6-0, and Dujacquier over Jumonville, 7-6, 6-4.
The No. 2 contest between Ozelis and Demasse was unfinished.
Box Score
Singles
1. Cedric Dujacquier (BELM) def. Jumonville, Aaron (APSU) 7-6, 6-4
2. Ozelis, Almantas (APSU) vs. Robin Demasse (BELM) 6-7, 2-2, unfinished
3. Montenegro, Manuel (APSU) def. Zak Khan (BELM) 7-5, 6-2
4. Adam Rudowski (BELM) def. Drobysh, Aleh (APSU) 6-1, 6-2
5. Kartsonis, Alex (APSU) def. Stephen Goldman (BELM) 6-4, 6-2
6. Bruno Russo (BELM) def. Woodham, Chad (APSU) 7-6, 6-0
Doubles
1. Jumonville, Aaron/Montenegro, Manuel (APSU) def. Cedric Dujacquier/Robin Demasse (BELM) 6-2
2. Zak Khan/Stephen Goldman (BELM) def. Drobysh, Aleh/Ozelis, Almantas (APSU) 6-2
3. Adam Rudowski/Bruno Russo (BELM) def. Kartsonis, Alex/Woodham, Chad (APSU) 6-4