APSU Sports Information
Clarksville, TN – Left fielder Logan Gray hit a home run to put Austin Peay State University's baseball team ahead early and added another blast late to help secure a 14-4 Ohio Valley Conference victory against Eastern Kentucky, Sunday, at Raymond C. Hand Park.
With the win, the Governors swept the three-game OVC series.
Austin Peay (24-13, 14-6 OVC) scored the game's first six runs. Gray was responsible for the first two as he hit a home run to straight-away center field in the first inning.
In the second, the Governors saw five straight batters reach base with four runs scoring, Gray supplying another RBI on a ground out to put APSU ahead 6-0.
Eastern Kentucky (17-24, 7-11 OVC) eased its way back into the game by scoring in four consecutive innings. Third baseman Mandy Alvarez drove in runs with a leadoff home run in the sixth and a single in the seventh as the Colonels closed to three runs, 7-4.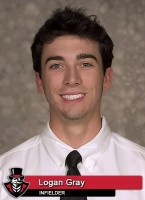 The Govs responded by scoring the game's final seven runs. Designated hitter Kyle Blackburn got one run back in the seventh with a sacrifice fly. But Austin Peay broke the game open with a six-run eighth inning.
Gray hit a leadoff home run to start the rally and two batters later first baseman Dre Gleason powered a three-run home run to right field.
Austin Peay would tack on the game's final runs courtesy shortstop Clayton Smithson's RBI double and second baseman Garrett Copeland's sacrifice fly.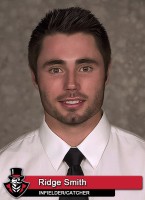 Gray posted an RBI in four of his five plate appearances, finishing the day 3-for-5 with five RBI and two home runs. Gleason, Smithson and catcher Ridge Smith each added three hits. Austin Peay's 18-hit barrage was its best showing since March's final game.
Austin Peay starter Caleb Powell (4-2) was the beneficiary of the offensive outburst, picking up his season's first OVC win. He held the Colonels to three runs on eight hits while striking out a career-high tying seven batters.
The Governors bullpen surrendered its first run of the series on Alvarez' RBI single in the seventh, but it was the only run it allowed in the series. Closer Jared Carkuff picked up his fourth save with 2.1 scoreless innings, striking out three.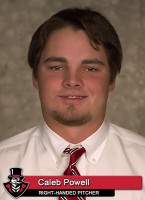 Eastern Kentucky finished with 12 hits as designated hitter Kyle Nowlin and second baseman Alex Holderback each went 3-for-4. Alvarez finished the day 2-for-4 with two RBI.
EKU starter Nick Cumpston (2-4) suffered the loss after allowing six runs on five hits and two walks in the opening 1.1 innings.
Austin Peay continues its busy stretch when it meets nationally-ranked Vanderbilt in a 1:00pm, Tuesday contest at Hawkins Field in Nashville.
Box Score
Eastern Kentucky (17-24 / 7-11) -vs- Austin Peay (25-13 / 15-6)
| | 1 | 2 | 3 | 4 | 5 | 6 | 7 | 8 | 9 | | | R | H | E |
| --- | --- | --- | --- | --- | --- | --- | --- | --- | --- | --- | --- | --- | --- |
| Eastern Kentucky | 0 | 0 | 0 | 1 | 1 | 1 | 1 | 0 | 0 | | 4 | 12 | 1 |
| Austin Peay | 2 | 4 | 0 | 1 | 0 | 0 | 1 | 6 | X | | 14 | 18 | 1 |
W: POWELL, Caleb (4-2) L: CUMPSTON, Nick (2-4) S: CARKUFF, Jared (4)

Eastern Kentucky 4
Position
Player
AB
R
H
RBI
BB
SO
LOB
ss
WARRENFELTZ, Cole
5
0
0
0
0
1
0
cf
SULLIVAN, Shea
4
0
0
0
0
4
1
3b
ALVAREZ, Mandy
4
1
2
2
0
1
0
dh
NOWLIN, Kyle
4
1
3
0
0
1
2
rf
BLAIR, Taylor
4
0
0
0
0
1
0
1b
FISHER, Ben
4
0
2
1
0
1
0
c
STARNES, Logan
4
0
0
0
0
2
3
lf
GRAHAM, Dakota
2
2
1
0
1
0
0
ph
McFARLAND, Daniel
1
0
1
0
0
0
0
pr
NAPPI, Jacob
0
0
0
0
0
0
0
2b
HOLDERBACH, Alex
4
0
3
1
0
0
0
p
CUMPSTON, Nick
0
0
0
0
0
0
0
p
MROZ, Brian
0
0
0
0
0
0
0
p
SMITHER, Brandon
0
0
0
0
0
0
0
p
JACKSON, Spencer
0
0
0
0
0
0
0
Totals
36
4
12
4
1
11
6
Austin Peay 14
Position
Player
AB
R
H
RBI
BB
SO
LOB
2b
COPELAND, Garrett
3
2
2
2
1
0
2
cf
MASSONI, Patrick
5
0
2
1
0
0
2
cf
WILLIS, Imani
1
0
0
0
0
1
0
lf
GRAY, Logan
5
2
3
5
0
0
0
3b
ROBLES, Alex
3
1
0
0
2
1
1
rf
HAMILTON, Chase
5
1
2
0
0
0
2
1b
GLEASON, Dre
4
2
3
3
0
0
0
c
SMITH, Ridge
5
2
3
0
0
1
0
dh
BLACKBURN, Kyle
1
1
0
1
1
1
1
ph
WILSON, Josh
1
0
0
0
0
1
0
ss
SMITHSON, Clayton
4
3
3
2
1
0
0
p
POWELL, Caleb
0
0
0
0
0
0
0
p
NEWBERG, Brett
0
0
0
0
0
0
0
p
KIMBEL, Keirce
0
0
0
0
0
0
0
p
CARKUFF, Jared
0
0
0
0
0
0
0
Totals
37
14
18
14
5
5
8
 Eastern Kentucky
Player
IP
H
R
ER
BB
SO
WP
BK
HBP
IBB
AB
BF
FO
GO
NP
Cumpston Nick
(L, 2-4)
1.1
5
6
6
2
0
0
0
0
0
9
11
3
1
49
Mroz, Brian
2.0
5
1
1
0
2
0
0
0
0
11
11
2
2
45
Smiter, Brandon
3.2
6
5
5
3
1
0
0
3
0
13
20
5
2
51
Jackson, Spencer
1.0
2
2
1
0
2
0
0
0
0
4
5
1
0
14
Totals
18
14
13
5
5
0
0
3
0
37
47
11
5
159
Austin Peay
Player
IP
H
R
ER
BB
SO
WP
BK
HBP
IBB
AB
BF
FO
GO
NP
Powell, Caleb
(W, 4-2)
5.1
8
3
3
0
7
1
0
0
0
23
23
4
4
84
Newberg, Brett
0.2
1
1
1
1
0
0
0
0
0
2
3
1
0
11
Kimbel, Keirce
0.2
1
0
0
0
1
0
0
0
0
3
3
1
0
9
Carkuff, Jared (S, 4)
2.1
2
0
0
0
3
0
0
0
0
8
8
2
1
31
Totals
12
4
4
1
11
1
0
0
0
36
37
8
5
135