Girl Scouts Plan Knit-A-Thon to aid children with cancer
Clarksville, TN – Ryleigh, a member of Girl Scouts Troop 779, had a class mate that passed away last year from cancer. It was hard for her to watch a classmate grow sick, lose her hair, then finally her battle with cancer.  While they weren't close, getting the updates of her classmate was confusing, painful and frustrating – being only 13 years old, and not knowing what to do to help.
So when her she sat down with her fellow troop members to brainstorm about what to do for a Silver Award project (the second highest award that a Girl Scout can earn), she thought of her classmate and mentioned it to them – and the rush of ideas began to take form.
From Inspiration to Idea!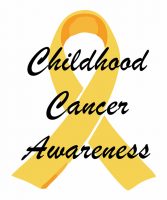 Kids suffering from cancer have a hard battle to fight, one of the issues is losing their hair and struggling with self esteem.  Ryleigh and her fellow troop members working on this project, Kara & Marlena decided they could make a difference by holding a Knit-A-Thon and by educating the community how many children are effected by Childhood Cancer each year.
The girls started with a spaghetti dinner and online fundraiser last month to raise money to purchase yarn and supplies for the event.  Now, their focus has moved to advertising the event and get as many volunteers as possible to come and knit at the event.
The Event
The "Hats 4 Happiness Knit-A-Thon will be held at Trinity Episcopal Church, 317 Franklin Street on May 8th, 2016. The public is invited to come to the event and create.
No experience is needed, the scouts and others will be there to help you learn to loom, or for extra support with knitting and crochet.  Yarn and looms will be provided, as will light refreshments – please bring your own needles.
Full details about this event and the Hats 4 Happiness movement can be found on their Facebook page at www.facebook.com/HatsforhappinessGS