Austin Peay Sports Information

Lexington, TN – If Saturday serves as a gauge of readiness, the Govs are all set for Nashville.
Austin Peay State University track and field's quartet of competitors at Saturday's Kentucky Relays acquitted themselves nicely with a week to go before Ohio Valley Conference Championship action.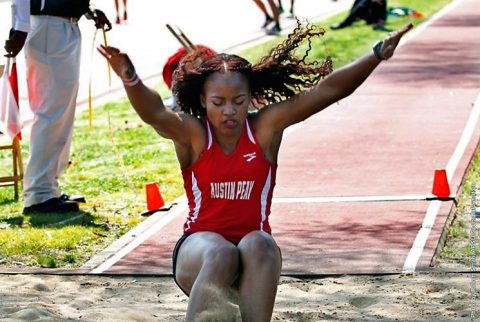 Junior
Chancis Jones
got the day started right for the Governors with a season-best long jump mark. The Chattanooga native's 5.77m (18′ 11.25″) mark earned her third place in the event, but leaves her still a bit short of top-five standing in the OVC lists entering next weekend's OVC Outdoor Championships.
"As a staff, we're really proud of what Chancis has done to return to her full potential after missing indoors," said Austin Peay assistant coach Valerie Brown, who was with the quartet this weekend. "It's exciting to see her headed back in the right direction. We're looking forward to her putting down a big jump at conference next weekend."
Freshman Savannah Amato also took third in the pole vault, hitting 3.75m (12′ 3.5″); Dascha Hix, her counterpart, unfortunately was unable to register a height in three attempts.
Senior Kymmalett Ross' spectacular senior season continued on the track. Her season-best 24.21 in the 200m moved her into a tie with Tennessee State's Amber Hughes for fourth in the conference, and she posted a strong 12.07 mark in the 100m, also finishing fourth in that event.
"Kymm has been really consistent in the 100m this season," Brown said. "In the 200, she's right where she needs to be going into next weekend; we're working hard to get her under 24 (seconds) for the conference meet. She's really bought into working hard this year and it's evident by watching her on the track.
"We've got a week left in practice. Our team and staff are working hard on being at our best mentally and physically for next weekend."
The Govs bring a full, rested and rejuvenated squad into action at next weekend's 2016 Ohio Valley Conference Outdoor Championships, hosted by Tennessee State in Nashville.