APSU Sports Information

Nashville, TN – Three medals were earned and Austin Peay State University track and field enjoyed a successful first day of competition at the 2016 Ohio Valley Conference Outdoor Track and Field Championships at Tennessee State, finding themselves in sixth with 24 points.
For the first time since 2010, Austin Peay took the top of the podium at both the indoor and outdoor pole vault.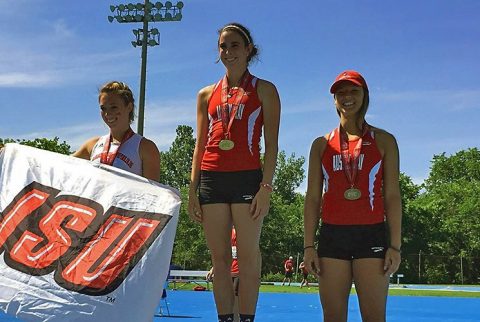 This time it was freshman
Savannah Amato
who took the top spot with a 4.04m (13′ 3.0″) leap, the first time a Governor broke the 13-foot mark since 2010 (Carrie Burggraf, 4.09m).
Freshman Dascha Hix, who took the top spot at the 2016 Indoor Championships, placed third in her first outdoor games with a 3.59m (11′ 9.25″) mark, earning bronze and giving the Govs 16 points in the event for the second straight OVC Championship outing.
Junior Chancis Jones continued her ascent in the long jump after persevering through an injury-riddled 2016. Her season-best 5.82m (19′ 1.25″) leap earned her bronze behind host Tennessee State's Clairwin Dameus and Amber Hughes. Also adding to Austin Peay's point tally was junior Kaylnn Pitts, who shook away the rust that accompanied a layoff of nearly two months by hitting 5.65m (18′ 6.5″) to place seventh.
Austin Peay is well-positioned for a number of Saturday events as well, perhaps none more so than the 400m dash. Junior Terri Morris was the top qualifier with a personal-best 54.21, with senior Breigh Jones (55.76) and sophomore Allysha Scott (56.05) qualifying fourth and fifth, respectively.
Junior Myiah Johnson finally broke through with a sub-14 second mark in the 100m hurdles, qualifying fourth thanks to her 13.91 mark. Sophomore Sonja White also snuck into Saturday's final, using a 14.24 mark to qualify eighth.
Qualifying fifth in the 100m dash, senior Kymmalett Ross set a personal-best with an 11.97 mark, her first time breaking the 12-second barrier in 2016. She wrapped her day up with a third-place qualifying mark for Saturday's 200m dash final with a personal-best 24.13 mark; she'll be joined in the 200m final by Morris, who qualified fifth (24.39).
Saturday will also see the conclusion of the women's heptathlon, where Amia Butler looks to improve her sixth-place standing, with 2824 points after four events; the biggest highlight of her Friday morning was a third-place, 14.74 in the heptathlon 100m hurdles. The long jump, Butler's specialty, is part of the trio of heptathlon events slated for Saturday.
A pair of gut-wrenching ninth-place finishes kept the Governors from earning a pair of crucial extra points Friday. In the high jump, sophomore Keyondria Ross' 1.66m (5' 5.25″) easily eclipsed her personal-best but saw her place ninth, while junior Ashleigh Woods' 5.55m (18' 2.5″) actually qualified for the finals but was unable to scratch a point, settling for ninth as well.
The final day of the 2016 OVC Outdoor Championships begins 9:00am, Saturday, with the conclusion of the multi-events. Field events are scheduled to begin at 11:00am, with the track events slated for a 2:00pm start.