Written by 1st Lt. Daniel I. Johnson
Combined Joint Forces Land Component Command – Operation Inherent Resolve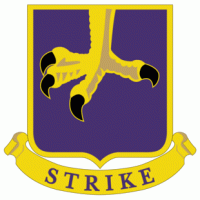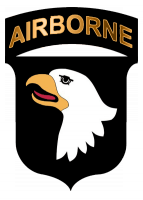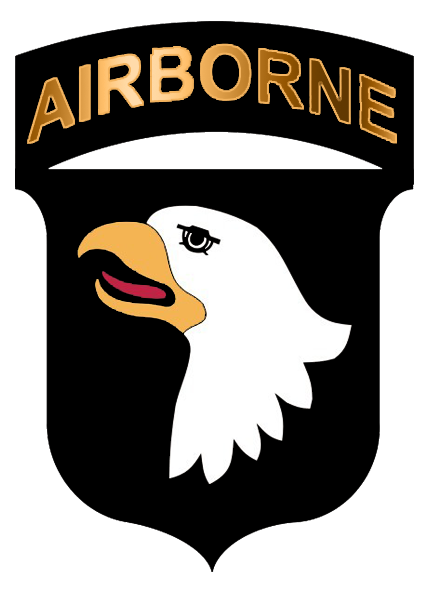 Erbil, Iraq – The 2nd Brigade Combat Team, 101st Airborne Division (Air Assault), took over the division-level advise and assist mission in northern Iraq from the 1st Brigade Combat Team, 10th Mountain Division, during a ceremony May 15th, in Erbil, Iraq.
About 1,250 1st BCT "Warriors" of the 10th Mountain Division making up Task Force Warrior redeployed back to Fort Drum, New York, after serving nine months in Iraq and Kuwait, training and advising and assisting Iraqi Security Forces in support of Operation Inherent Resolve.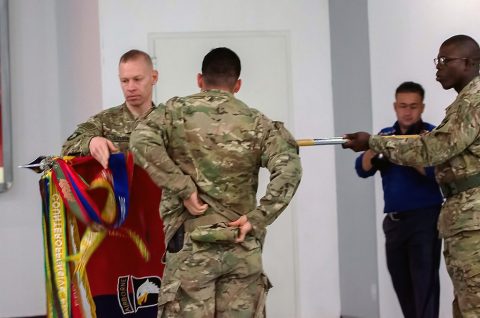 A color casing ceremony marked the completion of the transfer of authority at Task Force Warrior's headquarters building in Erbil.
The Warrior colors were cased for their journey back home and Strike's uncased to signify the start of a new chapter in the storied brigade's history.
The outgoing task force commander, Col. Scott M. Naumann, addressed those in attendance, speaking of the unit's time in theater.
"Specially selected and thoroughly trained to advise and assist our Iraqi partners, the men and women of the Warrior brigade once again answered their nation's call to fight a brutal enemy in a far off land," said Naumann.
"Throughout the deployment, our Soldiers provided reliable, flexible, and operationally significant effects to this campaign. In nine different locations … we executed diverse missions that included advise and assist, build partner capacity, fixed sight security, and contingency force operations."
Naumann also said he was proud of his Soldiers' contributions, accomplishments and achievements over the previous nine months, describing the time spent as worthwhile with the unit leaving the Strike brigade a stronger and more ready Iraqi force.
Task Force Warrior is relieved by Task Force Strike, comprised of about 1,300 Soldiers. Naumann said he is confident in Task Force Strike's ability to build upon Task Force Warrior's accomplishments due in part by the legacy of the 101st Airborne Division and the Strike brigade and largely due to the leadership that comes with it.
"Given your unit's historic association with Mosul, it seems appropriate that the Strike brigade play a significant role as you begin this next rendezvous with destiny," said Naumann.
Task Force Strike will continue the mission of advising and assisting ISF as they prepare to isolate Mosul while maintaining security throughout the country. This is the brigade's seventh deployment in support of the Global War on Terror.
Col. Brett G. Sylvia, commander of Task Force Strike, elaborated on the unit's mission.
"The commitment to the mission will not change," said Sylvia. "This mission is clear: to enable our partners to strike deep into the Daesh stronghold, defeat this cowardly enemy, and establish a stable environment for the peace-loving people of this region."
With the motto of "We fight where told, and win where we fight," Soldiers of Task Force Strike are excited and ready for their upcoming rendezvous with destiny.
"We might be new," said Sylvia. "But the Strike brigade is no stranger to this country or this fight. As our colors are now unfurled, we're ready to stand with our partners, and rid the terrorists from this country. It has been said that when freedom is diminished anywhere in the world, freedom everywhere is in danger. Many sacrifices have been made, and the result here will only increase."