Clarksville Residents asked to contribute to "World's Largest Paintbrush Mosaic"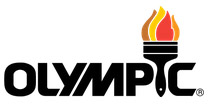 Clarksville, TN – OLYMPIC® Paints & Stains invites Clarksville residents to participate in a number of weather-themed wood staining scenarios as part of its Olympic MAXIMUM® WEATHER-READY™ stain truck tour traveling to Lowe's stores across the Midwest.
The truck will be at Lowe's of Clarksville at 2150 Lowes Drive on Tuesday, May 24th. It will also make an appearance at the Lowe's of South Clarksville at 1622 Madison Street on Wednesday, May 25th. The truck will be at the locations from 11:00am – 5:00pm each day.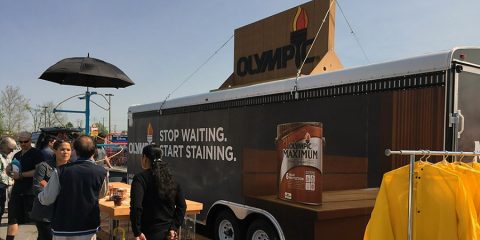 The 21-stop tour is part of an attempt to break the standing Guinness World Record for the "largest paintbrush mosaic," while also providing attendees with interactive demonstrations of Olympic Maximum stain, which provides a wider window of time to stain wood.
DIY-ers will experience a WEATHER-READY™ application demonstration, which showcases the Olympic Maximum stain's ability to stain while wood is wet, cold, warm or dry.
Following an interactive product demonstration, visitors will contribute their paintbrush to a large mosaic measuring more than 85 ft.2 in an attempt at setting a new Guinness World Record.
Other activities at the truck stop include showcasing three alternative weather scenarios, including:
Rain-Ready: a stormy sky provides a backdrop for guests to don a rain slicker and participate in a hands-on demo of damp wood application.
Cold Weather: consumers will learn more from a brand ambassador about Olympic Maximum stain's ability to be applied in temperatures as low as 35 degrees.
Warm Weather: the final activation features gigantic, oversized stained Adirondack chairs which provide a viewing area to watch as guests contribute the paint brush they used as part of their stain demo to an attempt at a Guinness World Record-breaking mosaic.
About Olympic® Paints & Stains
The Olympic brand has been trusted to provide quality results since 1938. Its history of excellence and expertise has made Olympic Paints and Stains a category leader with a reputation for delivering innovation and durability at an affordable price. With a full range of interior and exterior paints, exterior stains, resurfacers and wood cleaners, we have the products you need to complete your next paint or stain project right.
Learn more at www.olympic.com.