APSU Sports Information
Jackson, TN – Junior pitcher Alex Robles became the first Austin Peay State University pitcher in nine seasons to reach 10 victories as the Governors defeated Belmont, 12-7, Wednesday night, in first-round Ohio Valley Conference tournament baseball action at the Ballpark at Jackson in a contest that didn't end until 1:47am, Thursday.
Weathering permitting, the third-seed Governors (29-21) now will face second-seed Jacksonville State, 3:00pm, Thursday.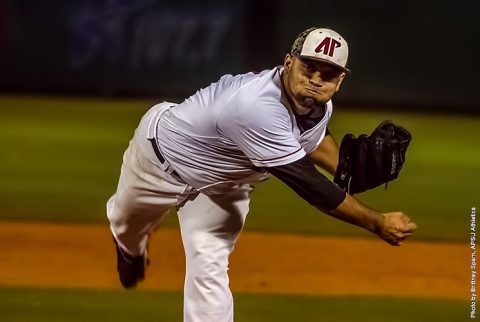 And it was the weather—along with extra innings—during the Morehead State-Tennessee Tech contest that caused a seven-hour, six-minute start delay for the Governors and Belmont.
But Robles gained a small token a revenge pitching in his first OVC tourney game. Stung by a 15-0 defeat by the Bruins, April 12th, Robles was effective throughout, capitalizing on his ability to eradicate himself for the most part from Bruin uprisings.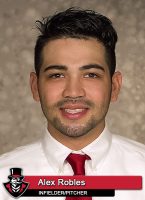 The Tucson, Arizona native allowed just five hits and two earned runs in seven innings, fanning nine while walking only one. The only blemish was three hit batsmen, one leading to the Bruins first run.
Robles became the first Governor to win 10 games since Shawn Kelly achieved the feat in 2007 and only the ninth APSU pitcher all-time to reach single-season double-figure win totals.
After the Governors jumped out to a 2-0 lead in the second, Belmont scratched out single runs in the third and fifth innings to tie it. But Chase Hamilton cracked an opposite-field RBI double to give the Govs the lead for good in fifth followed by a Josh Wilson RBI infield single.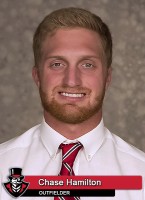 Robles and four other Govs pitchers benefitted from an 18-hit attack, five coming in a six-run sixth inning that broke open a two-run contest. In that inning the Govs first two runners reached base via a hit batsman and walk before four consecutive singles netted a trio of runs.
The fourth run came on a Ridge Smith RBI single—Smith had four hits on the night/morning. Junior outfielder/third baseman Logan Gray and senior outfielder Josh Wilson ended the night with a trio of hits.
Owning an eight-run lead and needing just six outs, the Governors bullpen faltered in the eighth inning as five walks, two wild pitches mixed with two hits saw Belmont cut the deficit to 10-7 while bringing up the tying run.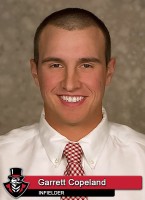 But sophomore left-handed reliever Zach Neff snuffed out the threat by fanning clean-up hitter Clay Payne to end the inning.
A two-out, two-run Garrett Copeland bases-loaded single in the bottom of the inning provided the Govs some breathing room.
While Robles moved to 10-5 this season, Aaron Quillen dropped to 5-5. Quillen struck out 16 Governors while allowing two hits in his initial matchup with Robles back in early April. He allowed nine hits and four runs—two earned—while fanning five in four innings, Wednesday, for the 31-26 Bruins.
Box Score
Belmont (31-26) -vs- Austin Peay (29-21)
| | 1 | 2 | 3 | 4 | 5 | 6 | 7 | 8 | 9 | | | R | H | E |
| --- | --- | --- | --- | --- | --- | --- | --- | --- | --- | --- | --- | --- | --- |
| Belmont | 0 | 0 | 1 | 0 | 1 | 0 | 0 | 5 | 0 | | 7 | 8 | 3 |
| Austin Peay | 0 | 2 | 0 | 0 | 2 | 6 | 0 | 2 | X | | 12 | 18 | 0 |
W: ROBLES, Alex (10-5) L: QUILLEN, Aaron (5-5)
Belmont 7
| Position | Player | AB | R | H | RBI | BB | SO | LOB |
| --- | --- | --- | --- | --- | --- | --- | --- | --- |
| ss | CONGER, Kyle | 4 | 2 | 1 | 1 | 1 | 3 | 0 |
| 1b | HADDEN, Chas | 4 | 0 | 1 | 1 | 1 | 0 | 0 |
| rf | FULLERTON, Tyler | 3 | 0 | 1 | 1 | 0 | 0 | 0 |
| ph/cf | WALSH, Tyler | 2 | 0 | 1 | 1 | 0 | 1 | 0 |
| dh | PAYNE, Clay | 4 | 1 | 0 | 0 | 1 | 3 | 4 |
| 2b | HOLLAND, Hunter | 1 | 0 | 1 | 0 | 0 | 0 | 0 |
| 2b | BOURNIGAL, Rafael | 2 | 0 | 0 | 0 | 0 | 2 | 0 |
| cf/rf | WASHINGTON, Brennan | 4 | 1 | 1 | 0 | 1 | 1 | 0 |
| c | AMMONS, Desi | 3 | 0 | 1 | 0 | 1 | 1 | 0 |
| ph | EGLI, Nick | 1 | 0 | 0 | 0 | 0 | 1 | 0 |
| lf | WARD, Alex | 5 | 1 | 1 | 0 | 0 | 1 | 4 |
| 3b | KOCHER, Ben | 2 | 2 | 0 | 1 | 1 | 1 | 2 |
| p | QUILLEN, Aaron | 0 | 0 | 0 | 0 | 0 | 0 | 0 |
| p | KLOTZ, Kyle | 0 | 0 | 0 | 0 | 0 | 0 | 0 |
| p | ETHERIDGE, Connor | 0 | 0 | 0 | 0 | 0 | 0 | 0 |
| p | HODGKISS, Zach | 0 | 0 | 0 | 0 | 0 | 0 | 0 |
| p | TUBBS, Josh | 0 | 0 | 0 | 0 | 0 | 0 | 0 |
| Totals | | 35 | 7 | 8 | 5 | 6 | 14 | 10 |
Baserunning
SB: CONGER, Kyle (1); HOLLAND, Hunter (1); KOCHER, Ben (1)
HBP: HOLLAND, Hunter (2); KOCHER, Ben (1)
Fielding
E: CONGER, Kyle (2); WARD, Alex (1)
Austin Peay 12
| Position | Player | AB | R | H | RBI | BB | SO | LOB |
| --- | --- | --- | --- | --- | --- | --- | --- | --- |
| 2b | COPELAND, Garrett | 5 | 1 | 2 | 3 | 1 | 0 | 0 |
| cf/rf | MASSONI, Patrick | 6 | 2 | 1 | 1 | 0 | 1 | 4 |
| lf/3b | GRAY, Logan | 3 | 2 | 3 | 1 | 1 | 0 | 0 |
| dh | HAMILTON, Chase | 5 | 1 | 2 | 1 | 0 | 2 | 3 |
| rf/lf | WILSON, Josh | 5 | 1 | 3 | 1 | 0 | 0 | 0 |
| 3b/c | SMITH, Ridge | 5 | 2 | 4 | 1 | 0 | 0 | 0 |
| 1b | GLEASON, Dre | 4 | 1 | 1 | 2 | 0 | 1 | 3 |
| pr/1b | NEWBERG, Brett | 1 | 0 | 1 | 0 | 0 | 0 | 0 |
| ss | SMITHSON, Clayton | 3 | 1 | 0 | 0 | 1 | 3 | 1 |
| c | SALA, Alex | 2 | 1 | 1 | 0 | 1 | 1 | 0 |
| ph | MITCHELL, Caleb | 1 | 0 | 0 | 0 | 0 | 1 | 0 |
| cf | WILLIS, Imani | 0 | 0 | 0 | 0 | 0 | 0 | 0 |
| p | ROBLES, Alex | 0 | 0 | 0 | 0 | 0 | 0 | 0 |
| p | RYE, Josh | 0 | 0 | 0 | 0 | 0 | 0 | 0 |
| p | KIMBEL, Keirce | 0 | 0 | 0 | 0 | 0 | 0 | 0 |
| p | NEFF, Zach | 0 | 0 | 0 | 0 | 0 | 0 | 0 |
| p | CARKUFF, Jared | 0 | 0 | 0 | 0 | 0 | 0 | 0 |
| Totals | | 40 | 12 | 18 | 10 | 4 | 9 | 11 |
Batting
2B: GRAY, Logan (1); HAMILTON, Chase (1); SALA, Alex (1)
3B: SMITH, Ridge (1)
Baserunning
CS: SMITHSON, Clayton (1)
HBP: GRAY, Logan (1); SMITHSON, Clayton (1); SALA, Alex (1)