Clarksville, TN – According to APSU, more than 300 former U.S. Army ROTC cadets will be inducted into the inaugural class of the Army Hall of Fame during a ceremony at Fort Knox, Kentucky on June 10th that will also celebrate the 100th anniversary of the Army ROTC program.
A 2000 graduate of Northeast High School (NEHS) in Clarksville, Gregory C. Mabry Jr. earned his Bachelor of Science in sociology from APSU in 2004.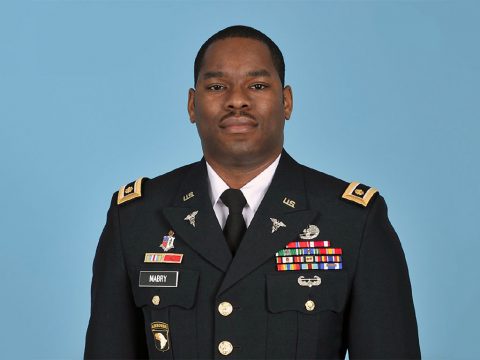 Mabry began his military career as a four-year JROTC Cadet at NEHS, eventually becoming a Senior ROTC four-year advanced designee scholarship winner for the graduating class of 2000.
After graduating from APSU in 2004, Mabry earned a commission as a second lieutenant in the Army Medical Service Corps.
A Clarksville native and the grandson of a enlisted Air Force airman and son of a civilian military employee, Mabry said his life has always been intertwined with the armed forces. But an encounter with the NEHS JROTC program was what Mabry said set his future in motion.
"My grandfather retired from the Air Force at Fort Campbell back when it was known as Campbell Army Airfield. My mother recently retired as a Department Army (DA) Civilian from Blanchfield Army Community Hospital (BACH)," Mabry said. "I always knew I'd be connected to the army, but I became awed by the pageantry and discipline of the NEHS JROTC Drill Team when they performed demonstrations at my middle school (NEMS)."
ROTC's core values of loyalty, duty, respect, personal courage, honor, integrity and selfless service were instilled in Mabry by his commanding officers at both NEHS and APSU.
"Maj. (Ret.) Van Chase, my JROTC Senior Army Instructor at NEHS, emphasized the balanced mindset of scholar-athlete-leader. He taught me not to devote blinding focus in one area at the detrimental expense of the others," Mabry said. "Lt. Col. (Ret.) Greg Lane, my ROTC Instructor at APSU, was kind and deeply involved in the personal lives of everyone he met regardless of their station in life. Lt. Col. Lane treated the E-4 the same as the O-4 and had the uncanny ability to recall the names of spouses and children of a Private he met for five minutes four years ago."
In addition to his current assignment as an Army Behavioral Science Officer, currently serving as Deputy Chief for the Department of Behavioral Health at Fort Campbell, Mabry's career highlights include assignments as the MEDEVAC Platoon Leader for the 506th Infantry Regiment (Band of Brothers), Medical Treatment and Trauma Officer for East Baghdad and Sadr City, Iraq, Medical Chief Information Officer (CIO) for Winn Army Community Hospital and Behavioral Health Officer for 159th Combat Aviation Brigade, Fort Campbell, Kentucky.
In addition to his duties as Deputy Chief of Behavioral Health, Mabry serves as the advisor to the 101st Division Artillery (DIVARTY) Brigade Commander for all soldier mental health issues.
Mabry's notable award highlights include the Combat Medical Badge, Bronze Star Medal, Meritorious Service Medal, Air Assault Badge and the DANCON March Medal (Bronze). Mabry holds multiple advanced degrees, including a Master of Arts from Webster University in information technology management, a Master of Social Work from Fayetteville State University and a Doctor of Psychology from California Southern University.
Mabry said his induction into the ROTC Hall of Fame is a credit to the leadership of the many men and women he has served under during his time in the military.
"Having spent eight years as a cadet, followed by 12 years of active service, I've been mentored by several NCO's and officers, so to receive this recognition confirms they've made a difference in my life and their careers," Mabry said. "The ROTC program has produced brilliant military strategist such as General Colin Powell, champions like (former Notre Dame football coach) Lou Holtz and famous actors like James Earl Jones. Just to be a notable ROTC alum is a humbling prospect. I consider induction into the National ROTC Hall of Fame as a mid-career azimuth check.
"The Army is basically saying, 'You're doing a decent job right now. Don't mess It up. We're watching you.'"
For more information on APSU and the Governors Guard ROTC program, visit www.apsu.edu/rotc