American Heart Association Rapid Access Journal Report
Dallas, TX – The more fit you are in your midlife, the less likely you are to have a stroke after age 65, according to new research in the American Heart Association's journal Stroke.
"We all hear that exercise is good for you, but many people still don't do it. Our hope is that this objective data on preventing a fatal disease such as stroke, will help motivate people to get moving and get fit," said Ambarish Pandey, M.D., the first author of the study and a cardiology fellow at the University of Texas Southwestern Medical Center in Dallas, Texas.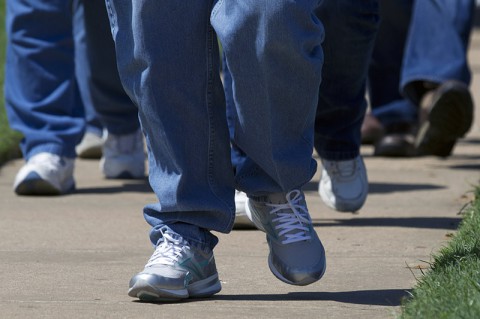 In a prospective observational study consisting of 19,815 adults ages 45 to 50, (79 percent men, 90 percent Caucasian) researchers measured participants' heart and lung exercise capacity–cardiorespiratory fitness–and categorized them as having either a high, middle or low level of fitness.
The study found that those with the highest level of fitness had a 37 percent lower risk of stroke after age 65, compared to their counterparts with the lowest level of fitness. This inverse relationship between fitness and stroke risks existed even after researchers considered stroke risk factors: high blood pressure, Type 2 diabetes and atrial fibrillation.
"These findings support the unique and independent role of exercise in the prevention of stroke," said senior study author Jarett Berry, M.D., an associate professor of Internal Medicine at UT Southwestern.
Stroke is the No. 5 cause of death in the United States and a leading cause of serious long-term disability. The information on the effects of fitness on stroke risk, independent of other factors, is limited, researchers noted.
The study reinforces the benefits of being physically fit throughout life.
"Low fitness is generally ignored as an actual risk factor in clinical practice," Pandey said. "Our research suggests that low fitness in midlife is an additional risk to target and help prevent stroke later in life."
The study was performed in collaboration with the Cooper Institute in Dallas, Texas. The investigators used data from the Cooper Center Longitudinal Study, collected between 1999 and 2009, that measured exercise tolerance with a standardized treadmill test when participants were age 45 to 50.
"In this study we see an association between fitness and reduced risk of the serious health event of stroke even in the presence of other chronic conditions," said Benjamin Willis, M.D., coauthor of the study and epidemiologist at The Cooper Institute.
The American Heart Association recommends 150 minutes of moderate exercise or 75 minutes of vigorous exercise weekly. As a rule of thumb, exercise thirty minutes a day, five times a week, for better overall cardiovascular health.
Other co-authors are Minesh Patel, M.D.; Ang Gao, M.S.; David Leonard, Ph.D.; Sandeep Das, M.D., M.P.H. and Laura Defina, M.D. Author disclosures are on the manuscript.
The American Heart Association and the University of Texas Southwestern Medical Center funded the study.
Additional Resources: