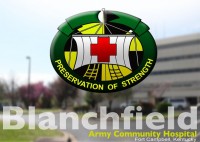 Fort Campbell, KY – In an effort to improve the delivery of Primary Care to Blanchfield Army Community Hospital (BACH) beneficiaries, the primary care Army Medical Homes began offering a limited number of Audio Appointments on weekdays.
Audio Appointments allow patients an opportunity to address specific medical concerns with a provider over the phone, at a scheduled time, as opposed to showing up in person for an appointment within their medical home.
The goal is to meet the need of patients in a convenient manner while ensuring quality care is being provided.
If you or any of your beneficiaries have one of the following medical symptoms below, and would like to have them addressed through an Audio Appointment, please call the BACH Call Center at 931.461.4677.
If an Audio Appointment is available, the Call Center personnel will schedule you with a provider from your Medical Home. If there are no Audio Appointments available, other options will be offered.
Audio Appointments may not be suitable for every situation.
Below lists symptoms and conditions where an Audio Appointment might be appropriate:
Audio Appointment Symptoms
Seasonal Allergies
Burns, minor
Constipation
Cough
Cold Symptoms
Diarrhea