Clarksville, TN – Lunch at Old Chicago Pasta and Pizza at 2815 Wilma Rudolph Boulevard in Clarksville has a menu that should give everyone a favorite selection. Our waiter, Wesley, gave perfect service even as we chose the fantastic buffet that featured several thick crust pizzas, thin crust pizzas plus bread sticks and sauces.
My lemonade was just right as was my lunch partner's iced tea. Other drink choices included refreshers like red berry sparkle, ginger-pomegranate sparkler, energy drinks, root beer, sodas, juices and a full range of beers, ales, lagers, cocktails and wines.
Other lunch choices include hand tossed chicken wings with rated heat levels, calzones, burgers, sandwiches, create your own mac n'cheese dishes, spaghetti pies, salads, soups, and appetizers like pepperoni rolls, sausage and beer onion rolls, buffalo chicken rolls, bacon and cheddar mac n' cheese bites, jalapeno cheese pretzels, cheese curds, artichoke dip, Italian nachos, nachos grande, and Chi-town trio.
Tavern bites range from parmesean garlic fries, beer battered onion rings, cheese garlic bread pretzel bites, Italian edamame, fried spicy pickles to sweet potato tots.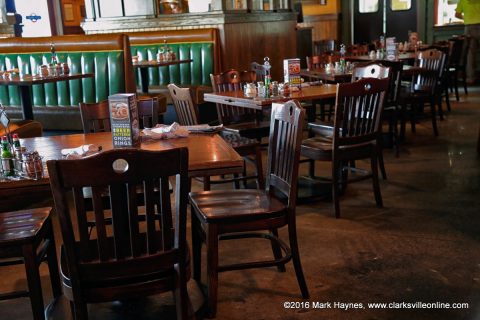 Lunch specials for only $7.79 are pizza or calzone individual lunches with either a six-inch pizza or lunch-sized calzone (pepperoni, mushroom and sausage or spinach, roma tomato and broccoli) plus unlimited salad or soup and breadsticks.
The pizza bar is $7.79 or you can have for $5.99 unlimited soup, salad and breadsticks (sauces are $0.79 each).
Toppings for pizzas are (meats) pepperoni, Italian sausage, Canadian bacon, Grilled applewood-spiced chicken, andouille sausage, peppered bacon, seasoned ground beef, spicy Italian link sausage; (extra cheeses) mozzarella, cheddar, parmesean, provolone, Swiss, ricotta, pepper jack, asiago, feta, bleu cheese, fresh mozzarella, and goat cheese; (veggies) mushrooms, green peppers, red onions, black olives, spinach, roma tomatoes, jalapenos, green olives, red peppers, broccoli, green onions, pepperoncini, artichoke hearts, sun-dried tomatoes, and Anaheim peppers; plus fresh basil, pineapple, roasted garlic, cilantro, and avocado.
The waiter brings everyone a freshly baked chocolate chip cookie, but you can also have cheesecake with fresh berries, brownie bites, or a big cookie.
An OC rewards program gives you a free appetizer on your second visit, a point for every dollar spent on food and beverages, special offers, discounts and restaurant information plus a free pizza on your birthday. For every seventy-five points you earn five Old Chicago bucks, so how can you lose?
Frankly, the freshly made crust and fast marvelous service make this a must go to lunch for anyone shopping the mall or just out for some fun. The pizza was just fantastic.
Hours are for lunch Monday through Friday, 11:00am to 3:00pm. The buffet is from 11:00am to 1:30pm during the week. On Saturday and Sunday the buffet is from 11:00am to 3:00pm.
See you there!
Photos