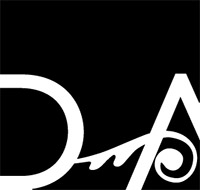 Clarksville, TN – Downtown Artists Co-op (DAC) is excited to announce something different this July! This summer of 2016, DAC is celebrating the humble, but always popular, T-Shirt.
We asked area artists to design the front of our new T-Shirt; the goal was celebrating the creative life and representing the ever-growing Clarksville arts scene and our diverse, talented local artists.
In addition this month, DAC will have all new works from our members on our "retail side" (to the left). This fun, summertime opening reception will be on Thursday, July 7th from 5:00pm-8:00pm.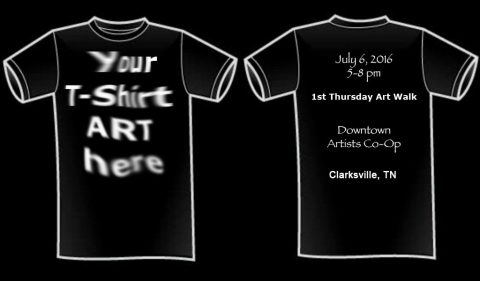 DAC chose to create a black T-Shirt, with the winning logo (in white) on the front. We asked for edgy, out-of-the-box designs that kept with our theme.
Sixteen designs were submitted and a single design was chosen by a group of three jurors. The winning design was sent to IMF Printing, with only our jurors knowing the winner.
The winner will announced at the DAC during First Thursday Art Walk at 6:00pm. The winning T-Shirt design will be for sale in a variety of sizes for purchase all year at the DAC.
All proceeds go towards supporting the DAC and towards our mission of supporting Clarksville's Visual Arts… plus prize $$$ to the winning designer! Who will it be? How cool will the T-Shirt design be? You gotta come see!
All the design submissions will be displayed too. Along with our T-Shirt design contest, our members and others have submitted T-Shirts to exhibit in our main gallery this month. Each participating artist has submitted T-Shirt(s) that mean something to them. This is a special exhibit. You'll be delighted and moved to see the designs and some of the stories behind each T-Shirt on display.
The DAC will be serving up yummy appetizers and sweet beverages during the opening reception, always a central part of Clarksville's monthly First Thursday Art Walk. A wonderful evening of art, music and more awaits all who come to downtown Clarksville for First Thursday. What could be better on July 7th?  Quality arts, good times and good friends will be waiting for all who come out for this fantastic exhibit and all the other exhibits around town. Hope you can come out, meet the artists and just enjoy a fun night at the DAC and First Thursday Art Walk.
Current exhibits will be on display the entire month of July. The DAC Gallery is located at 96 Franklin Street, in Downtown Clarksville, TN. DAC will be open Noon-4:00pm, Wednesday- Friday and 9:00am-5:00pm on Saturday. See our website at www.downtownartistsco-op.com or visit us on Facebook for more information.
DAC thanks IMF Printing, The Framemaker and Sango Liquors for sponsoring this month's exhibit.