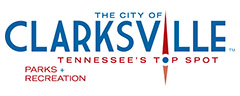 Clarksville, TN – The City of Clarksville held the ninth annual Independence Day Celebration on Sunday, July 3rd, 2016 at Liberty Park and what a celebration it was. Featured were great music, good food, games. Just about something for everyone.
The "Ten Strings and Tom" trio kicked things off around 6:00pm. This band is named for the instruments in their band–six string guitar, four string bass, and a tom or one drum of a drum set. They performed songs by Stevie Ray Vaughan, Jimi Hendrix and others.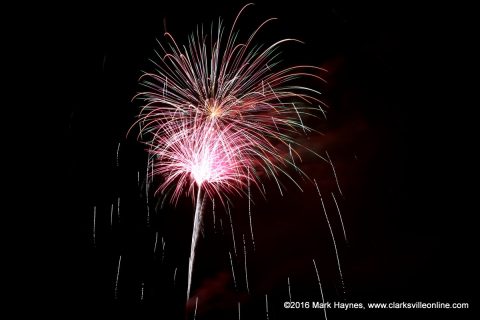 "The event is going great. The weather is perfect. The people are all excited. It's so nice to see everyone in their red, white and blue," said Candice Tillman, Marketing Coordinator for Clarksville Parks and Recreation. "It's a great night for it."
Plenty of activities were going on. Some got up and danced on the lawn near the stage. Later in the night, there was a sack race for the kids.
Off to the side, Gamez on Wheelz had their video game truck set up for people to enjoy. Up to 16 players could play on one of the four 47″ HDTV screens inside. Four people could play on the 40″ screen outside.
As for food, there was something for everyone. Just some of the selections from the vendors were shave ice in several flavors, funnel cakes, fresh squeezed lemonade, kettle corn, hamburgers, french fries, Philly cheese steak, pulled pork sandwiches, gyros, and so much more.
Jamie Springs, of Big City Dogs, was cooking brats, jumbo dogs, polish sausage, regular dogs, and prime rib sandwiches with grilled onions and peppers. All the hot dogs were made of pure beef. The also offered nachos, hand squeezed lemonade and strawberry lemonade.
"I think this event is awesome and who doesn't like the Fourth of July. Clarksville Parks and Recreation has done a wonderful job of putting on this event for the people of Clarksville," stated Springs. "What more could you ask for? Good company, good music, and great food on the Fourth of July."
Later in the evening, The Jon Royce Band took the stage to the delight of the audience. This country music band played old and new country, pop country, and some Southern rock.
Nancy Carpenter and her husband just moved to Clarksville from Savannah, Georgia three months ago. This is their first event they have attended since moving to Clarksville.
"I think it's really nice. It's beautiful here. I really like this park. I love how there's so much room and how the park here is so clean," stated Carpenter. "The event is really set up and organized well. I am looking forward to doing this for years to come and bringing the kids with us."
Clarksville Mayor Kim McMillan wished everyone in attendance a happy Fourth of July just before 9:30pm. She then began the countdown for the fireworks. The fireworks show lasted closed to 15 minutes and was spectacular as always.
If you didn't make it down to the City of Clarksville's Independence Day Celebration this year, make sure to save the date for next you because you missed one heck of an event.
Photo Gallery
Fireworks Video