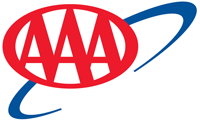 Knoxville, TN – Nearly 80 percent of drivers expressed significant anger, aggression or road rage behind the wheel at least once in the past year, according to a new study released today by the AAA Foundation for Traffic Safety.
The most alarming findings suggest that approximately eight million U.S. drivers engaged in extreme examples of road rage, including purposefully ramming another vehicle or getting out of the car to confront another driver.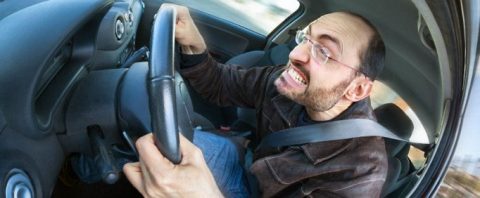 "Inconsiderate driving, bad traffic and the daily stresses of life can transform minor frustrations into dangerous road rage," said Stephanie Milani, Tennesee Public Affairs Director, AAA – The Auto Club Group.
"Far too many drivers are losing themselves in the heat of the moment and lashing out in ways that could turn deadly," stated Milani.

A significant number of U.S. drivers reported engaging in angry and aggressive behaviors over the past year, according to study estimates:
Purposefully tailgating: 51 percent (104 million drivers)
Yelling at another driver: 47 percent (95 million drivers)
Honking to show annoyance or anger: 45 percent (91 million drivers)
Making angry gestures: 33 percent (67 million drivers)
Trying to block another vehicle from changing lanes: 24 percent (49 million drivers)
Cutting off another vehicle on purpose: 12 percent (24 million drivers)
Getting out of the vehicle to confront another driver: 4 percent (7.6 million drivers)
Bumping or ramming another vehicle on purpose: 3 percent (5.7 million drivers)
Nearly 2 in 3 drivers believe that aggressive driving is a bigger problem today than three years ago, while nine out of ten believe aggressive drivers are a serious threat to their personal safety.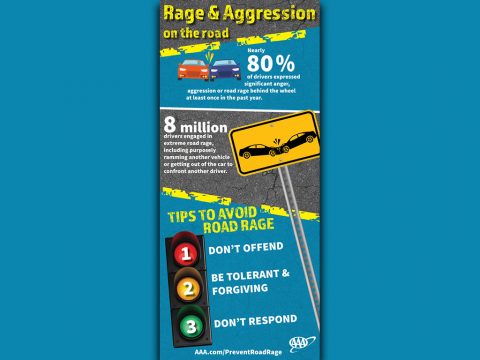 Aggressive driving and road rage varied considerably among drivers:
Male and younger drivers ages 19-39 were significantly more likely to engage in aggressive behaviors. For example, male drivers were more than three times as likely as female drivers to have gotten out of a vehicle to confront another driver or rammed another vehicle on purpose.

Drivers living in the Northeast were significantly more likely to yell, honk or gesture angrily than people living in other parts of the country. For example, drivers in the Northeast were 30 percent more likely to have made an angry gesture than drivers in other parts of the country.

Drivers who reported other unsafe behaviors behind the wheel, such as speeding and running red lights, also were more likely to show aggression. For example, drivers who reported speeding on a freeway in the past month were four times more likely to have cut off another vehicle on purpose.
"There will always be things that can cause frustration with other drivers when you're behind the wheel, said Amy Stracke, AAA's Managing Director of Traffic Safety Advocacy. "However, it's important they don't get in the way of good decision making and distract you from getting to your destination safely."
AAA offers these tips to help prevent road rage:
Don't Offend: Never cause another driver to change their speed or direction. That means not forcing another driver to use their brakes, or turn the steering wheel in response to something you have done.
Be Tolerant and Forgiving: Don't let emotions interfere by assuming the other driver intentionally did something to offend.
Do Not Respond: Avoid eye contact, don't make gestures, maintain space around your vehicle and contact 9-1-1 if needed.
The research report is available on the AAA Foundation's website and is part of the annual Traffic Safety Culture Index, which identifies attitudes and behaviors related to driver safety. The data was collected from a national survey of 2,705 licensed drivers ages 16 and older who reported driving in the past 30 days. The AAA Foundation issued its first Traffic Safety Culture Index in 2008.
About the AAA Foundation for Traffic Safety
Established by AAA in 1947, the AAA Foundation for Traffic Safety is a 501(c)(3) not-for-profit, publicly-supported charitable research and educational organization. Dedicated to saving lives and reducing injuries on our roads, the Foundation's mission is to prevent crashes and save lives through research and education about traffic safety. The Foundation has funded over 300 research projects designed to discover the causes of traffic crashes, prevent them and minimize injuries when they do occur. 
About The Auto Club Group
The Auto Club Group (ACG) is the second largest AAA club in North America.  ACG and its affiliates provide membership, travel, insurance and including Florida, Georgia, Iowa, Michigan, Nebraska, North Dakota, Tennessee, Wisconsin, Puerto Rico and the U.S. Virgin Islands; most of Illinois and financial services offerings to over 9 million members across eleven states and two U.S. territories Minnesota; and a portion of Indiana. 
ACG belongs to the national AAA federation with more than 56 million members in the United States and Canada and whose mission includes protecting and advancing freedom of mobility and improving traffic safety.