Clarksville, TN – Civic leaders gathered Thursday to announce a major step toward the goal of honoring Pat Head Summitt, hometown hero and legendary University of Tennessee women's basketball coach, with a statue and interpretative display along the Cumberland River in Clarksville.

Coach Summitt died June 28th from Alzheimer's disease, five years after a diagnosis of early onset dementia forced her to retire from her legendary UT coaching career, during which her teams won a record 1,098 games and eight NCAA national titles.

On Thursday, which was proclaimed by Clarksville Mayor Kim McMillan as Pat Head Summitt Day in Clarksville, leaders gathered in Liberty Park to announce a new location and timeline for the project.

The Pat Head Summitt Project Committee and the Mayor unveiled a plan to create the Pat Head Summitt Plaza along an existing walkway that leads to Freedom Point, a large meeting hall that graces the river entrance to the park.

The walkway leading to Freedom Point presents an ideal option for the proposed layout. The site also benefits from the mature condition of Liberty Park, which has an established pattern of visitors, and offers parking, accessible restrooms, lighting and security.
The Pat Head Summitt plaza will include:
A bronze statue of Coach Summitt in a classic coaching pose. The idea is for visitors to have an interactive sensory experience as they view the statue, and put themselves in the moment of the master strategist and motivator giving coaching commands to her players.
A wall framing the artwork, with an honorary dedication proclaiming the Pat Head Summitt Plaza at Freedom Point.
Several attractive plaques with interpretative information about Coach Summitt's life, local upbringing, career and impact on women's sports in America.
A plaque naming donors to the project.
From the beginning, the prime objective of this project was to honor Pat Head Summitt locally and acquaint local citizens and the world with her connections to the Clarksville/Montgomery County community.
Coach Summitt was born in Clarksville and grew up on a farm in southern Montgomery County.
"Coach Summitt is so much more than a sports figure," committee chairman Richard V. Stevens said Thursday. "She is an American cultural icon whose leadership reshaped the sports landscape for women. Her success pulled our society forward, and bent the curve of history toward justice and equality for women athletes. She blazed a trail that resulted in more opportunity for women — more scholarships, better facilities, more well-paid women coaches and ultimately a successful women's professional basketball league."
"I want to thank everyone who has given time, creativity and funds to bring this project to this point," said Mayor McMillan.  "Pat Summitt's contributions far exceed the basketball courts on which she played and coached.  I've heard from so many people who believe the time is right to provide a special place to memorialize her life and legacy and to pay their respects for her amazing accomplishments in her hometown.  I'm excited that we have a plan that will allow us to move forward quickly with the installation of the statue here and continue to build this plaza in Pat's honor over the next few years."
In light of Coach Summitt's untimely passing, the Liberty Park location also means the bronze statute, which is nearly complete, can be dedicated quickly to memorialize and honor Summitt's legacy. The site is being prepared and the statue will hopefully be installed this fall.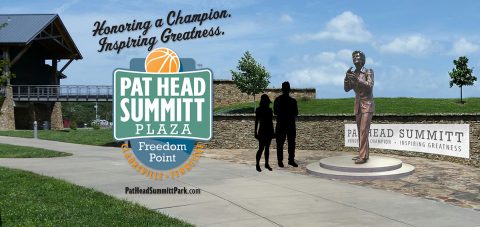 After a nationwide call for artists, the committee chose a proposal submitted by J. Brett Grill, a nationally acclaimed sculptor with commissioned work at the Gerald R. Ford Presidential Library, the National Archives and the National Statuary Hall Collection of the U.S. Capitol.
The committee has worked with Grill to refine the sculpted image, and the artist's foundry has begun the final phase of casting the life-size bronze.
The project price tag is estimated at $250,000, primarily to pay for the bronze statue and finalized project design, city supervised construction services and management, and materials.
Photo Gallery
Video
Sections
News
Topics
Alzhiemer's Disease, City of Clarksville, Clarksville Mayor, Clarksville TN, Cumberland River, Freedom Point, J. Brett Grill, Kim McMillan, Liberty Park, NCAA, NCAA National Championships, Pat Head Summit, Pat Head Summitt Day, Pat Head Summitt Plaza, Richard V. Stevens, scholarships, University of Tennessee, UT Lady Vols, UT Women's Basketball