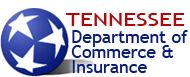 Nashville, TN – The Tennessee Department of Commerce & Insurance's (TDCI) Division of Consumer Affairs is sharing the recently released results of a national survey conducted by the Consumer Federation of America (CFA) and the North American Consumer Protection Investigators (NACPI) of the top 10 consumer complaints.

Phony IRS agents and other imposter scams topped the list of fastest-growing complaints to state and local consumer protection agencies last year.

Thirty-three consumer agencies (including the Tennessee Division of Consumer Affairs) from twenty-one states participated in the survey, which asked about the most common complaints they received in 2015, the fastest-growing complaints, the worst complaints, new kinds of consumer problems, agencies' biggest achievements and challenges, and new laws that are needed to better protect consumers.

Earlier this year, the Tennessee Division of Consumer Affairs released its own list of top 10 complaints received last year.
They include:
Problems with billing and maintenance were the most common.
Home improvement. The most common complaints related to quality of work, incomplete work after receiving payment, and structural damage caused by the contractor.
Debtor/Creditor. Consumers complained most that collection agencies often make harassing phone calls or continuously call individuals who do not owe a debt to the company.
Professional services. Common complaints include the quality of service, charges for service the consumer did not receive, and problems redeeming gift certificates for services offered.
Health services and products. Most common complaints include being misquoted for services and receiving medical bills prior to the bills being sent to the consumer's insurance company.
Landlord/Tenant. The most common complaints related to security deposits and the conditions of the rental property. Many consumers complained about mold.
The most common complaints reported high-pressure sales tactics, misrepresentation of the contract, and resale scams.
Insurance. Most consumers complained about policy coverage and claims.
Auto Repair. Most consumers report auto repair companies that return vehicles to the consumer in a worse condition than how it was initially given to the company for repairs.
Scams. Consumers reported various types of scams, including tax scams, sweepstakes scams, tech support scams, government grant scams, credit card scams, money order scams, and more.
In 2015, the Division of Consumer Affairs received more than 4,000 complaints and recovered both services and funds for Tennessee consumers through its mediation process. The Division's mediation process relies on the voluntary cooperation of both the consumer and the business.  In 2014, over 5,099 total complaints were fielded.
The Division of Consumer Affairs is dedicated to advocating, educating and protecting Tennessee Consumers. Call 1.800.342.8385 for more details.
For more information on the consumer complaint process, visit www.tn.gov/consumer
About the Tennessee Department of Commerce & Insurance
Tennessee Department of Commerce & Insurance (TDCI) is charged with protecting the interests of consumers while providing fair, efficient oversight and a level field of competition for a broad array of industries and professionals doing business in Tennessee. Our divisions include the Athletic Commission, Consumer Affairs, Tennessee Corrections Institute, Emergency Communications Board, Fire Prevention, Insurance, Tennessee Law Enforcement Training Academy, Peace Officers Standards and Training, Regulatory Boards, Securities, and TennCare Oversight.
To check a license of a professional regulated by the Department, go to http://verify.tn.gov/.
Sections
News
Topics
Complaints, Consumer Federation of America, Insurance, Nashville TN, North American Consumer Protection Investigators, scams, Tennessee, Tennessee Consumer Affairs, Tennessee Department of Commerce and Insurance